Wednesday Recruitin' Frets Over Decommits
Remember, all-time updates can be found on the 2011 Michigan Football Recruiting Board. If you have any recruiting tips or questions, you can e-mail them to me at [email protected] or tweet @varsityblue. For game updates on Wolverine commits, check out the F riday Night Lights series.
On Greg Brown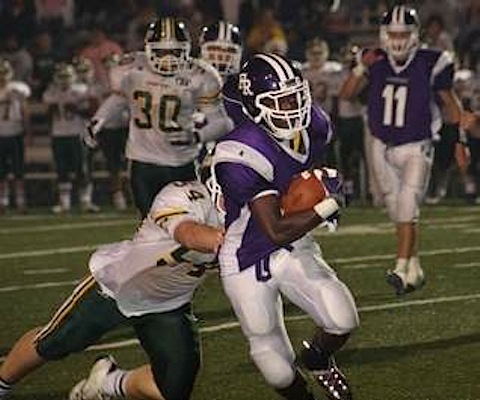 Some corners of the Michigan internet are up in arms about OH CB Commit Greg Brown taking an official visit to Syracuse over the weekend. In the aftermath, Scout has classified him as a soft commit, and nobody's quite sure whether he'll end up in Michigan's class when all is said and done.
Brown was an early offer (as in pre-junior year) who hasn't developed like experts were expecting. The reports from his games this year seem to indicate he's a decent offensive player, but all of his speed is straight-line, and he looks more like a high-end MAC recruit than a Big Ten guy.
I'm certainly not rooting for him to decommit from the class, but there's a chance that, should the decommitment come, it's a mutual decision from Greg and the coaches. With higher-level DBs (such as Dallas Crawford) now interested in the Wolverines, it's understandable.
Iowa Visitors
The Wolverines hosted a number of official visitors for the Iowa game. OH TE/LB Austin Traylor gave his opinion to Josh Helmhodt:
"I haven't really sat down and thought through my visit," Traylor said Sunday, "but it's a good program, a good school and I like what I saw on my visit."
as did NC TE Drew Owens:
"They set a pretty high bar for the other schools to compete with," Owens said. "My interest is still about the same. I just know a lot more about the program, a lot more about the staff, and a lot of questions I had were answered. I feel more comfortable about the school now."
The other official visitors included FL QB commit Kevin Sousa, SC WR Hakeem Flowers, VA WR Quinta Funderburke, and FL DT Tim Jernigan.
In addition, there were a few unofficial visitors in the house, including a top Florida duo in South Fort Meyers teammates WR Sammy Watkins and CB Dallas Crawford ($, info in header). Following the visit, the Wolverines now lead for Crawford ($, info in header). Tom's weekly update had more on Crawford, and his possible effects on Watkins.
There were a few 2012 prospects as well, and they're discussed below. The next big recruiting weekend for Michigan should be Wisconsin, though there's a chance that some recruits come in for the Illinois contest in a few weeks, and FL S HaSean Clinton-Dix's on-and-off consideration of Michigan may be on-again at that time.
Other Guys
Michigan and West Virginia lead Cincinnati for FL slot Prince Holloway ($, info in header), and he plans to pick between those three schools.
IL OL Chris Bryant has "the possibility of a commitment coming soon" ($, info in header). He's previously said he doesn't plan to decide until after his senior season, but keep an eye on Bryant. Michigan, Stanford, and Illinois are his top three, with Arizona just outside that group.
PA DE Deion Barnes will officially visit Michigan, but won't start taking visits until after his senior season ($, info in header).
FL S Wayne Lyons is considering an official visit to Michigan ($, info in header).
Michigan still leads for LA CB Daren Kitchen ($, info in header). Kitchen and the rest of Vanderbilt Catholic's team returned to the field a couple weeks back after the untimely deaths of a pair of their teammates.
MI CB Raymon Taylor is committed to Indiana, but that won't stop him from visiting other schools ($, info in header). No word on if the local product will check out Ann Arbor.
Happy Trails, Ye Wisconsin-Bound
OH RB Trayion Durham committed to Wisconsin.
OH WR AJ Jordan is deciding tonight . It's been a Michigan-Wisconsin race for quite some time, and it sounds like one the Badgers will win. He cancelled a visit to Ann Arbor for the Iowa game.
OH OL Ray Ball committed to Wisconsin.
2012
Tom has film on 2012 OH QB Dimitrious Davis, a dual-threat with a number of teammates who could get a Michigan look in the class.
MI RB Drake Johnson visited Michigan a couple weeks back for the Michigan State contest. He's a local product out of Pioneer High School.
PA OL Tyler Alt has a new highlight tape of his junior season through five games:
He visited Michigan for the UConn game, and has a good relationship with Coach Frey.
OH DE Chris Wormley has received his Michigan offer, and Michigan is steadily improving their standing with him.