I Learned How To Put Myself In A Box A Long Time Ago
9/6/2014 – Michigan 0, Notre Dame 31 – 1-1
[Bryan Fuller]
I set a new record for earliest departure from a Michigan game Saturday: 10 minutes and change, besting the 2007 Oregon game that I left with about six minutes left. And I feel… okay, I guess.
Ace and I did the podcast Sunday and it's actually kind of good. This is a far cry from previous podcasts in the aftermath of doom. The Alabama one was barely worth recording, and we knew it at the time. This one runs down the suck but there's a jaunty air and no one seems like they're taking the bar exam after a 72-hour bender.
We are used to it. And hey, man, Michigan outgained Notre Dame. I know we lost 31-0 but that was nowhere near as emasculating as that aforementioned Oregon game or the 2008 Ohio State game in which Brandon Minor was the only Michigan player who looked like he was in college instead of high school or last year's Michigan State game in which Michigan acquired –48 rushing yards. Or maybe it was but we can't tell because our football testicles have been ground away by the sandpaper of the last seven years and all we feel is increasing smoothness.
Yeah.
Yeah man.
Oh man. This feels really smooth.
I can't even remember why I didn't want this bit between my legs to be so flat you could try to set a land speed record over it.
-----------------------------
I don't know, man. You only have one thing to base predictions of the future on: the past. And the past suggested that Blake Countess was a pretty good cornerback who couldn't cope with Tyler Lockett. It didn't look like that on Saturday night. It looked like Tony Gibson was in town again.
Notre Dame built its unassailable lead on a series of man press-type coverages on which ND would break to the inside unmolested without a Michigan cornerback even there to tackle on the catch. That is a recipe for disaster. With Raymon Taylor knocked out and Channing Stribling burned just like Countess was on his first play, Michigan had no choice but to throw Countess out there again. He promptly ended up yards away from Will Fuller on the fade all the inside stuff had set Michigan up for.
Countess had six interceptions as part of a pretty good pass defense a year ago and while that was a passive zone thing you kind of figure that guys capable of doing that will be capable at man coverage.
That was emphatically disproven on Saturday, throwing the entire offseason into question. The deck chair shuffling of defensive coaches touted as the path forward now looks ludicrous.
If
you're going to give your defense an extreme makeover based on pressure and man-to-man coverage and
you rearrange your coaching staff so that your new cornerbacks coach is a guy who has never played or coached the position before and
then your corners are a complete fiasco in their first real test, then
people are going to think that's a bad idea man.
By all accounts Roy Manning is a terrific recruiter and enthusiastic, dedicated coach. He's just not a secondary coach. That kind of random insertion at position X is something lower-level (like, DII) schools do because of limited resources. Michigan found itself in that position because…
I don't actually know. That was not a rhetorical pause.
Best as I can figure, Hoke loathes firing anyone. For most of last year it was expected that Borges would return because those were the vibes the program was emanating, and the about-face there still has conspiracy theorists asserting that Brandon made him make the switch. Approximately 80% of emails to me this offseason were some variant of FIRE DARRELL FUNK FERGODSAKES, and it's hard to imagine many programs sticking with the offensive line coach after that.
Meanwhile Hoke's standoffishness with everyone outside the program is increasing daily. Everyone inside the velvet rope is golden. Everyone on the outside is garbage. The bunker mentality is suddenly warranted, at least.
-------------------------------
Getting blown out 31-0 by Notre Dame is a gamechanging event. You can feel it in the nonsense decisions Hoke made in the second half. Michigan played turtle ball that saw Michigan run 35 seconds off the clock between snaps in the middle of the third quarter; they left Funchess and Gardner in the game deep into the fourth quarter. Let's look like we're trying without actually doing so. Make it look good for the boss.
Gardner ended up taking a lethal cheap shot on the final snap, and no one in a winged helmet seemed to notice or care. That was eerily reminiscent of the hockey team a couple years ago when Mac Bennett was the recipient of a dirty hit at the end of a 5-1 blowout at the hands of lowly BGSU. No one responded, and it was obvious they were cooked.
Hoke talks about toughness constantly, but when asked to defend their quarterback they walked away, to a man. Maybe that's Taylor Lewan's fault too.
This program has a real knack for blaming the people who aren't around anymore for its current failings. Let's detail those real quick: Michigan is 3-7 in their last ten games with wins over Indiana, Northwestern in three overtimes, and Appalachian State. Brady Hoke was 16-4 with Denard Robinson as his starting quarterback and is 11-9 since, excluding the Nebraska game he went out of. Michigan has one road win over a team with a winning record, that over 7-6 Illinois in 2011. The trajectory is not good.
This is a breaking point. Either Michigan comes to Jesus, or they break. It was at this moment that Michigan hockey turned to Andrew Copp, a freshman, because it was clear no one else had any of that leadership stuff, and charged towards respectability. They ended up short, but it was better than that BGSU game in which they couldn't muster a third-period shot until 15 minutes in.
There's time yet to salvage something, Lloyd Carr-style, but little reason to believe such a thing is possible. One thing's certain: we are running out of people to blame other than the ones in charge.
Highlights
From the ND perspective, not that there's any other possible:
MGoVideo has the Michigan version of events.
Awards
Brady Hoke Epic Double Points Of The Week. Devin Funchess (#1) was real good at catching the ball, especially that one time they targeted him downfield at the end of the third quarter.
#2 Willie Henry was a key component of a run defense that held Notre Dame to 72 yards, sacks and whatnot excluded.
#3 Ryan Glasgow was also a key component of that run D.
Honorable mention:
Epic Double Point Standings.
6: Devin Funchess (#1, APP, #1 ND)
2: Devin Gardner (#2, APP), Willie Henry (#2 ND)
1: Ryan Glasgow (#3, ND)
0.5: Kyle Kalis (T3, APP), Ben Braden (T3, APP)
Brady Hoke Epic Double Fist-Pump Of The Week.
For the single individual best moment.
Nothing.
Honorable mention: Nothing.
Epic Double Fist-Pumps Past.
AppSt: Derrick Green rumbles for 60 yards.
ND: Nothing.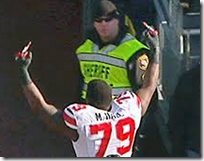 MARCUS HALL EPIC DOUBLE BIRD OF THE WEEK. Other than everything it has to be the fourth-and-three conversion on which Countess was nowhere to be found. That led to an ND touchdown that opened the margin to two touchdowns.
Honorable mention: Matt Wile misses two field goals to end longish drives and put Michigan in a hole. Gardner has Chesson wide open 20 yards downfield in front of his face, holds the ball, and gets annihilated, fumbling. Countess torched on a fade.
PREVIOUS EPBs
AppSt: Devin Gardner dares to throw an incomplete pass.
ND: Countess nowhere to be found on fourth and three.
[After the JUMP: things. probably!]