9/26/2015 – Michigan 31, BYU 0 – 3-1
HALP [Eric Upchurch]
"We were dominated in every facet, their defense over our offense. Every guy, every play. That thing was a shellshock, from the first snap right though the last."

–BYU offensive coordinator Robert Anae, 2015
"If you put a pit bull in a ring with a chihuahua, don't expect the chihuahua to win."

-former PSU WR Chafie Fields, 2006
The last time something like this happened, Alan Branch sent Anthony Morelli to the sidelines muttering about pudding. The year was 2006; Michigan's defense was a flamethrower of a thing. Dudes from it still litter NFL rosters: Branch, Lamarr Woodley, David Harris, Leon Hall, hell, Ryan Mundy. Each level of the defense had an NFL Pro Bowler on it. Lloyd Carr had finally, agonizingly made a switch from Jim Herrmann to Ron English, and things took off.
This was right after 2005, the 7-5 year one idiot Michigan fan dubbed "the year of infinite pain" because the worst thing that had ever happened to him as a sports fan was a light pillow buffeting followed by off-brand ice cream. That year Michigan had coughed up all manner of leads in all manner of ways, culminating in the infamous punt from the Ohio State 34 and the nigh-effortless OSU drive to win that followed. That was a jarring thing, the first gray hair emerging from the program's ear.
Adapting to the reality of the 2006 defense's otherworldliness was gradual, and then sudden. The Penn State game was the seventh that season, and only then was it crystal clear that what was going on was not the usual. It took just four games this season to start wondering about a repeat.
It's hard not to when BYU's coaches are wandering around wondering what blew their clothes off, when their quarterback comes to regard the pocket like it's the Mines of Moria. Here there be Balrogs. A full two-deep of them.
via Ace
------------------------------
Here's the numbers stuff. Michigan's third in the country in yards per play allowed, behind
a Boston College team that started the season off with Florida State… and Howard, Maine, and Northern Illinois
a Kent State team that's only in the conversation because it held Delaware State (remember them?) to –33 yards.
Michigan hasn't given up more than 337 yards in a game; two teams barely crested 100 yards and a third used a fourth-quarter drive to get over 200. The one team that moved the ball a bit on them, Utah, just atomized Oregon. S&P has Michigan fourth. (FEI does not update until week seven.) Michigan's already acquired 32 TFLs, 8th nationally on a per-play basis. Again they are mostly behind teams who scheduled Random Assemblage Of Ants In Helmets State. By any measure Michigan has established itself one of the nation's top defenses a month into the season.
A month is not a year. A number is just a number. But these numbers reflect what we've seen when Michigan has rolled out onto the field. They go seven deep on the defensive line. They have an All-American corner and two more guys coming on, and oh also Jabrill Peppers.
Aside from some blips in coverage against Oregon State none of the results have felt at all fortunate. In fact big chunks of the yards acquired have been batted passes still caught or sacks miraculously spun out of, with a side of NFL throws made under extreme duress. This level of performance is not sustainable, but only because we are currently peeved when the opponent scrapes into triple digits.
Any reasonably sane projection we're in on. We will also consider slightly insane ones.
------------------------------------------------------
That 2006 defense sprung leaks. We got a taste of it a couple weeks before Football Armageddon when Michigan ran out to a big lead against Ball State and rested the starters. Johnny Sears fell over a lot, Ball State scored, and scored again, and soon the starters were in desperately trying to prevent a potential tying touchdown in the waning moments.
That was Akron before Akron, and if you want to point a finger to the exact moment when a paranoid observer would have started building a bomb shelter, that was it. The soon-to-be 2007 secondary faced a jankety MAC spread and collapsed.
A couple weeks alter Michigan would go the whole game against soon-to-be Heisman winner Troy Smith with a 4-3 on the field against a spread offense. Chris Graham tried to cover Tony Gonzalez, a future first round draft pick at wide receiver. It went poorly. Michigan gave up 42 points. A couple months later Michigan shut down USC for a half; in the locker room Pete Carroll told his offensive coordinator to stop running the damn ball. USC ripped off 29 second-half points.
2006's Achilles heel—they had one great cornerback, one okay one, and nothing else—was in retrospect obvious but it took a long time to find anyway.
One may be on the way here, but it's hard to figure out what it might be. The spread ineptness that haunted Michigan's manball administrations for a decade and a half is emphatically out the door. If the thing you're exploiting against this secondary is the third and fourth corners on fly routes down the sideline, good luck. If there's an ACHILLES OUT OF NOWHERE here it's probably the sudden degradation of the defensive line if and when they face elite opposition. Even the occasionally iffy linebacker play will probably be fine against the kind of team that seeks to test Michigan there.
And I can't see that happening. We head back to precedents in an attempt to communicate how something feels. It is possible we're not going quite far enough back for this one.
HIGHLIGHTS
And from the BYU perspective:
Also every snap videos for the offense and defense.
AWARDS
Come back here young man who is older than me [Upchurch]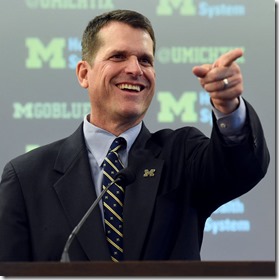 Yet To Be Named Harbaugh-Themed Guys Who Did Good Award.
you're the man now, dog
#1 Ryan Glasgow has somehow not featured on these lists yet. It says all you need to know about Michigan's faith in him that they decided to spend most of the day in dime with 5 or 6 guys in the box. Glasgow collected his usual TFL or two and was the linchpin of a 2.0 YPC performance in the most attractive circumstances possible for a rushing offense.
#2 Jabrill Peppers had his usual TFL, threw a BYU receiver to the ground with authority at the end of the first half, was not beaten in coverage, played (sort of) tiny WLB much of the day, spooked Tanner Mangum into a fumble on one particular blitz, and had two near-electric punt returns. Also, fair catches.
#3 De'Veon Smith ripped off this week's Who's Got It Better Than Us and thundered over 100 yards in the first half. It feels sort of wrong to put any offensive player on this list after that D performance, but I mean… yeah.
Honorable mention: All defensive persons. Darboh.
YTBNHTGWDGA Standings.
5: Chris Wormley(#2 Utah, #1 Oregon State)
3: Jake Butt (#1 Utah), Jourdan Lewis (#1 UNLV), De'Veon Smith(#2 Oregon State, #3 BYU), Ryan Glasgow (#1 BYU).
2: Ty Isaac(#2 UNLV), Jabrill Peppers(#2 BYU).
1: Willie Henry (#3 Utah), AJ Williams (#3 Oregon State), Channing Stribling(#3 UNLV)
Who's Got It Better Than Us Of The Week
This week's best thing ever.
Absolutely brutal decision this week but have to go with De'Veon Smith teleporting through a pile of players and then posterizing the same defensive back twice.
Honorable mention: Amara Darboh's OBJ impression. Every defensive snap save approximately three of them.
WGIBTUs Past.
Utah: Crazy #buttdown.
Oregon State: #tacopunts.
UNLV: Ty Isaac's 76 yard touchdown.
BYU: De'Veon Smith's illicit teleporter run.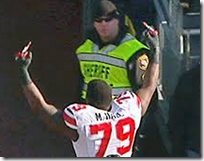 MARCUS HALL EPIC DOUBLE BIRD OF THE WEEK.
This week's worst thing ever.
BYU scrapes over 100 total yards on their last drive.
Honorable mention: Rudock doesn't see the fact that Jehu Chesson's guy has fallen down on the first snap. Michigan gets stuffed on a fourth down in the second half. Blake O'Neill goes rogue on a 4th and 16 punt fake.
PREVIOUS EDBs
Utah: circle route pick six.
Oregon State: Rudock fumbles after blitz bust.
UNLV: Rudock matches 2014 INT total in game 3.
BYU: BYU manages to get to triple digit yards in the last minutes of the game.
[After the JUMP: I AM FEELING QUITE POSITIVE THIS WEEK YES SIR]