Brash, Outrageous, And Free
9/17/2016 – Michigan 45, Colorado 28 – 3-0
linebacker on fire [Patrick Barron]
Let's say you're on the sideline of a football game. You've got a job to do, and you're doing it. This job involves looking at things other than the field, so you rely on your colleagues to let you know when the action threatens to spill over into your area of the sideline.
This is a fine system. You've honed it over the years. People move at a certain speed, you see, and when you hear "heads up" you get your head up, evaluate the situation, and avoid the brunt of the contact. Tried, and true, this system. Damn near infallible, in fact. At no point have you looked winged death straight in the facemask.
Then, this Saturday. Just after your team has taken a very unexpected second-half lead, the system kicks in. "Heads up." Head goes up. This is a process, though, and as you are in the midst of this process your brain starts signaling to you that something is wrong. The tone of voice, maybe? An ominous breeze? What's that thing with the sirens going by? Doppler effect? Whatever it is, the hairs on the back of your neck stand up straight. The process is complete now. Your head is up.
The system has failed.
The system was designed with certain tolerances and Jabrill Peppers has just blown through all of them. You are now staring winged death straight in the facemask. What a terrible time for it to be, now. Before is good. Later is good, assuming that there will in fact be a later. Now… now is bad. You spin the fight or flight wheel and land on "soil yourself."
And who can blame you, really?
Sphincters are also designed with certain tolerances. In your own way you've just blown through as many of them as Jabrill Peppers has in the realm of physics. So you've got that going for you.
-----------------------------------------
There is a certain kind of person—usually a rival fan with a brain that could be cooled down to meat-locker temperatures without any discernible ill effect—who spent most of the offseason bleating about excessive hype for Jabrill Peppers. Peppers didn't have a bunch of shiny counting stats, you see, and therefore he was worse than other people who did.
This argument, already dead in the water to any slightly objective person with eyes, is now beyond repair. Peppers has a decent season's worth of linebacker stats three games in: 9.5 TFLs, 2.5 sacks, three QB hurries, and a forced fumble. He leads Michigan with 28 tackles, 19 of them solo. He's got 173 punt return yards—an average of 22 yards a pop!—and has just started contributing on offense.
Linear extrapolation of these numbers gets to territory so uncharted that Captain Janeway and her crew of morons show up to survey it. We probably shouldn't do that. Spicy stats will get rarer as the competition level increases… insofar as it does. Rutgers is still on the schedule, after all. Maryland—which just went to double OT with Central Florida—is also on the docket. Penn State and Wisconsin have offensive lines that are, uh, in flux. Peppers might not might meet significantly more resistance except in a few games.
So screw it! Linear extrapolation: 112 tackles, 38 for loss, 10 sacks, a thousand return yards and however many touchdowns, and whatever he chips in on offense. Ahahahahahaha.
PICTURED: THE BIG TEN CONFERENCE
Haha. Ha.
---------------------------
This was a concerning game for several reasons, not least of them the fact that a middling-at-best Pac-12 school was driving to go up 28-7 in front of a shocked Michigan Stadium. Post Traumatic Hoke Disorder was in full effect amongst the 110,000 gathered. Personally, I was not having a real good time. I went into emotional shutoff mode, as is my wont, and contemplated how I was going to break it to MGoBlog readers that I was moving to Bolivia, as is also my wont.
Peppers didn't rescue that himself. I had a fist pump after Rashan Gary came around the corner and a ragged exhalation when Amara Darboh dismissed a couple tacklers to turn a tunnel screen into a touchdown. Michigan's rebound from a game they certainly lose in the previous regime was a collective effort. That collective effort was mostly accepted on mute.
The one guy who pierced right through that attempted stoicism was Peppers. Because BANG he's thumping some dude in the backfield and BANG he's just slashed upfield through the first wave of punt defenders and BANG he has sacked the quarterback before he's even finished his drop.  Even when you're trying not to feel anything in case the feelings are horrible, it's impossible to see Peppers and not think OH HELL YES SOMETHING 'BOUT TO BE ON FIRE I CAN'T FEEL MY FAAAACE LET'S GO PUNCH A LEOPARD WOO.
Offense or defense, doesn't matter. He's the best lion. He sinks his meaty claws into anyone with the temerity to test his edge. He's the best gazelle. He slashes through a line of claws without ill effect. He is sui generis, the scourge of sphincters, and someone put him in a winged helmet to rouse the inert from their stupors and send them to their local superstores in search of an axe appropriate for crazed berserking. Check.
HIGHLIGHTS
WH:
Parkinggod:
AWARDS
[Bryan Fuller]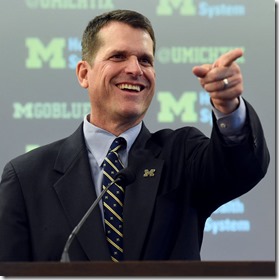 Known Friends And Trusted Agents Of The Week
you're the man now, dog
#1 Jabrill Peppers is an easy selection after 3.5 TFLs, a sack, two rushes for 24 yards, a kickoff return to the Colorado 45, and four punt returns averaging 25 yards a pop including the game-sealing touchdown. Peppers has been everything he's been hyped up to be so far this year. The busted coverage is a demerit, and this is still an easy pick.
#2 Jake Butt was the one consistently positive target in Michigan's passing game, with seven catches for 87 yards; I also caught a couple of positive run-blocking events on Michigan's big plays.
#3 Ben Gedeon had 12 tackles, a critical sack early in the game, and was a major component of Michigan's interior run defense. Pop pass issues may have been on him and McCray but asking LBs to respond to RPOs like that is asking for trouble; I'm assuming those are on the safeties.
Honorable mention: Khalid Hill would have made it if I wasn't pretty sure he got Speight killed on the sack/strip. Rashan Gary, Chris Wormley, and Ryan Glasgow were key components of a stout interior run defense.
KFaTAotW Standings.
5: Jabrill Peppers((T2, Hawaii; #3 UCF, #1 Colorado).
3: Mike McCray(#1, Hawaii), Wilton Speight (#1 UCF).
2: Ryan Glasgow(#2 UCF), Jake Butt(#2 Colorado).
1: Delano Hill (T2, Hawaii), Ben Gedeon(#3, Colorado).
0.5: Chris Evans (T3, Hawaii), Mason Cole(T3, Hawaii).
Who's Got It Better Than Us Of The Week
This week's best thing ever.
Peppers finally gets his return touchdown and seals the game.
Honorable mention: Matching 45 yard touchdowns down the edge by De'Veon Smith and Amara Darboh; various other Peppers things.
WGIBTUs Past.
Hawaii: Laughter-inducing Peppers punt return.
UCF: Speight opens his Rex Grossman account.
Colorado: Peppers cashes it in.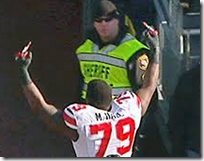 MARCUS HALL EPIC DOUBLE BIRD OF THE WEEK.
This week's worst thing ever.
A blown protection gets Wilton Speight blindsided for a 14-0 Colorado lead and a first quarter of deep panic.
Honorable mention: A blown coverage results in a long post touchdown to open things up for CU; Colorado strikes back at the beginning of the first half with a 70-yard bomb.
PREVIOUS EPIC DOUBLE BIRDs
Hawaii: Not Mone again.
UCF: Uh, Dymonte, you may want to either tackle or at least lightly brush that guy.
Colorado: Speight blindsided.
[After THE JUMP: SPEIGHTDOWN, also bad thing discussion]