8/31/2013 – Michigan 59, Central Michigan 9 – 1-0
oh yeah Kalis and Magnuson beardin' it up yo [Upchurch]
You may not remember this because of the recent history of Michigan football, but often after one-sided blowouts not against Notre Dame this space will throw up its hands at the idea of crafting an actual column and skip straight to bullets and highlights and whatnot. It's tough to narrate the emotional tenor of a humid August day against a team that never had a chance.
MY COLUMN ABOUT THIS FIFTY POINT WIN THAT MADE MY WIFE MAD BECAUSE SHE FELT BAD FOR THE OPPONENT
It was kind of boring, but on the other hand it was nice not to be terrified. It was hot and Dave Brandon smells like pee.
/column
But, you know, at some point in the third quarter Michigan threw a second team offense out there, and it was thrilling. I know this is basically me saying "hello, I am freak. Freak talk now. Freak talk." But there it is. I actually felt excited when the second-team OL came out, possibly more excited than I had been for anything that was not Dennis Norfleet all day. Ben Braden was out there. Chris Bryant. Blake Bars. Erik Magnuson. Joey Burzynski. One walk-on (not four); no upperclassmen. The future. Magnuson even got in on the goal line and did well for himself.
Michigan loses Lewan and Schofield; they also get six more bullets in their chamber as the 2013 OL class comes off redshirts, chomping at the bit. The days when Michigan's depth chart reads "three to five guys, then a bottomless pit" are close to over. Might already be over.
On the other side of the ball the equivalent moment came too soon to even think about it: the second drive. Michigan threw four guys out there who hadn't played on the first drive, and switched up some linebackers, and I'm not sure fans who don't obsessively track the numbers of everyone in the game would even notice. They'd go three deep at many spots by halftime.
They'll graduate three of the 20 players in the front seven who saw the field, and nobody from the secondary. Because of suspension and injury in the safety corps, yeah. But still.
Take this depth chart. Stack the 2014 depth chart behind it. Put 2015 behind that. You can even go to 2016, probably, what with Michigan's 2015 class approaching halfway done already. What do you get?
An infinite conveyor belt of shark teeth. It's coming. Might be here already.
Highlights
Via Parkinggod:
There's also a shorter BTN reel.
Photos
Eric and Bryan posted their galleries on Sunday. A season-opening reminder: all photos on the mgoblog photostream are Creative Commons licensed and can be used on your blog or twitter or facebook or whatever (just not sold). We just ask for a link back.
Meanwhile Roy Roundtree is pretty great y'all:
Fuller
Awards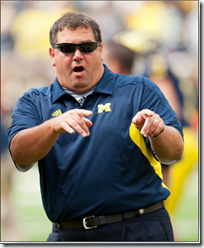 Brady Hoke Epic Double Point Of The Week. Difficult to pick any one person here since no one had more than four catches or 14 rushing attempts and Gardner threw two ugly picks in 15 attempts. Meanwhile on defense, the heavy rotation meant no one except Desmond Morgan had more than five tackles.
But… Cam Gordon looked good and his two sacks are the most statistically impressive achievement on the day. And Brennen Beyer only got credited for one sack but really had two, a sack/strip and then a plain ol' sack, both of which appear in the highlights above. On both he beat blockers. Gordon got his on (well timed, effective, finished) blitzes. Since everyone is feeling much, much better about Not Jake Ryan, Not Jake Ryan gets the nod.
Honorable Mention. Jarrod Wilson (for a guy who supposedly lost his job to Courtney Avery he was lights out); Jeremy Gallon (a couple tough catches amongst his four, and two touchdowns); Devin Gardner (okay, yeah, but Vince Young); Fitz Toussaint (looked goooood despite lack of stats); AJ Williams (provisional based on possibility he was caving in the outside of the CMU defense.)
Epic Double Point Standings.
0.5: Cam Gordon (CMU), Brennen Beyer (CMU)
Brady Hoke Epic Double Fist-Pump Of The Week. The blocked punt touchdown set the tone, showed us the crazy explosiveness of Dymonte Thomas (Heiko and Ace point out that he blocked it before it even hit the punter's foot), gave us some faith that special teams might be a real asset this season, and was a Heartwarming Moment when former walk-on Joe Reynolds scored his first touchdown. So that.
Honorable mention: Desmond Morgan embodies his description in the season preview with a textbook stick of Zurlon Tipton; Cam Gordon invades the backfield to make us all feel better about Not Jake Ryan; ditto Beyer; Derrick Green rips off a 30-yarder; Reynolds brings in a tough 50-yard catch.
Epic Double Fist-Pumps Past.
N/A
Burned redshirt watch
A first-game thing to do.
On offense: De'Veon Smith, Derrick Green, Csont'e York, Jake Butt, and Shane Morris.
All of these make sense to me. Playing one of the freshmen wideouts makes sense, one or both running backs could help Michigan win a game this year, ditto Butt, and Morris needs blooding.
On defense: Delano Hill, Jourdan Lewis, Channing Stribling, Dymonte Thomas, Taco Charlton, Ben Gedeon.
Despite previous complaints about burning either LB redshirt, if Gedeon is the backup WLB I'm fine with it. He appears to be. Everyone else is obvious save Jourdan Lewis, and even if that's a debatable decision M is still redshirting two corners this year and brings in Jabrill Peppers next year. I don't think they'll be moaning about a lack of a fifth year for Lewis.
Probably redshirting: All OL, Wyatt Shallman, Jaron Dukes, Khalid Hill, Da'Mario Jones, Reon Dawson, Ross Douglas,  Henry Poggi, Maurice Hurst,  Mike McCray. McCray is a bit of a surprise after the number change seemingly designed to get him on special teams with Dileo. I'm very much in favor of a redshirt to get some separation here. Everyone else is obvious save maybe Hill.
[Rest after the jump]