Preview 2013: Defensive End
Previously: Podcast 5.0, The Story, Quarterback, Running Back, Wide Receiver, Tight End and Friends, Offensive Line, Defensive Tackle.
A note before we start: this preview relies heavily on the defensive UFRs of last year because there's a convenient numerical system that does a decent job of summing up a defensive player's contributions. One caveat: the system is generous to defensive linemen and harsh to defensive backs, especially cornerbacks. A +4 for a defensive end is just okay; for a cornerback it's outstanding.
Depth Chart

| STRONG DE | Yr. | NOSE TACKLE | Yr. | 3-TECH | Yr. | WEAK DE | Yr. |
| --- | --- | --- | --- | --- | --- | --- | --- |
| Keith Heitzman | So.* | Quinton Washington | Sr.* | Jibreel Black | Sr. | Frank Clark | Jr. |
| Chris Wormley | Fr.* | Ondre Pipkins | So. | Willie Henry | Fr.* | Mario Ojemudia | So. |
| Matt Godin | Fr.* | Richard Ash | Jr.* | Ryan Glasgow | Fr.*# | Taco Charlton | Fr. |
Strongside Defensive End
Rating: 2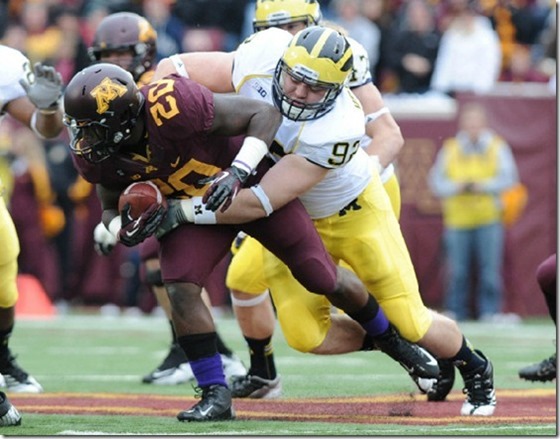 This is a two-or-three-way battle that will last into the season. The tentative guy at the top of the depth chart is redshirt sophomore KEITH HEITZMAN [recruiting profile], who backed up Craig Roh last year and was… well, pretty blah. He got crushed inside too often to have done well, and did freshman things like blow up the QB on speed options instead of stringing out to make the quarterback make a tough decision. I didn't actually grab a positive highlight from him last year, and I usually make a point to clip out something from a player I haven't seen do thing X before. His only good game in UFR was against Minnesota; most of the rest of the year he was around –1.
That's not to write him off. Heitzman was a low-rated recruit (actually a Vandy decommit) scooped up in the first-year Hoke blitz who needed to bulk up from the 240 pounds he was listed at as a recruit. Those guys usually take time. Now at 280, Heitzman is better equipped to hold up against the pounding.
Now that he's older and larger, expect plugging. He is the platonic opposite of Jake Ryan. Hoke:
Tell us about Heitzman.

"Keith doesn't do anything flashy. He just gets his job done. He's just truly one of those lunch pail guys who goes to work every day. Doesn't say much. Doesn't talk much. Just goes out and plays."
I… I've got nothing else here. I scoured the site for something interesting someone might have said about him, came up with that quote and a couple near-identical ones from last season (Q: What is Heitzman doing to get more playing time? A: Getting better). Now I'm out. Heitzman remains something of a mystery.
The bet here is an unremarkable season with a lot of platooning. Heitzman will play a lot of running downs, get pulled on passing downs (Black will take over as another WDE moves into the lineup), hold up decently, and get a lot of half-points in UFR for constricting holes. The upside here is low—at least for this year.
HAIR ZOOM 2013
Heitzman's main competition is CHRIS WORMLEY [recruiting profile], who was in line to receive snaps at three-tech last year when he blew out his ACL in fall camp. A year removed from that, Wormley is still shedding the injury tentativeness that comes with the territory. He is also growing out a ferociously ragged afro, because someone has to take over for Elliott Mealer's interesting hair. A salute to Chris Wormley!
What Wormley brings is hugeness. Ask Hoke:
"Number one, he's huge. He's a big guy," Hoke said. "He's done a nice job coming back from rehab, and probably a better job from the mental side of it. Chris has that potential to be an awfully good football player for us."
He has excellent athleticism attached to said hugeness. He's listed at 6'4", 289, and that looks to be almost all muscle. There was a lot of debate about him as a recruit, with a lack of high school production attributed to motor causing a split between "he's a top 100 kid" (24/7) to "he's a three-star" (Rivals). Ace was actually on the negative side of things:
Wormley's best way to get penetration was to simply run right around his blocker, and while this was nice to see in terms of evaluating his quickness, it brings up another point of concern—how is a 6'6", 270-pound Michigan-bound DE not completely flattening the 6'2", 225-pound offensive tackle across from him with malicious regularity? Again, motor wasn't the issue, but instead pad level; Wormley can get low on occasion, but several times he stood right up off the snap and let the tackle get right into him, turning him into a non-factor.
The fact that he was going to play early at a spot where Michigan had a couple of quality veterans in Black and Campbell is a step towards the top end of his evaluations. Mattison said he was "very talented" and "very smart" and is shedding the tentativeness brought on by the injury:
The thing that he's now showing that he didn't show in the spring is complete trust that he's 100%. So now he's back to turning it loose at different phases. He's got to do it every day. He's got to do it every play. But I don't think there's ever any thought in his mind anymore of, 'Oh, my knee.' "
Assuming Wormley's had a year to work out the kinks in his technique (Certainty Principle), he should be essentially a co-starter with Heitzman quickly. From there, performance will dictate playing time. You are rooting for Wormley to grab the job strongly, as he's the guy with large upside.
[After THE JUMP: Omar comin'? Depth! DEATH STARE 2013. TACO JUMPS OVER THINGS 2013]