Harbaugh of Michigan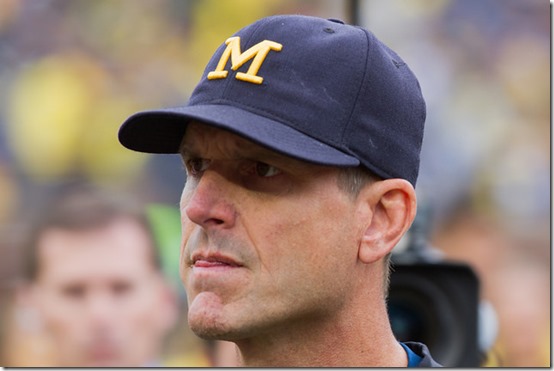 [Upchurch/MGoBlog]
Jeff Holzhausen first walked through Forest Hill cemetery over twenty years ago. He wanted to honor two Michigan legends during The Week before The Game, and he decided the best way to do so was to visit their graves. Holzhausen led his first tour group on that same walk a few years later, and he's been doing so ever since. I went on the grave walk last year, and afterwards I wrote a piece that was (thankfully) never published. The thesis was basically that Michigan fans had too tight a grip on the past and how that grip would need to slacken if the football program was ever going to become healthy again. It took one year, one speech, and one chance encounter with Jim Harbaugh to show me that I entirely missed the point of the grave walk.
"We want the Big Ten championship and we're gonna win it as a team. They can throw out all those great backs, and great quarterbacks, and great defensive players, throughout the country and in this conference, but there's gonna be one team that's gonna play solely as a team."
The University of Michigan is brutal. You will come in idealistic and looking down innumerable paths as realistic options and at some point you will be a confused shell of that self, drained and defenseless and lost, wondering not only what your next move is in the bigger sense but what you're going to do just to get to the next break. Michigan is more than those who have downed a pot of coffee because how else are you supposed to prep for that orgo exam and an econ exam and finish this stupid worksheet for Spanish? That's a college experience, but it's not unique; you can find that at almost any campus across the country. At Michigan, there comes a point where you will look around and feel like everyone is better than you; Michigan's seeping into your soul in that moment as much as it ever will.
"No man is more important than the team. No coach is more important than the team. The team, the team, the team, and if we think that way, all of us, everything that you do, you take into consideration what effect does it have on my team?"
No one associated with Michigan takes the "Leaders and Best" line lightly. The power in that comes from a bunch of high strung, neurotic, obsessively achieving individuals working toward common goals. The goals aren't the same; the endgame for a research team investigating the genetic causes of a certain mental health issue is different than it is for the football team, but the overarching theme is the same: use your collective talents to achieve something great.
"Because you can go into professional football, you can go anywhere you want to play after you leave here. You will never play for a team again."
Michigan has a fortunate history of having the right person show up at the right time, a new captain to right the course of a ship just slightly off course. At the same time, Michigan has had leaders in place that have had an ability to spot a fine-drawn mistake in course; Yost was hired after the dissatisfaction born of four losses and a tie in the twenty games played in 1899 and 1900.
The expectations for on-field performance have been high for over a century; expectations for traditional football powers will always have death-and-taxes status. Somewhere along the way, though, a new component of those expectations was wrought. It's not enough to win at Michigan. It has to be done with integrity, honesty, and through a ceaseless pursuit of perfection.
[After THE JUMP: Schembechler, Yost, Ufer, and an unexpected guest]