Upon Further Review 2016: Defense vs Penn State
SPONSOR NOTES: Getting a mortgage with Matt is a matter of collecting your documents, getting them uploaded to the secure server, and then checking out a set of rates while wearing whatever you want, like pants. Or... not pants.
In addition to being a gentleman replete with Michigan tickets, Matt is also a good man to know if you need a mortgage. It's striking that we actually get non-astroturfed comments about positive experiences with Matt not infrequently.
If you're buying a home or refinancing, he's the right guy to call.
FORMATION NOTES: Okay. Breaking things into front and cover look seems to be mostly functional. By "press" I mean that the two outside corners are in press. Usually the slots are still a number of yards off. This was a 4-2-5 package. The front is nickel over—Peppers is playing S and the line slides towards the run strength—and the cover look was press two high: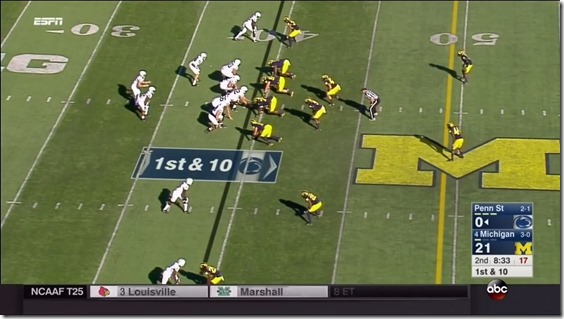 Goal line package was called 4-4 press zero:
When Michigan went to a dime package they had a couple of different approaches. This is a 3-man front like you'd see in a 3-4 with OLBs flanking it and just one ILB:
I called this front 3-3 split. They also did some wacky stuff, like putting all three DL to one side of the line: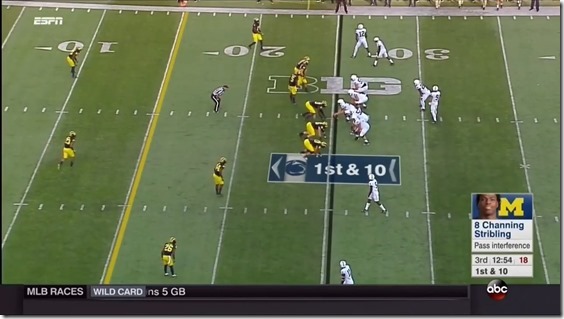 "Heavy slide 3-3-5." Taco Charlton, the nominal nose tackle, will help tackle an outside run to the top of the field.
And as a reminder I'm lumping all fronts with a bunch of dudes at the LOS under "okie":
BTW, "half press" or "off" looks are usually zone so far.
PERSONNEL NOTES: Just 57 defensive snaps and a ton of rotation on the DL. Charlton seems all the way back and in fact took the most of any DL(39); Godin, Glasgow, Hurst, Wormley, and Gary all had around 30. Winovich got 22.
The two ILBs got every snap until the final drive; McCray was lifted a few times when Michigan went to passing down packages. Furbush debuted for the final two drives. Stribling, Hill, Peppers, Thomas, and Lewis were near-omnipresent. Clark got just 15 snaps before his exit; Kinnel got 23.
[After THE JUMP: this is turning into the usual Penn State game.]