This Week's Obsession: Most Desired Breakout Player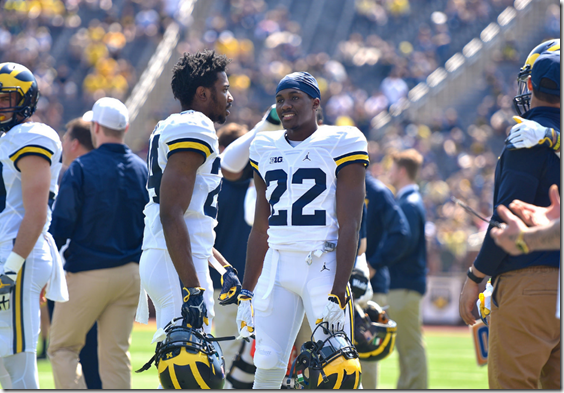 You break out or I will. [Bryan Fuller]
The Question:
You get a magic wand to anoint any Michigan player an instant all-Big Ten, except an offensive tackle else we'd all just be naming backup OTs.
Brian: This might be dumb.
Ace: We're all gonna go with CBs, right?
Brian: I'm going with Quinn Nordin?
Ace: Never mind.
The Responses:
Brian: I mean, #collegekickers, right? And if Nordin can hit them straight you've got four years of NFL range and accuracy plus kickoff returns that amount to "lol no".
Is that crazy?
Adam: I was going with Ron Johnson because please someone anyone D-line depth. and it'd be nice to have a guy that can play SDE and 3T.
Brian: I feel Ron Johnson is an invalid selection since to be All Big Ten you have to have some opportunity to play and TBH he does not.
An instantly playable James Hudson could give Michigan a solid two-deep at DL.
Adam: But who are the backups?
Brian: Dwumfour and Solomon.
Ace: In terms of value added over another position on the roster, Nordin isn't crazy. Dropoff from his ceiling to the backups is bigger than most any other spot on the roster.
Brian: Yeah, I mean it would be nice if Devin Bush was ABT but I'm not stressed if he isn't.
Adam: I'm going more for the principle than a specific player but I really haven no idea who the backup 3T will be. Marshall? Hudson? DIB?
Ace: I'd guess Hudson. He's outrageously strong.
David: Maybe Gary if they can find snaps for a freshman at anchor?
Ace: Gary might slide inside on some obvious passing downs but he'd be better utilized on the edge. I think that's a last resort that won't be needed.
Seth: Kemp is the backup at anchor. Of all the backup DL that's the spot I'm least worried about.
[Hit THE JUMP for more of us ignoring the offense because you really cut our legs out with this tackle rule.]