Of No Importance Whatsoever
8/30/2014 – Michigan 52, Appalachian State 14 – 1-0
NOBODY TOLD US WE WERE SUPPOSED TO GO THAT WAY LAST YEAR [Fuller]
I watched a lot of football on Saturday. I did not watch Magnolia because my then-girlfriend and current wife thought that her coping mechanism for sadness, which is apparently suffusing yourself in it until your fingers look like you've been in a pool of despair for hours, was applicable to humans. I mean:
That's what I did seven years ago. I had to turn it off because Magnolia is a movie that is unrelentingly miserable. I did not need additional resources in this department at that time.
I didn't turn anything off on Saturday. I watched twelve hours of football after getting back from Michigan Stadium. The only mention of Michigan's game before insomniac time was one dismissive sentence from Rece Davis, something about how there will not be "another seminal college football moment" this weekend. They didn't even take the opportunity to put gratuitous Funchess on the screen.
The only difference between this game and Michigan's opening-weekend romp over CMU last year: a nation's hope Michigan would blow it again. Once it became clear this would not be the case, a nation forgot the game happened before it had even ended. This was the best possible outcome.
So 1) hooray for the best possible outcome and 2) don't let that change your opinion about whether this was the dumbest scheduling decision in the history of scheduling decisions. The nation knew this about Michigan before Saturday: lol Appalachian State. This is what they know today: lol Appalachian State. On College Football Final their brief treatment of the game gave more time to 2007 than 2013. We are experiencing the maximum possible upside from this game, which is everyone immediately forgetting about it like Michigan was thumping a MAC opponent.
And thank God for that. Michigan eased out to a 21 point lead, and then it was suddenly 42, and at no point did Appalachian State look anything like a secret powerhouse; at no point did Michigan look so utterly clueless that they might blow their immense physical advantages. At no point did I wish I had a cyanide capsule handy.
So: hooray.
---------------------
The one thing worth noting here is that Michigan does seem prepared to deal with the football reality of 2014. Greg Mattison's defense played in the face of the opposition all game long, featuring nickel and dime packages frequently. They shot a safety into the box on most plays. They've got the personnel they need to deal with the spread. Possibly two at once.
Contrast this to 2007, when Johnny Sears started at cornerback in the Horror, with a patently unprepared Stevie Brown at safety. The linebackers available outside of Shawn Crable were Obi Ezeh, Chris Graham, and John Thompson. Michigan spent the entire day with two safeties twelve yards deep like they were playing Peyton Manning, and were surprised when the numbers didn't work out. Their linebackers were two-down thumpers for whom space is a cold vacuum in which death awaits. They barely had one cornerback, let alone a chorus line of them.
A big chunk of my spread zealotry has been the fact that Michigan has made it look unstoppable from the drop. They validated the entire idea against Northwestern and set their program on fire in the Horror and the Post-Apocalyptic Oregon game that followed. Put a running quarterback in front of them and they will die explosively. It's happened far too often the last 15 years for it to be a coincidence.
My primary worry about Brady Hoke is that he's stuck on a vision of 1990s Michigan in a world that's evolved past that. There was no sign of that Saturday. The defense's radical makeover paired with what was not the cram-the-box cro-magnon ball it certainly could have been against this opponent felt a tiny bit like John Beilein overhauling his program to be a man-defense, ball-screen offense juggernaut.
I'm not looking for a juggernaut this year. This is the punch-the-cow-for-butter year in which any yellow semi-solid will do. I proclaim this semi-solid yellow, and thank God for that.
Now let us immediately forget this game ever happened, like everyone else.
Highlights
Parkinggod's usual Michigan-centric one:
And if ten minutes isn't enough here are 20:
Also a guy noticed an eerie parallel between Blake Countess's LOS stick and one from Charles Woodson:
Awards
Brady Hoke Epic Double Points Of The Week. Yes, points. We're moving this to a hockey-like three stars system.
Michigan racked up 350 first half yards while holding App St to 60 en route to a 35-0 first half lead, so there are many, many candidates. It says here that Devin Funchess gets #1, because good Lord that is an unstoppable freak show.
#2 is Devin Gardner, who was on point with every throw except one, flashed that athletic ability, and stepped up (up!) in the pocket when suffering edge pressure
#3 is split between Kyle Kalis and Ben Braden. Michigan started gashing App St when Kalis replaced Joey Burzynski, with big runs repeatedly coming over the right side of the line.
Honorable mention: Basically the entire defense. There were no particular standouts, though.
Epic Double Point Standings.
3: Devin Funchess (#1, APP)
2: Devin Gardner (#2, APP)
0.5: Kyle Kalis (T3, APP), Ben Braden (T3, APP)
Brady Hoke Epic Double Fist-Pump Of The Week.
For the single individual best moment.
Michigan had gotten a couple of solid 10-20 yard runs from Smith and Green already when Green took the snap on an outside zone and shot downfield untouched by man or beast until 60 yards had elapsed. Runs. We may have them.
Honorable mention: They threw a screen to Norfleet! Any of the variously unstoppable Funchess touchdowns. Hellacious Stiffarm wins by a nose over LOL I'm Tall. Tacosack, hopefully the awesome thumping cousin of Tacopants.
Epic Double Fist-Pumps Past.
AppSt: Derrick Green rumbles for 60 yards.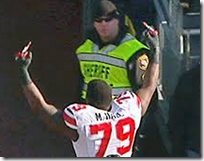 MARCUS HALL EPIC DOUBLE BIRD OF THE WEEK. That one time Devin Gardner threw way behind a blitheringly open Devin Funchess to prevent him from going 14/14.
Honorable mention: That one drive where the Mountaineers drove the ball on the ground against the second team.
PREVIOUS EPBs
AppSt: Devin Gardner dares to throw an incomplete pass.
[After the JUMP: Funchess! Holes! Teddy KGB!]