10/31/2015 – Michigan 29, Minnesota 26 – 6-2, 3-1 Big Ten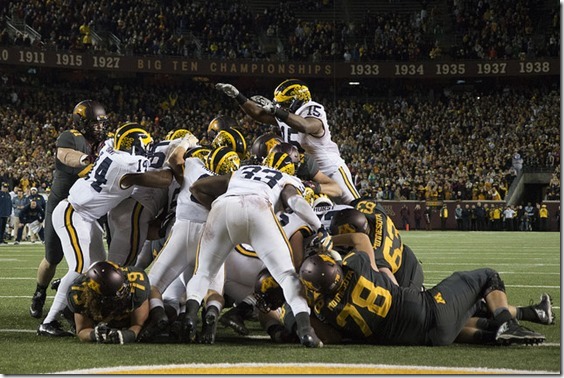 [Patrick Barron]
ONE. We've got a radio show now so I've been listening to sports talk radio even when Sam and Ira aren't on. I do it to compare and maybe get better and maybe draw confidence from the fact that a lot of sports talk radio is outrageously bad. The parts that aren't are often outrageously robotic. WTKA has a bunch of NFL stuff now that they switched to CBS, and it's on when I go to and from our podcast on Sunday; sometimes I catch it on a Thursday.
Tom Brady was on. Jim Gray actually asked him a lot of pointed questions about the upcoming game against the Colts and whether he had a desire to rain unholy fire upon those bastards. Brady responded with the passion of an accountant. I would chalk this up to Brady's flat affect, but I've seen player after player descend into this anodyne non-existence. This is a a league that spent most of the offseason discussing the Ideal Gas Law, after all—even if they didn't know they were doing so. It's just a thing. Colleges teach it but it doesn't take all the way. The NFL perfects it, along with the slant.
TWO. Minnesota has not been good for literally 50 years. Their blips to the positive aren't even Illinois blips. Every decade Illinois will show up in a BCS-level game; the Minnesota coach with the best winning percentage since 1944 is one Glen Mason, who the Gophers fired so they could hire Tim Brewster.
THREE. In 2005 I was pretty mad after a weird game where the Michigan Stadium scoreboards fritzed out and Jim Herrmann called a blitz on which Prescott Burgess, a 230-pound linebacker, was tasked with two-gapping a 270-pound monster TE. When I get mad I tend to be mad about everything, but when Lawrence Maroney rushed out to midfield and planted the biggest damn Minnesota flag in existence I was just like "yeah, go ahead, you earned that."
Sixty-plus Gopher players stormed across that field to reclaim the Jug without considering decorum, sanity, or sportsmanship. Michigan had just lost a game mostly because they called a blitz so telegraphed that a petrified backup QB could check them into a 50-yard run and I had enough non-hate in my heart to genuinely enjoy the fervor with which the Gophers reclaimed Fielding Yost's 30-cent chunk of crockery.
FOUR. Last year the Little Brown Jug went on a tour of the state of Minnesota.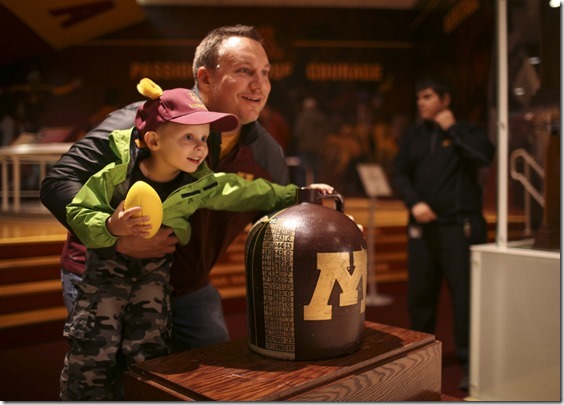 This was a good idea.
FIVE. Jerry Kill retired last week because he could no longer control the seizures his cancer had bestowed upon him. Jerry Kill talks like a NASCAR driver. He comes by his coachspeak honestly, and when Tracy Claeys was again thrust into a role he probably never thought he'd be in—Kill tends to buy and hold assistants until the end of time—he sounded 100% like Jerry Kill.
It was awkward. It was stilted. It was genuine as hell. He told his kids not to play with emotion because emotion evaporates but to play with passion because passion sticks and I was just like YOU MAY BE SAYING THIS LIKE TOM BRADY SAYS THINGS BUT I KNOW THAT FEEL.
SIX. Junior Hemingway, just shouting and weeping after the Sugar Bowl.
SEVEN. Jerry Kill.
EIGHT. Michigan won a football game that often doubled as an exercise in hilarious improbability. Michigan gave up a 52-yard touchdown after Jeremy Clark executed the platonic ideal of coverage against a corner route. With 19 seconds left in a football game, Minnesota spent 17 seconds on a series of elaborate motions on first and goal from the half-yard line.
Football is weird and terrible and sometimes it gets you to within a half-yard of a cathartic, wonderful victory and then says "nah." Sometimes when you're 2-and-a-billion after always being good your walk-on QB dials up a bunch of incredible throws and you go grab the Little Brown Jug with a newfound respect for its importance. Football, above all, is cruel.
NINE. If you are a Minnesota fan on a bitter Monday indeed, here is the equivalent of Lawrence Maroney planting a flag. It is Jon Falk, the recently retired and legendary Michigan equipment manager, welcoming his favorite 30-cent crockery back home.
It hurts, but that means something. That is a thing that is real. It is a reflection of Jerry Kill killing himself to be in this game and dying because he has to leave it.
TEN. I've always hated THIS IS MICHIGAN a bit because it reminds me of going to Penn State in 2006 and having their chintzy-ass scoreboards proclaim WE'RE PENN STATE… AND THEY'RE NOT. It's not necessarily as bad, but sometimes it tends to AND THEY'RE NOT. I'm not a huge fan of Michigan's excellently-executed James Earl Jones intro video this year because it claims a bunch of things that should be gestured at instead.
Michigan's great. I love Michigan. I love it all, though. I've been to Georgia and Auburn and Penn State and Ohio State and Minnesota and the feeling of college football is something else. Minnesota hasn't done anything Colin Cowherd would note for 50 years. You could maybe compare them to the Lions, who no one should ever be a fan of.
Except no. Tell me that doesn't matter. Tell me This Is Minnesota doesn't mean anything. We took the Jug and we mostly earned it and that matters to me. It matters to Jabrill Peppers and Jon Falk and Jim Harbaugh and Greg Dooley. It matters because it's college fucking football, and Minnesota means something.
To Michigan, it means the Jug. They got it back on Saturday by the skin of their teeth, and for a program that's had a bit of a rough go of late they'll take it any way they can get it.
HIGHLIGHTS
Column inspired by Dr. Sap digging up a post-game Bo speech after the 1987 Jug game:
A half hour version that must be most of the game from WD:
Parking God has a more reasonable length reel:
AWARDS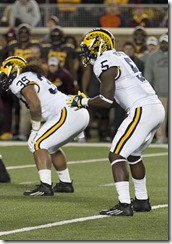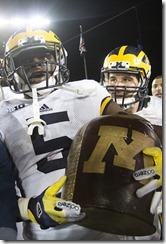 [Barron]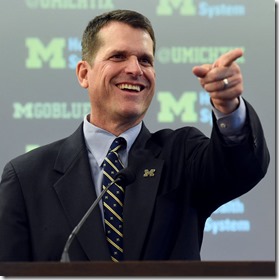 Known Friends And Trusted Agents Of The Week
you're the man now, dog
#1 Jabrill Peppers had a 40 yard KO return, a 40 yard punt return, two PBUs, a near pick-six, a rushing touchdown, a reverse set up by everyone fretting about Peppers, a pass interference call drawn—Peppers played nearly 100 snaps and was instrumental in all three phases of the game.
#2 Maurice Hurst didn't actually pop up in the box score much but he was frequently in Leidner's grill; on the final stand he blew up the pass protection on the first play and was one of a few different Wolverines whipping their dudes up front. Actually in the box score: he had a critical TFL that forced Minnesota to kick a short field goal.
#3 Drake Johnson didn't get many carries but was by far the most effective runner Michigan had; other guys had lanes but didn't take advantage of them. Hoping to see more of him going forward.
Honorable mention: Chesson and Darboh both had nice days. Glasgow again contributed to mostly good run defense.
KFaTAotW Standings.
9: Jourdan Lewis (#1 UNLV, #1 Northwestern, #1 MSU), Jabrill Peppers(#2 BYU, #2 Northwestern, #2 MSU, #1 Minnesota)
5: Chris Wormley(#2 Utah, #1 Oregon State)
4: Maurice Hurst (#2 Maryland, #2 Minnesota)
3: Jake Butt (#1 Utah), De'Veon Smith(#2 Oregon State, #3 BYU), Ryan Glasgow (#1 BYU), Desmond Morgan (#1 Maryland),
2: Ty Isaac(#2 UNLV), Willie Henry(#3 Utah, #3 MSU).
1: AJ Williams (#3 Oregon State), Channing Stribling(#3 UNLV), Blake O'Neill(#3 Maryland), Jake Rudock(#3 Northwestern), Drake Johnson(#3 Minnesota)
Who's Got It Better Than Us Of The Week
This week's best thing ever.
Form a f-ing wall.
#FAFW pic.twitter.com/xWGkS1Fjqi

— Ace Anbender (@AceAnbender) November 1, 2015
Honorable mention: Speight throws the go-ahead touchdown and then converts for two; Peppers has the ball in his hands.
WGIBTUs Past.
Utah: Crazy #buttdown.
Oregon State: #tacopunts.
UNLV: Ty Isaac's 76 yard touchdown.
BYU: De'Veon Smith's illicit teleporter run.
Maryland: Jehu Chesson jet sweeps past you.
Northwestern: Chesson opening KO TD.
MSU: the bit where they won until they didn't.
Minnesota: form a f-ing wall.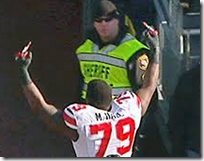 MARCUS HALL EPIC DOUBLE BIRD OF THE WEEK.
This week's worst thing ever.
Channing Stribling gets beat over the top for what seems like the game-winning touchdown, until it was not.
Honorable mention: Mitch Leidner hurling the ball downfield on throws that are very bad ideas only for those to be complete anyway. Rudock underthrows another deep ball by 20 yards.
PREVIOUS EDBs
Utah: circle route pick six.
Oregon State: Rudock fumbles after blitz bust.
UNLV: Rudock matches 2014 INT total in game 3.
BYU: BYU manages to get to triple digit yards in the last minutes of the game.
Maryland: Slog extended by deflected interception at Houma.
Northwestern: KLINSMANN OUT
MSU: Obvious.
Minnesota: The bit where the lost it until they didn't.
[After THE JUMP: fluky fluky fluky.]