I Can Reach It This Time
12/1/2013 – Michigan 41, Ohio State 42 – 7-5, 3-5 Big Ten
Bryan Fuller
About a dozen people asked me during and after the game about how they should feel, and all I had and have is a shrug. I don't know, man. I know this is the part of the blog where I come up with The Big Feel (uh… working title) about what happened on Saturday, and I'm as jumbled as anyone else.
How are you supposed to feel after coming up one play short against an undefeated Ohio State team that was favored by three scores? How about when that makes you two of the last 13 against the Great Satan? How are you supposed to feel after watching whatever that was on offense since the Notre Dame game* turn in the second-most yards Ohio State has ceded in 123 years? After watching the mostly valiant defense turn into the Indiana outfit that necessitated the footnote in the previous sentence?
Football's ridiculous. There's that. We can all agree on that after the football gods cooked up the worst possible torture imaginable for Harvey Updyke, who is 100% at fault for the way the Iron Bowl ended. That is the only thing that actually makes sense about football, a 109-yard field goal return to beat the #1 team in the country. Football is ridiculous.
For me this is a giant ball of frustration. Sometimes you come out on the wrong end of a classic and that sucks but it's still pretty much okay because of the context of the game and the fact that you got to experience it. The 2005 Rose Bowl is the best example in Michigan's recent history. This aspired to that status, but was doomed from the start because of one question.
WHY
WHYYYYYYYYYY
------------------------------
People will say things about rivalries and sure, I believe that after watching Michigan State play Michigan for the past half-decade. There is no amount of rivalry that bridges this gap:
IOWA, 7 BIG TEN GAMES AGAINST NOT MICHIGAN: 4.9 yards per play allowed, in a pack just about tied for second in the conference behind MSU.
IOWA VS MICHIGAN: 158 yards ceded at 2.8 per play.
NEBRASKA, 7 BIG TEN GAMES AGAINST NOT MICHIGAN: 4.8 yards per play allowed, also in the pack. (Yes. Nebraska's defense was actually kind of good in Big Ten play.)
NEBRASKA VS MICHIGAN: 175 yards ceded at 2.8 per play.
OHIO STATE, 7 BIG TEN GAMES AGAINST NOT MICHIGAN: 5.0 yards per play allowed, third member of pack**.
OHIO STATE VS MICHIGAN: 603 yards ceded at 7.4 per play.
One of these things is not like the others. It's the one that doesn't make you want to listen to Pearl Jam like you're 15 and a girl just laughed at you. If Michigan does anything like what they did in this game against Nebraska, Iowa, and Penn State, they're 10-1 and shaking their fist at Michigan State's defense as the reason this game won't result in a rematch. In that context, a battle of top ten teams that goes down to the wire inside the wire, sure, classic away aw shucks it only hurts when I think about it, it's on. Which BCS bowl are we going to?
After the nine games between Notre Dame and Ohio State, that's a bit fanciful.
When Dave Brandon's not making ludicrous comparisons to Nick Saban and throwing Mike Martin, Denard Robinson, and Martavious Odoms under the bus, he's pointing out that Michigan is just two… three… four plays away from being Super Awesome Team. Anyone with eyes can see that they are three rather improbable ones away from being 4-8. Michigan was a yard away from losing to Akron, needed Desmond Morgan's best Woodson impression to beat UConn, and executed the only successful fire-drill field goal in the history of football to get to overtime against Northwestern. Fate has been kind and cruel in equal parts this year. This is a 7-5 team that finished with a losing record in conference because it deserved to.
That sucks. Putting on the fireworks against Ohio State to end the season is better than taking a steel-toed boot for three hours, but you watch them run play action that curls Jeremy Gallon back to Gardner off of that bubble-iso look and the mind argues with itself about whether it should say "hooray" and wave a little flag or "did you not want to win the Iowa game?" and wave a pitchfork.
You wonder how much earlier this progress could have come if Michigan had settled on a few simple things to start the season instead of trying to run everything that had ever been drawn up on a napkin. Or how much time they set on fire by running that gimmicky tackle over stuff that was dead as soon as it was put on film. How is it that these pieces can be assembled to put up 41 points against ND and OSU and zero (approximately) against the rest of the schedule?
Actually winning the game comes with a big old bucket of redemption. Coming that close and coming up short… well, ask Devin Gardner.
"I threw an interception to lose the game," Gardner said, his voice low and barely audible. "There's not much else I can say."
This is a person who just completed 70% of his passes for 450 yards and in the press conference after he's like me on the benches after the game, keeping my head down and trying not to hear the Ohio State fans around me. Hurting. In his case, both physically and mentally. All I've got on the former part is a sore wrist from bowling, but man did I feel that other bit at the same time he did.
This is a moral victory. It stops a large chunk of the bleeding, likely solidifies the recruiting class, and gives Hoke more stable footing going forward. And he's going to be here. It is much better than getting your head stomped.
But the thing about moral victories is that they aren't, you know, victories.
*[Indiana just gave up nearly 500 yards passing to Danny Etling. Indiana is rookie mode, and is set aside.]
**[Wisconsin at 4.8 without a Michigan game is the fourth member; Michigan is next in a tier by itself at 5.4, but then again it didn't get to play its offense; FWIW, Penn State's defense was meh at 5.7 and Michigan got 4.7 per play.]
Awards
Brady Hoke Epic Double Point Of The Week. At one point late in the game, Gardner scrambled out of the pocket, found himself alone with a defensive back, and faked a throw to absolutely no one. This got him a first down and what looked like a sprained ankle. He managed to limp back to the huddle, whereupon I felt Michigan should just run the ball because their QB needed some time to not be dead. They threw it; Gallon was wide open on a corner route; Gardner missed it badly. Because he was dead.
When not dead, he turned in a superlative performance despite being pretty much dead. Devin Gardner is tough. Yes.
Honorable mention: Gallon and Funchess are pretty good you guys. The offensive line had a pretty good day not just by their standards but by the standards of average-ish D-I teams everywhere.
Epic Double Point Standings.
2.0: Jeremy Gallon (ND, Indiana), Devin Gardner(ND, OSU)
1.0: Desmond Morgan(UConn), Devin Funchess(Minnesota), Frank Clark(PSU), Matt Wile (Nebraska), James Ross (Northwestern)
0.5: Cam Gordon (CMU), Brennen Beyer (CMU)
Brady Hoke Epic Double Fist-Pump Of The Week. In a game that was more about holding serve than field position, Michigan somehow stripping Carlos Hyde as he GRRAAAHHHHed his way towards another first down was even more important than a turnover usually is. That got Michigan back on level terms after being down a break, as it were, and provided the frenetic finish.
Honorable mention: Gallon screen goes for 84, announces that Michigan is not going to roll over dead. De'Veon Smith rumbles for 38 yards, looking like he did as a high schooler what with dudes bouncing off of him and such. That thing with Gardner pump-faking at air. Fight!
Epic Double Fist-Pumps Past.
8/31/2013: Dymonte Thomas introduces himself by blocking a punt.
9/7/2013: Jeremy Gallon spins through four Notre Dame defenders for a 61-yard touchdown.
9/14/2013: Michigan does not lose to Akron. Thanks, Thomas Gordon.
9/21/2013: Desmond Morgan's leaping one-handed spear INT saves Michigan's bacon against UConn.
10/5/2013: Fitzgerald Toussaint runs for ten yards, gets touchdown rather easily.
10/12/2013: Devin Funchess shoots up the middle of the field to catch a 40 yard touchdown, staking Michigan to a ten-point lead they wouldn't relinquish. (Right?)
10/19/2013: Thomas Gordon picks off an Indiana pass to end the Hoosiers' last drive that could have taken the lead.
11/2/2013: Clock expires.
11/9/2013: Nebraska muffs a punt through no action of Michigan's.
11/16/2013: Michigan executes a clock-running last-second field goal to get the game to OT.
11/23/2013: 404 file not found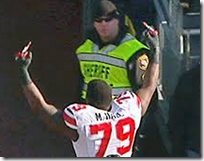 NEW! MARCUS HALL EPIC DOUBLE BIRD OF THE WEEK. At the fine suggestion of a reader, this goes to the worst, most ANGAR-inducing thing in the game. Because double birds will live forever.
Your inaugural Epic Double Bird: Devin Gardner's "fumble" that was reviewed and confirmed after about three seconds when he looks clearly, obviously down.
[AFTER THE JUMP: Throw it up at the tall guy, FIGHT, defensive implosion, further double-birding at the replay official.]