I Expected This, Just Not So Much Of It
11/2/2013 – Michigan 6, Michigan State 29 – 6-2, 2-2 Big Ten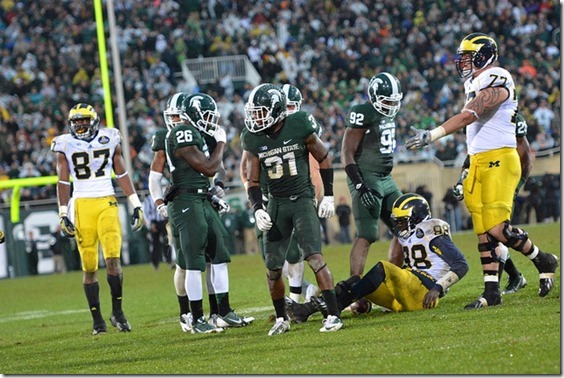 Bryan Fuller
You put a brave face on, but some point your jersey is so dirty and your ribs so inflamed that you have to take a moment as you exit the field to breathe. You suck in, and it fucking hurts. You breathe out, and it fucking hurts. Everything fucking hurts.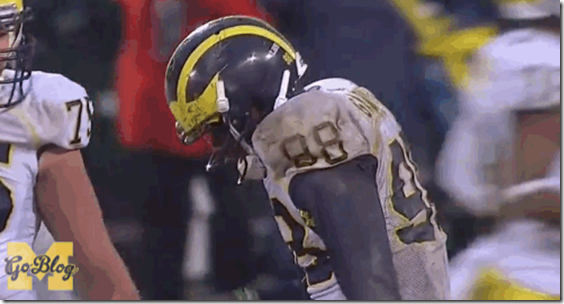 You've looked like a coal miner after an explosion for the better part of four quarters and everything you do reminds your over-exerted nerves that in fact they have a job to do even if they really wanted to stop doing it two hours ago, and they raise their hand and say OH BY THE WAY THIS FEELS LIKE DEATH, and at some point you have to obey them. Space is infinite and cold and bereft of hope, and Devin Gardner is in it, waiting to die.
------------------------
I didn't need a half-dozen people to tell me that they'd talked to people or had met the guy. I knew it. They all said Devin Gardner was a cocky son-of-a-gun and they all had different opinions about whether this boded well or terribly; none of them needed to tell me. All you need to know is Gardner's sense of humor, how he bobs his head during his starting-lineup intro at Michigan Stadium when he says "I'm a Michigan grad."
I know that bob. I was 19, in Canada, ordering "whiskey on the rocks" with that head-bob. I'd never had anything to drink, ever, and the table exploded with laughter. The waitress checked our IDs, saw that we were all 19 year old Americans, and got me some whiskey on the rocks. I am a cocky son-of-a-gun. I know that head bob.
I do not know what it's like to have dozens of 250-to-300-pound people deposit their helmeted heads into my ribs over the course of a few hours. I played Quiz Bowl in high school. It was slightly less demanding, physically. I have a comeback victory story in the Michigan tournament that I could tell you if you wanted to hear about nerd triumph. But that's not important.
What is: Gardner has had that cockiness literally beaten out of him by this football season. It started with the insane interception against Notre Dame and steadily built through interception after interception; Michigan resorted to running him a lot to actually move the offense forward, and he started having moments where you wondered if he'd get up. He laid on the turf after he took one particular shot to the chest against Minnesota, and it was a surprise when he got up and continued playing football. By Penn State his coaches were so afraid of him that they curled up into a ball in overtime.
In this game Pat Narduzzi paid his five dollars to the carnie and whipped linebackers at him until he cracked. Pat Narduzzi is now the proud owner of a St. Bernard-sized Marvin the Martian. Devin Gardner is no longer bobbing his head, because doing so sends shooting pain down his right side. And his left side. And other sides that don't actually exist but still manage to send shooting pain signals to his brain. Cockiness has left the building.
Michigan fans have endured a similar trial, albeit without the helmets impacting us like bullets on kevlar and with the aid of sweet, sweet beer. Over the course of two months Michigan has gone from a program on a rapid upward sweep towards another Ten Year War, Jabrill Peppers in hand, to a shambles much worse than its 6-2 record and seemingly adrift. There's been no whisper of a program that seems as good as Michigan State is right now for seven years, and counting.
The nadir of nadirs was Taylor Lewan turning into Will Gholston, down to the helmet twist on a prone player. That's where this program is right now: talking tough, failing utterly, and taking out their anger on whoever happens to be around.
Anyone still deploying the "little brother" rhetoric should be hit on the head with an oversized mallet and mailed to Waziristan. That was definitive. We're going to need a bigger countdown clock.
Awards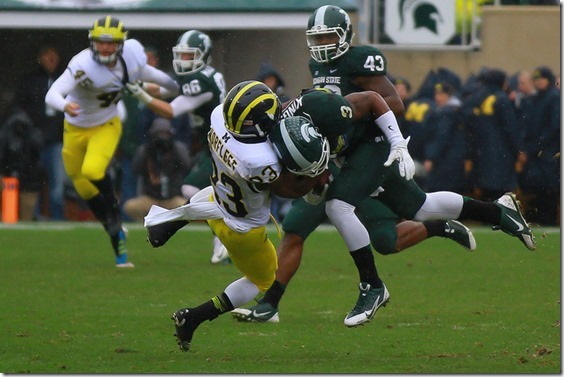 Eric Upchurch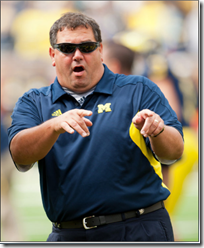 Brady Hoke Epic Double Point Of The Week. Dennis Norfleet was pretty good on punt coverage. But no points are awarded.
Honorable mention: LOL.
Epic Double Point Standings.
2.0: Jeremy Gallon (ND, Indiana)
1.0: Devin Gardner (ND), Desmond Morgan(UConn), Devin Funchess(Minnesota), Frank Clark(PSU)
0.5: Cam Gordon (CMU), Brennen Beyer (CMU)
Brady Hoke Epic Double Fist-Pump Of The Week. The clock expires to end the game.
Honorable mention: Raymon Taylor's interception gives Michigan a sliver of hope; Michigan completes some passes early, moving the ball-type object some distance-type measures.
Epic Double Fist-Pumps Past.
8/31/2013: Dymonte Thomas introduces himself by blocking a punt.
9/7/2013: Jeremy Gallon spins through four Notre Dame defenders for a 61-yard touchdown.
9/14/2013: Michigan does not lose to Akron. Thanks, Thomas Gordon.
9/21/2013: Desmond Morgan's leaping one-handed spear INT saves Michigan's bacon against UConn.
10/5/2013: Fitzgerald Toussaint runs for ten yards, gets touchdown rather easily.
10/12/2013: Devin Funchess shoots up the middle of the field to catch a 40 yard touchdown, staking Michigan to a ten-point lead they wouldn't relinquish. (Right?)
10/19/2013: Thomas Gordon picks off an Indiana pass to end the Hoosiers' last drive that could have taken the lead.
11/2/2013: Clock expires.
[After THE JUMP: brimstone.]