Picture Pages: Check Yo' Self
HEY TOMMY REES
CHECK IT OUT I'M ALL GONNA BLITZ YO
LOL LOOK HOW CLOSE I AM TO THE LINE
WHY IS EVERYONE LOOKING AT YOU?
HEY MAN… I'M NOT BLITZING BE COOL
LOL JK YES I AM. HEY… THAT GUY IS OPEN
IF I WAS NOT BLITZING I MAY HAVE BEEN IN THIS AREA
TOMMY REES IS A JERK
I HOPE HE THROWS A BALL BACKWARDS FOR NO REASON LATER
VIDEO
OBJECT LESSONS
This happened a lot. Michigan would line up, show something unsound, and Rees would check into something that would punish the defense. Blue Seoul highlighted another instance where Michigan tipped its blitz:
Result: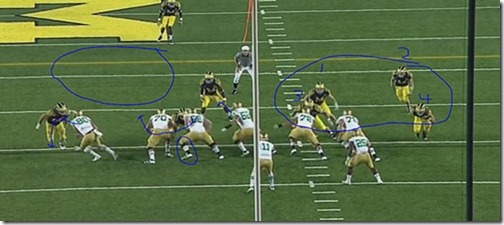 Also a result:
Michigan would line up in its okie package on plausible running downs like third and five, which caused Rees to check to runs up the middle. With no linebackers and Mike Martin dropping into coverage these went for about 20 yards.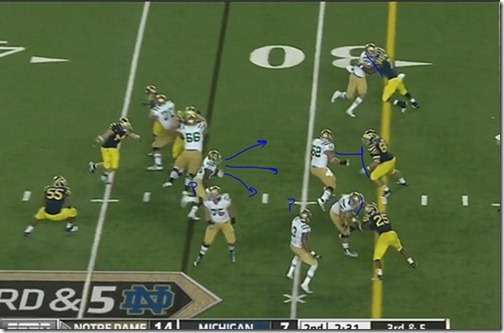 Hell, even when good things happened this was going on. Look at this dude on Kovacs's interception:
That is a 65-yard touchdown waiting to happen if Rees's brain isn't going FLOYDFLOYDFLOYDFLOYDFLOYDFLOYD. The difference between a great call and an idiotic call is Rees not being a true sophomore in his fifth start with deep man love for Michael Floyd.
Seriously. Michigan's defensive RPS is going to have huge numbers because Mattison is doing all sorts of crazy stuff. This defense is the philosophical opposite of the bland 4-3 cover twos of Iowa, Michigan State, and Wisconsin.
They show a bunch of different fronts, blitz from everywhere, don't bother to cover guys in the seam when there are no safeties… it's a freak show out there. Sometimes it works. When it doesn't it's ugly. ND's last touchdown is especially galling because Michigan had to know ND would see this massive bust on the Kovacs INT and check into "free seam touchdown" when Michigan checked to cover zero. In this instance there was at least a guy vaguely in the area, but they've got a lot to work on.
Blitzing is not such a good idea when you wave your hand and say "sir: I am blitzing." In the first half Michigan tipped their blitzes a lot. Matters improved when Hawthorne came in—I watched him blitz without so much as taking those anxious shuffle steps, let alone going LOL I'M AT THE LINE—but it's disconcerting to watch the Michigan defense freak out on a QB handclap so consistently. They should know by now that the clap often leads to a check, because the offense did that a ton last year.
So… where is Michigan's check after ND checks? You can't check all the time because then ND's check will be "let's change their play without changing ours" but you have to check some of the time, particularly early.
Avery could have done better here. He's beaten to the inside too easily and can't tackle on the catch. He is not capable of dealing with Mike Floyd. Not many are, but predictions in this space of a bust-out year are not off to a good start. It's early yet.
Not that it would have mattered: Avery can run his slant for Floyd and Eifert is still hand-wavingly wide open. Dude could have gone for 150 against us if Tommy Rees's brain wasn't going FLOYDFLOYDFLOYDFLOYD.
Another reason for worry. This defense is unsound. Does Mattison want it to be unsound because it makes Kovacs pop up for turnovers or does he have little choice in the matter because he's starting a walk-on (Heininger—Kovacs has graduated), a couple freshmen, and only 2.5 non-walkon seniors (RVB, Martin—Woolfolk is the half)?
I don't know, but I'm betting it's the latter. I am glad they've got a week to practice not leaving guys wide open all day. They're busting coverages every other play.