What Is: A Scrape Exchange
[This series is a work-in-progress glossary of football concepts we tend to talk about in Upon Further Review and Neck Sharpies, etc. Previously:
Offensive concepts: Run-pass options (RPOs), High-Low passing routes, Covered (ineligible) receivers/tight ends, Blocking: Reach Blocks, Kickout Blocks, Wham Blocks
Defensive concepts: Keeping Contain/Lane Integrity, Force Player, Hybrid Space Player, One-Gap Fronts, Coverages: Tampa 2, Pattern-Matching, Quarters and how MSU runs it
Special Teams: Spread punt vs NFL-style]
------------------------------------------
In the Iowa UFR Brian talked about how opponents had solved Michigan's Peppers-as-Option-QB (we were calling it the "Pepcat") package with an old fashioned zone read beater: the scrape exchange. Brian on the above:
Peppers is reading the DE and pulls; Iowa inserts a linebacker directly into his path since that DE is covering up the inside gaps the LB would usually be tasked with.

Since I watched the Rodriguez era at Michigan this is familiar to me. Also familiar to me: the various counter-punches Michigan threw at this. Remember that brief era when Carlos Brown and Brandon Minor were running directly off tackle for big chunks on the regular? That was due to Michigan's response to this kind of approach: blast that guy slanting even further inside, kick the linebacker out, and thunder directly to the secondary.
Since that was buried in a UFR I figured we might discuss scrape exchanges in some more detail here.
What's a scrape exchange: It's a defensive concept that flips the roles of two backside defenders, thus covering both sides of a quarterback's zone read. The guy the offense thinks it's optioning, usually a defensive end, "crashes" (move horizontally across the line of scrimmage) and is "exchanged" for another defender, usually a linebacker, who "scrapes" to the area the end vacated.
What's it for? It's the paper to the zone read's rock. So you remember zone read:
This is the play that Rich Rodriguez invented to dawn the spread era. The offense leaves the backside defensive player unblocked and the quarterback options that guy. If the player (usually a defensive end) takes the opportunity of no blocker to scrape across to the running back's path, the quarterback keeps it and runs into all the space left behind. If the optioned defender forms up to keep the quarterback contained, the running back gets the ball with the benefit of that extra blocker.
After decades there are lots of variations, but this is the gist of that offense. A scrape exchange makes the quarterback keep it, and makes that decision also wrong: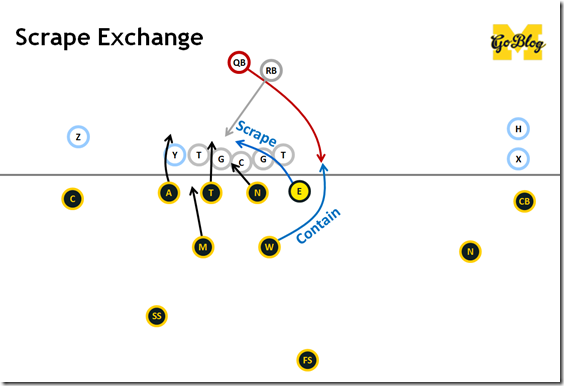 The quarterback running a zone read will see the defensive end crashing and keep the ball, only to find the linebacker appearing where the quarterback was about to run it. What the QB is expecting is on the left below; the result of the scrape exchange is on the right:
[After the JUMP: see it in action, and ways to beat it]