Mailbag: Air Force Scheduling Dispute, Why Freshman WRs Are Bad, 2013 Feels, Vanilla, Hummus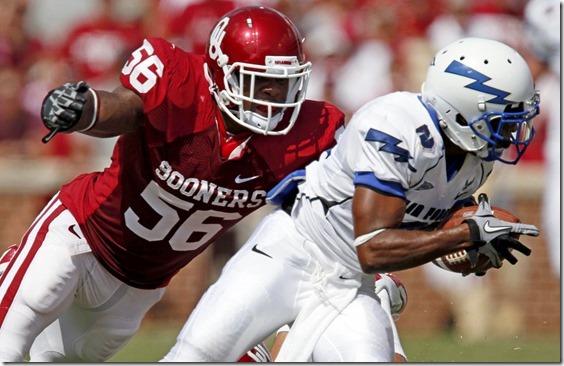 27-24 man, it's tight against the Falcons
AIR FORCE SCHEDULING DISPUTE
Q: Isn't this why you DO schedule Air Force?

- The service-academy factor at least makes it more of an "event" game than, say, UNLV or Bowling Green.

- Gives both offense and defense experience reacting on the fly in a real game to unusual scheming.

- You're still probably going to win—and if you don't, is there really a situation in which a team is good enough to make the Playoff but for having lost to Air Force?

BML
The first point is almost certainly why Brandon scheduled this game. There were parachutists and a flyover and some military band guys at halftime, which is fine as far as it goes.
The second point is where I have an objection. Michigan installed an option-specific defense for this game and repped it hundreds of times. All of that effort is now mostly wasted. I'm sure there's some salutary effect from having triple option burned into your head, but it's probably minor compared to getting that many reps in against the kind of things Michigan will see from Wisconsin, PSU, and OSU.
And while a loss to Air Force is not particularly likely for a top-level team, college football programs do gain and lose recruiting momentum based on wins and losses even when you're in the kind of down year that could lead to an upset. And Air Force is consistently dangerous. Since 2010, they've has beaten Boise twice. They scared the pants off a 12-2 Big 12 Champ Oklahoma. They outgained MSU's playoff team by over 100 yards but lost because they were –3 in TOs. And they nearly upset Michigan.
Is anyone going to give Michigan credit for beating Air Force? No. Are they way more dangerous and less applicable to the rest of the schedule than any other G5 buy game you can imagine? Yes. This is why the scheduling of Air Force is unwise.
Michigan did put Army on the schedule a couple years down the road, which comes with some of the same problems. Unless the Black Knights sustain this recent blip, though, it doesn't come with the biggest one: a disproportionate shot at being upset. Army occasionally puts a scare into a 7-6 PSU team. They have not beaten a legitimately good team in recent memory.
[After THE JUMP: this is not like that other season]