Neck Sharpies: The Don Brown Defensive Glossary: 3-4 Edition
[Photo: Upchurch]
Last week we introduced the defensive terminology for Don Brown's base defense and his 4-lineman sub packages. Quick clicky-popup diagrams of the 4-3 and 4-2-5 forms we covered:
This week I'd like to get into the 3-4 and 3-3-5 and 3-2-6 looks, or in Brown's terminology, the "50" formations.
-------------------------------
SO WHAT DOES THE 3-4 LOOK LOOK LIKE?
The BC defense Brown brought over is a base 4-3 and 4-2-5 nickel, and they'll run a relatively small suite of plays from that base on most downs. But a lot of the fancy stuff—truly, most of the playbook—are out of what are usually called "30" and Brown refers to as the "50" fronts*, i.e. formations with three defensive linemen.
Here's the basic version, as taken directly from the 2013 Boston College playbook that James Light posted.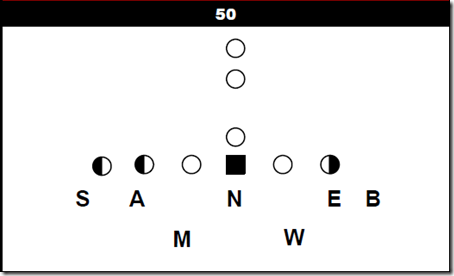 Technically, the "Tackle" (Hurst's position) has been replaced with a "Backer" (B). When you hear about a guy you thought was playing defensive end being called a "linebacker" (e.g. Kemp) it's possible he's playing the Backer position. If a dude's getting mentions as an "OLB" that's also a sign they're using him in that Backer/Sam role, where "Sam" means "Jake Ryan-esque."
That isn't anybody yet—I've been using Winovich as a placeholder—but the ideal here is clearly LaMarr Woodley: a 6'2/260-ish, athletic, stand-up, high-burst, space-tackling, strong-enough-to-stand-up-to-blocks attacker who can play rush end or cover some. That last is notable because it gives the 50 formations a suite of tactics that are generally absent from Brown's 70 formations: zone blitzes.
* [It's 50 and not 30 because look at the pic above and count the guys on the line. Now think back to that ol' Schembechler 5-2 "angle" defense. The more things change…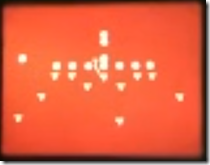 ] 
[After THE JUMP: bandits, canidae, diagrams that look like they're saying "Mike Gedeon" and "Will McCray", and blitzes. Oh lawdy do we got blitzes.]