Hello: Greg Jackson, Defensive Backs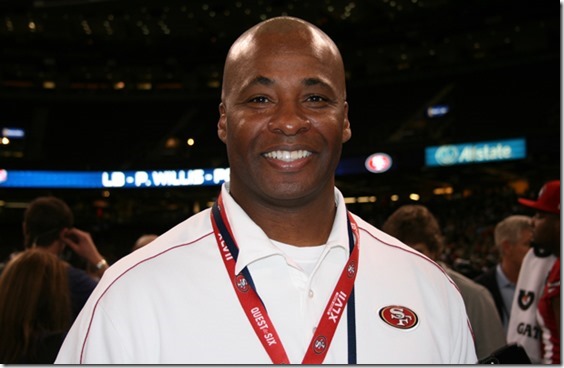 As mentioned yesterday, both Steve Lorenz($) and Sam Webb($) are reporting that 49ers DBs coach Greg Jackson will take the same role at Michigan.
Jackson is an LSU grad who spent a dozen years in the NFL as a safety after going in the third round of the 1989 NFL draft. A few years after his retirement he took up coaching at various small colleges, bouncing from Idaho to ULM to Tulane, before getting a break and joining Wisconsin in 2010. When Harbaugh went to the 49ers, Jackson got the DBs job despite no previous NFL or Harbaugh experience (unless you count some time spent together as players with the Chargers).
While it's hard to suss out Jackson's impact independent of the team-wide renaissance Harbaugh brought to San Francisco, and harder still to suss out the influence of the defensive backs versus pass rush in general passing statistics, Football Outsiders provides specific enough stats to take a stab at it:
| TEAM | YEAR | Pass DVOA | Adj Sack Rate | | Line Yards | Open Field Yards |
| --- | --- | --- | --- | --- | --- | --- |
| San Francisco | 2010 | 25 | 14 | | 3 | 7 |
| San Francisco | 2011 | 6 | 22 |   | 4 | 1 |
| San Francisco | 2012 | 6 | 17 |   | 15 | 2 |
| San Francisco | 2013 | 10 | 29 |   | 22 | 2 |
| San Francisco | 2014 | 4 | 17 |   | 25 | 9 |
Pass DVOA is Football Outsiders catch-all efficiency stat applied to just passing plays. Adjusted Sack Rate is FO adjusting raw sacks by adding grounding penalties and adjusting for down, distance, passing attempts, and opponent.
Line Yards heavily weight the first few yards of a carry and discount yards from 5 on and are used to get an idea of who is winning the battle at the line of scrimmage; Open Field Yards is a ranking of yards gained after the back gets ten.
So. San Francisco's pass defense was consistently very good despite being unable to get to the passer. Their run defense slid towards very bad but maintained elite production from the guys tasked with not turning ten yard runs into 50 yard runs. That run ended this year but even so they were still in the top third of the league.
That is a statistically ideal profile for a defensive backs coach. I mean: in 2013 the 49ers were one of the worst teams in the league at getting to the QB and still had a top-ten pass D. And that's without huge amounts of talent. His secondaries were both responsible and opportunistic:
Jackson helped guide the 49ers to the best pass defense in the NFC and the fourth-best in the NFL, in 2012, allowing just 200.2 yards per game. That total is the lowest given up by the 49ers since 1997 (165.4 yards per game). The 49ers secondary also boasted two Pro Bowl selections (S Donte Whitner and S Dashon Goldson) and a First-Team All-Pro (Goldson).

In 2011, the 49ers secondary tallied 22 interceptions, which ranked second among all NFL secondaries. Goldson and CB Carlos Rogers each recorded a career-high six interceptions, and were both selected to the Pro Bowl for the first time in their careers. Rogers was named a starter in Hawaii, while also being selected Second-Team All-Pro. The defense finished the season ranked fourth in the NFL in percentage of pass attempts intercepted (3.9).
The advanced stats do reflect the impact of those interceptions already. I mention that in case anyone is like WHY U NO TAKEAWAYS about last year's D.
With just one year at a major college, Jackson has little track record as a recruiter.
PREDICTION BASED ON FLIMSY EVIDENCE
Jackson doesn't have a long track record, but what he's got is stellar, and on the NFL level. His NFL experience as both a player and a coach should help him recruit, and his deep roots in Louisiana as an LSU player and Tulane coach should help him get kids out of a talent-rich area that Michigan has tapped semi-regularly for a while. His SEC background could free DJ Durkin up to hit Ohio, where he's from.
Jackson's got Harbaugh continuity, as well.
UPSHOT FOR THE REST OF THE STAFF
It's still coming together. Our previous assumption that John Morton is likely for the WR job is now in question, though. On WTKA this morning Sam mentioned that while he'd heard a bunch of guys were in town to interview he had not heard that Morton was one of them. Since it seems like the only solid piece of information linking Morton to Michigan is a Sacremento Bee article that's now a couple weeks old (one that did nail Tim Drevno), I'm moving him off the board since it seems Dougherty is getting some sort of job.
Sam mentioned Youngstown State DL coach Tom Sims as a possibility, so he's added to the "others" section.
| OFFENSE | COACH | confidence | DEFENSE | COACH | confidence |
| --- | --- | --- | --- | --- | --- |
| OC | Tim Drevno | lock | DC | DJ Durkin | lock |
| QB | Jim Harbaugh | lock | DL | Greg Mattison | lock |
| RB | Tyrone Wheatley | very likely | LB | Durkin | lock |
| WR | Jimmie Dougherty | very likely | DB | Greg Jackson | lock |
| OL | Drevno | lock | OLB/DE | Roy Manning | probable |
| TE | ??? | none | ST | John Baxter | lock |
S&C: Kevin Tolbert (lock)
OTHERS: John Morton (WR), Tom Sims (DL).
Michigan has a spot to play with. Harbaugh's Stanford staffs split the OL between the interior line and a TE/OT spot and that looks like a reasonable idea for the ninth and final assistant. The other possibility is another defensive coach, whether it's a CB coach or Manning staying in the secondary and Michigan adding another guy in the front seven like Sims.