Dear Diary and the Bildungsroman of Beilein
Left: Beilein at Canisius|AnnArbor.com. Right: Dolphy Day
In a hole called Le Moyne College, there coached a hobbit. This small Jesuit school in Syracuse's shadow's most distinguishing campus experience is everybody gets drunk the first day of spring. (Nearest Michigan equivalent: the first 50-degree day in April when everybody pretends it's 70 degrees and skips class to throw Frisbees in the Law Quad).
Beilein spent almost a decade there, twice that of anywhere else, turning the moribund program into a regular Division II playoff team. From there it was five years at Canisius, which you remember because in 1996 your bracket suddenly had Canisius on it and you weren't used to various Gonzagas and Xaviers being on there yet. Then it was Richmond for five years, which you also remember because in '98 they popped into your bracket and then beat South Carolina.
At this point in the story I turn you over to ClearEyesFullHart, your diarist of the week and a guy making a bid to become the diaries' official basketball columnist guy. Gale Catlett, the Mountaineers' coach for over two decades, was being ousted as sanctions were coming down and his replacement was barely there long enough to celebrate Chanukah (8 days)…
Long story short, a laundry list of coaches turned the job down after that (including Bob Huggins) until John Beilein took on the challenge. He was tasked with rebuilding the program as well as the culture from the ground up.  That is exactly what he did, taking West Virginia to the Elite Eight, the Sweet 16, and winning an NIT Championship in his 5 years as West Virginia's coach.
Five years each step of the way since Le Moyne, and here we are at six, facing Bob Huggins and the program he took over after Beilein transformed it into something Huggins would find worthwhile, and with Beilein having transformed Michigan into something that both Lloyd Carr and people who rank basketball teams find worthwhile.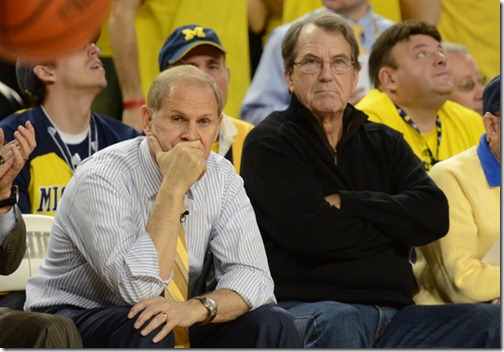 Except when they're letting Arkansas stay in it too long|Upchurch
CEFH also wrote a preview for Binghampton that turned out to be way more entertaining than watching Michigan play Binghampton.
"Football isn't statistical enough," –MGoBlog readers. Football, especially college, is the ultimate low sample size sport. You're barely into your first set of rank-determining games before the season ends. A single play's expected points swing is often greater than the final margin of victory. That and the NFL's aesthetic need to standardize their product across brands into a package experience targeted at the meanest possible demographic has led to the sport being a heaven for platitudes. Platitude is the enemy of the MGoBlog diarist.
For example, take "our only goal is to win the game." Not so says biakabutuka experience, because truly, assigning an arbitrary time point to the general goal of scoring more than the opponent needlessly removes good data. I mean other than specific scenarios of trying to kill clock before a go-ahead score at the end of a game or maneuvering to have the last possession of the half, aren't coaches always playing for the lead? What if the score of every play could be used to calculate team strength, wouldn't that multiply the available samples significantly? You see where he's going with this? I wonder if he can't add an expected score component so that teams get credited with advancing toward the end zone since coaches aren't trying to get a touchdown every play. Also he needs to figure out a way to scale the importance of any given point by scenario since teams do give up, and because the final score is ultimately the goal.
LSAClassof2000 too got into the stats, showing 3rd/4th down conversion-ing by conference and snooping around for correlations between standard QB statistics.
Etc. The guy who keeps shamelessly plugging his wife's website shares a harrowing tale of Ohio sports fandom (at a Browns game but everyone immediately says "that's so Columbus!"). Western Kentucky offering a parking spot for Bobby Petrino's hog draws out the THE_KNOWLEDGE. Brian already covered the Avant gif but here it is the thread from whence it came. I still haven't given up my quest since college to call him "Shoop", an onomatopoeia for the sound his hands make when a football is near.
Best of the Board
ANARCHY IN FIVE…FOUR…THREE..TWO…ONE…
No that is not a gif of Nick Sheridan's first throw vs. Utah, or even Russ Bellomy's first chance to do something other than pad a blitzer from Lincoln's field turf last year. What you are seeing is our moderating team telling the board that at least for a couple of weeks before we get back to bowl and recruiting season the in-season off-topic rules are lifted. To encourage appropriate pos-banging the mods offered a contest of gif posting. I went for Sound of Music…
Denard as Kal-El and Denard on Wife Day

Magic: The Gathering Mouton and Ezeh

Sparty's new helmet and hating on Rod

I can't believe that I call this my job!
Also a reminder to thank your local mods—imagine having to spend hours deleting 85 reposts of a NSFW Kate Upton gif so that everyone can still enjoy the rest of the thread.
EPIC HOKE DOUBLE-POINT TO WISCONSIN WOLVERINE
Think of the most epic player pics from the last few years turned into threshold iphone wallpapers.
The real version of the Jake Ryan photo above is gonna be the next HTTV cover BTW.
MICHIGAN ENGINEERS ARE NERDS OF AWESOME
The M-gineers made a somewhat Pythonic video of a torch lighting ceremony to announce the 2013 Mr. Engineer Contest, which they're getting Denard and Kovacs to judge. If you don't recognize the scenery it's because that is North Campus; don't worry LSA student you don't ever have to go there except when your artist friend has a showing.
ETC.
Every snap video of South Carolina-Arkansas for more scouting pleasure. Expected visitors this weekend from robbyt003. Cal trying a logo other than a seal = fail; Michigan need not worry since the Block M works for the university as well as the athletic dept.
Your moment of zen:
WW.