This Week's Obsession: A Moment in Endzone
The Question:
Now that we have all read it, what for you was the most jaw-dropping moment of Brandon's Lasting Lessons?
The Warning:
We're going to spoiler this. If you haven't read it yet you should go do that.
The Responses:
Brian: There are many jaw-dropping things. The whole book is cause to walk around Ann Arbor drooling, from Lochdogg's inability to parse data to Brandon cutting down the nets to all of the infinite firings. But I was most stunned by this: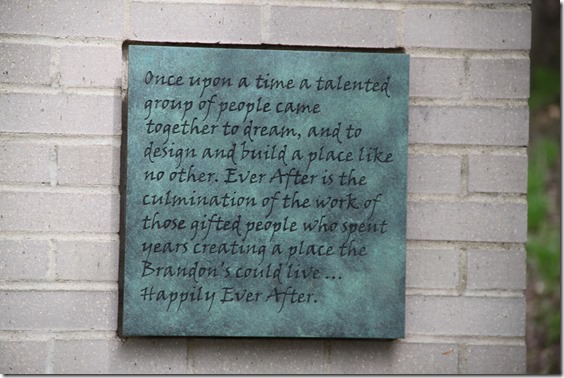 Also the ellipsis.
That's the welcome plaque outside Brandon's house. It is quite something, and then you get to "the Brandon's." WHO DOESN'T CHECK A PLAQUE THAT IS GOING ON THEIR HOUSE CALLED "HAPPILY EVER AFTER"?! Even leaving aside the crazy rich person vibe the whole thing gives off, this is one metal object that Brandon clearly intends for generations to come and marvel at, and it isn't even proofread. Says somethin' about somethin', that.
--------------------------------
Seth: It has to be "Firing Fridays," and the massive turnover inside the athletic department. Throw a football down Granger and chances are it will be caught by someone sitting on the porch of a modest home with an "M" flag. That person probably had many opportunities through the years to take a job somewhere else that would afford a far larger and newer home, probably with a big yard and PVC pipes. So many of these people were pushed out, scared off, or straight-up let go that I even know a few of them.
In some cases, e.g. football coach, directing a money cannon at a proven professional is warranted. But Brandon took this to an extreme, bringing in two six-figure outsiders to replace every longtime $45k family member, then firing the family on the flimsiest of pretenses—often just voicing disagreement with Brandon—at such a rate that "Firing Fridays" was a thing. In a few short years those remnants from the Canham-Schembechler-Martin department were surrounded by a certain archetype of in-it-for-the-money young professional who knows nobody in town, owes everything to Dave Brandon, and knows little about college athletics except not to disagree with the boss.
Reading the quotes from former marketing and event presentation director Ryan Duey was the point when I got so angry at Brandon that even after getting up and stomping around the house for 20 minutes I had to get up and stomp around again like one sentence later. My page 297 is smudged and stained and has water wrinkles because it took me a day and multiple rooms to get through without throwing a tantrum in front of the kid.
The damage from that is irreparable. The people Brandon brought in are hardly worthless—they earned that payday by being excellent at what they do—but it will take 30 or 50 years for the kind of community and institutional knowledge Michigan used to have to grow back. Even talking about it now—three times in writing this response I've had to put down the keyboard and take a stomping tour around the living room. In fact here comes the fourth.
--------------------------------
[After the jump: you may want to make sure there's nothing throwable in reach]