Unverified Voracity Tears Down Camp
HEY. If you didn't already, read Seth's thing.
Bryan Fuller
Just a shooter. Ex-just a shooter? Zak Irvin's trying to shake the reputation that he has a campsite outside the three point line he only leaves when he needs water:
Zak Irvin smirked at the old saying. He heard it before. So did Nik Stauskas, his predecessor on the wing in Michigan's offense.

Just a shooter.

The title was stamped on Stauskas at this time last year. As a freshman in 2012-13, the 6-foot-6 guard attempted 58.3 percent of his field-goals from 3-point distance.

Now here's Irvin. If Stauskas was just a shooter as a freshman, what does that make him? Also a 6-foot-6 guard, Irvin launched a freewheeling 74.5 percent of his shots from behind the arc as a freshman.
The thing is: Stauskas was way less of a shooter than Irvin was, to the point where UMHoops was pointing out that he was even more efficient than Trey Burke in pick and roll situations. Whenever anyone asked me who would step up as the alpha in Burke's absence I immediately said "Stauskas" in a tone of voice that was probably insulting to the person asking the question.
Just-a-shooter-related stats indicate that Irvin is starting well back from Stauskas was when it comes to initiating offense.
| | STAUSKAS (FR) | IRVIN (FR) |
| --- | --- | --- |
| 3PA/FGA | 61% | 74% |
| FTRate | 29.2 | 10.7 |
| Assist Rate | 7.6 | 4.7 |
| TO Rate | 14.2 | 9.3 |
Also… I mean…
Irvin made a total of 11 2-point field goals in 18 Big Ten games as a freshman. His 21 free-throw attempts were three less than Mitch McGary, who played in only eight games. His 13 assists were only one more than McGary produced.
I am now sad about Mitch again, but that's pretty stark.
Michigan doesn't need Irvin to be Stauskas, what with Walton and LeVert still around. They would like him to be a third creator—hell, if Irvin gets to Stauskas's freshman shot generation numbers that would be terrific.
One thing we do know: even if Irvin does become Not Just A Shooter (drink), we will not hear that he is Not Just A Shooter (drink), because he's not a pale guy from Canada.
FINALLY. It is policy around here to ignore preseason watch lists for major awards because the last time I looked at one I was on there. But we will make a solitary exception for the one organization that seems to have watched Devin Funchess play last year:
On Tuesday, Funchess landed on the 2014 Biletnikoff Award watch list, which goes annually to the most outstanding receiver in college football.
Praise Biletnikoff.
Yes, I know this is just because watch lists place anything vaguely hominid on their lists. I'm still taking it and running.
So there's this. They changed the trophy, likely because of intellectual property issues or something like that. Now it looks like this: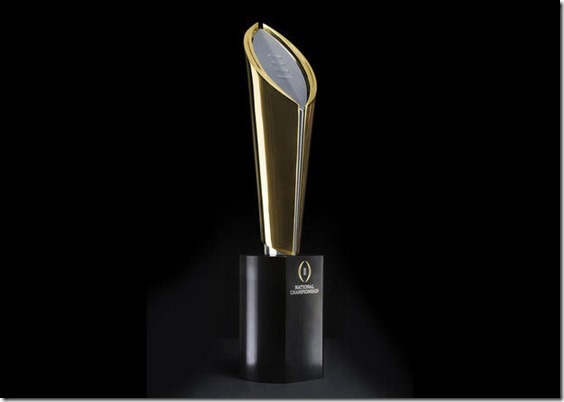 The one piece of the BCS worth keeping (the crystal football) is replaced by a wagon-wheel coffee table
…leg? I think he left out "leg." But yeah.
A major blow to SMU. Megarecruit Emmanuel Mudiay was set to make a visit to Crisler for his one and only year of college basketball; instead he's taking whatever money he can get this year:
"I was excited about going to SMU and playing college basketball for coach Brown and his staff and preparing for the NBA," Mudiay said in a statement relayed by his brother, Stephane, to SI. "But I was tired of seeing my mom struggle. And after sitting down with coach [Larry] Brown and my family, we decided that the best way for me to provide for my mom was to forgo college and pursue professional basketball opportunities."
That's likely bunk, since Mudiay can just get cash on the side and the school he graduated from was co-founded by Deion Sanders and has had a number of graduate-types get shot down by the NCAA. Either way, that SMU game looks significantly less intimidating.
SMU's still going to be a challenge. They went 27-10 last year and lost to Minnesota in the NIT final; they lost only an inefficient third wheel and a low-usage OREB guy from last year's team.
That would be bizarre, but fun? Chatter about NCAA hockey expansion pops up only every once in a while these days, and when it does it's usually followed by an athletic director making grumbly noises about the general impossibility of such. So go ahead and guess which AD actually wants to make it happen. No, no, no, and no. Arizona State!
Count Arizona State Vice President of Athletics Ray Anderson among the growing number of people who like to see the Sun Devil hockey team compete at the highest level.

"I personally would love to see hockey as a varsity sport at Arizona State," he said. "We have to make a commitment to figure that out."
Penn State's departure from the club hockey ranks apparently made ASU the big dog on the block, whereupon they turned in a 38-2 season, and ASU has a relatively small department for a school of its size and revenue level.
The obvious problem: there ain't nobody to play. The nearest NCAA hockey schools are in Colorado. I guess you could slide them into the NCHC. It would still be an expensive proposition. Unlikely unless ASU gets the kind of donation PSU got.
That'll fix it. Michigan proposes fireworks after the Penn State and… uh… Miami (Not That Miami) games. I don't care, really, but it's notable that a bunch of Penn State and Ohio State people on twitter are now seemingly offended on our behalf.
Michigan football is just Dime a Dog night away from being a minor league baseball team.

— Matt d (@PSUMatt2005) July 14, 2014
On the one hand, yeah. On the other hand, YOU'RE PENN STATE (rawwereraaarr rawwrr). YOU ARE THE CHINTZ MASTERS OF THE UNIVERSE.
But anyway this is where we are: opposing fan bases are getting irritated because we are not Michigan enough.
Etc.: Mark Donnal profiled. Summer league recap. Kam Chatman scouting. 20 reasons this World Cup was fine. My buddy Jerry on the 2014 World Cup and his USMNT origin story. All whites?