Of The Decade: Michigan's Defense
Previously in this series: ESPN Images and Michigan's Offense.
DEFENSIVE END
Brandon Graham (2009) & Lamarr Woodley (2006)
Slam dunk locks and mirror images, Brandon Graham and Lamarr Woodley set the standard for Michigan quarterback terror in the aughts. Wildly hyped in-state recruits and five stars, both spent a couple of years as underclassmen playing here and there and making people wonder if and when they would live up to their billings; both did so emphatically as juniors and then managed to top those performances as seniors. A large portion of last year's defensive UFRs not given over to rending of garments was spent wondering whether Brandon Graham was actually better than Woodley.
Survey says: yes, amazingly.
There was a mailbag question that explicitly addressed it:
I think Graham is better. I haven't gone over the UFR numbers yet—slightly busy this time of year—but I know Graham set a record against Michigan State earlier this year and has been owning offensive tackles all year. Woodley set standards by being consistently around +8 or +9 with forays up to 12; Graham's baseline is around 12 and ranges up to 18.
Though he didn't win the Lombardi like Woodley did his senior year, Graham led the nation in TFLs and was drafted about a full round higher by the NFL. While Woodley was more heralded in the award department, that had a lot to do with the other guys on defense. Woodley's compatriots will pepper the rest of this list. Graham's not so much. Woodley lined up next to Alan Branch, Terrance Taylor, and a senior Rondell Biggs; Graham's bookend was a true freshman and his other linemates were just sophomores.
Lamarr Woodley, meanwhile, did with the Lombardi in 2006, the first and to-date last time a Michigan player has won it. His season was statistically frustrating since, like Graham, he was close to a dozen additional sacks that a competent secondary would have seen him put up truly ludicrous numbers. Even so he had 12 sacks and 4 forced fumbles; outside TFLs were low (just three) but that can be chalked up to the rest of the defense taking up that burden. As mentioned above, he was the original gangsta of the UFR, averaging close to double-digit plus ratings on a weekly basis.
But all that pales in comparison to the play that finished the "Oh Wide Open" game in which Michigan established itself a contender. By scooping up an unforced Brady Quinn fumble and fending off ND tight end John Carlson all the way to the endzone, Woodley inaugurated the Yakety Sax era:
I just watched that three more times.
Second Team: Dan Rumishek (2001), Tim Jamison (2007 or 2008, take your pick)
It gets muddy past the slam dunks. Michigan's quasi 3-4 from the beginning of the decade makes decisions difficult, as does that one year Michigan switched to an actual 3-4. In 2001, Dan Rumishek was on the All Big Ten team with just 22 tackles. Seven were sacks, but man. That same year Shantee Orr managed 35 tackles with six sacks and 10 TFLs, but didn't show up on all conference teams. Later editions of defensive ends would have almost identical big play numbers but way more tackles. Tim Jamison had 10 TFLs and 5.5 sacks as a junior and senior but had 52 and 50 tackles.
Past Rumishek, Orr, and Jamison pickings are slim. Rondell Biggs was the unheralded guy on the 2006 line, a decent plugger but nothing special. A post-career steroid bust also gives his career an unpleasant sheen. Larry Stevens's career was very long but largely anonymous. He's best remembered for being hog-tied on the Spartan Bob play.
We'll go with Dan Rumishek, the only other Michigan DE to get on an All Big Ten team this decade, and one of Tim Jamison's upperclass seasons. Which is entirely up to the reader since they are essentially identical; I lean towards '07 because Graham was not yet a beast and Jamison saw more attention.
DEFENSIVE TACKLE
Alan Branch (2006) & Gabe Watson (2005)
Alan Branch: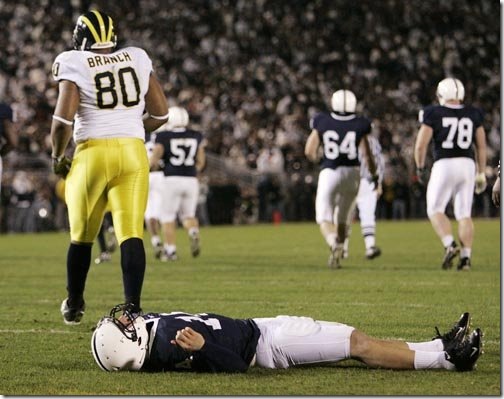 That will do.
His statistics were not ridiculous (25 tackles, 5 TFL, 2 sacks in '06) but when he left for the NFL draft I thought to myself "this is a logical thing because he will go in the top five." Surprisingly he did not, falling to the top of the second round, but when you are primarily responsible for opponents going six of eighteen on third and one you get dropped onto the All Decade Team no questions asked. 
Watson will be a more controversial choice but the guy was a two-time All Big Ten selection and is currently an NFL player. At Michigan he never quite lived up to his copious recruiting hype but he did have some pretty nice statistics for a nose tackle: 40 tackles, 6 TFLs, and 2 sacks as a senior with almost identical numbers from the year before. The primary issue with Michigan's run defense in '05 was that Watson would drive his guy yards into the backfield, forcing the tailback to cut upfield into the gaping hole left because Pat Massey was 6'8" and therefore getting crushed backwards as far as the guy futilely attempting to contain Watson.
The year before Michigan had their one-off experiment with the 3-4, leaving Watson all alone in the middle, where he dominated. In the aftermath of Watson's one-game suspension for being approximately spherical to start the '05 season, I attempted to adjust for Michigan's tendency to give up a lot of nothing and then a lot of huge runs in the spirit of Football Outsider's "adjusted line yards" and came up with the number 2.5, which was better than anyone in the NFL by three tenths of a yard. (Schedules are much more balanced there, FWIW.) Watson may have been an overrated recruit, but his Michigan career has been underrated.
Second Team: Terrance Taylor(2007), Grant Bowman (2003)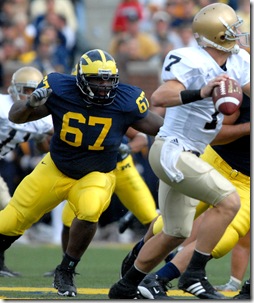 This is actually Taylor's junior season, when he lined up next to Will Johnson, a sophomore Brandon Graham, and Tim Jamison and managed impressive-for-a-DT numbers: 55 tackles, 8.5 TFLs, 3.5 sacks. He'd drop off considerably in his doomed senior year; whether that was a falloff in play or just collateral damage from the wholesale implosion around him is in the eye of the beholder. My opinion is the latter since Taylor tended to beat a lot of blocks only to see poor linebacker play rob him of opportunities in the run game; he was never much of a pass rusher.
We'll go with Taylor's statistically productive 2007 over 2008 because he was just about as good via the eyeball then and had more to show for it. Either way he is an easy pick.
The last spot is not easy. Early in the decade, Michigan defensive tackles were excruciatingly bored guys who spent football games blocking offensive lineman and letting linebackers take all the glory. In 2001 Shawn Lazarus started 12 games and managed 16 tackles. In the absence of accolades, statistics, or personal remembrances I can't put Lazarus or Eric Wilson or Norman Heuer in here even though I couldn't tell you whether or not those guys were even good. The guys not on the list who I do have personal remembrances of were not very good or are still on the team.
It's a debate between Grant Bowman, who I don't remember much about other than his mother was attacked by the usual band of Columbus idiots one year, and… yeah, Mike Martin and Ryan Van Bergen. Bowman's 2003 featured 36 tackles, 8 TFLs, and 3 sacks; Van Bergen had 40, 6, and 5; Martin 51, 8.5, and two sacks. Bowman's defense was infinitely better (22nd nationally in rush defense) than either Martin's or Van Bergen's but without the UFRs sitting around it's hard to tell how much of that had to do with Bowman and how much was the contributions of Pierre Woods, Carl Diggs, Lawrence Reid, and the profusion of non walk—ons in the secondary.
The tentative nod goes to Bowman if only because the rest of the line that year was Heuer, Massey, and someone the Bentley doesn't even bother to list but is surely Larry Stevens. Even if he had more help behind him, being the best player on a line that did pretty well against the run is a tiebreaker here.
LINEBACKER
David Harris (2006), Larry Foote (2001), Victor Hobson (2002)
A couple years ago I was editing a Hail to the Victors article about the considerable difference between David Harris and Obi Ezeh that referenced a couple plays from the '06 season. The diagrams, as diagrams are often wont to be, were confusing so I set about looking at the play myself so I could break the diagram out into three or four separate ones that would explain things in a more leisurely fashion. This was the result:
I swear to God I saw David Harris read not only the direction of a run play, the blocking scheme of that play, and which offensive lineman was assigned to him but modeled the lineman's brain and duped him into thinking the play had cut back. I found this terribly exciting.
That was just another boulder on the pile of reasons I love David Harris. He looks like Worf. He tackled everyone all the time and never did not tackle anyone. He was the first player I felt I was ahead of the curve on thanks to UFRing the games—like David Molk I think I was the first person in the media to recognize that this unheralded player was the balls, which made me feel like Dr. Z. And he kept tackling people. At some point in 2006 the Greek gods descended from the clouds and borrowed him for a while because the eagle that eats Prometheus's liver was on strike.
Then the Lions passed on him and Lamarr Woodley to take Drew Stanton, guaranteeing that the pair would instantly become two of the best defensive players in the league. Yeah. David Harris. I miss him so much.
Larry Foote had a less tangential connection to the worst franchise in sports, but outside of that one-off decision his career has been a good one. As an upperclassman he was an all-around terror, notching 19 TFLs in 2000 and 26 in 2001 at the same time as he picked up a total of 16 PBUs. In 2000 he actually had more of the latter than Todd Howard, and Todd Howard got some of his when the ball deflected off the back of his helmet. Foote was what Jonas Mouton was supposed to be.
We'll go with Foote's senior year when his sack total leapt from one to six and he was named the Big Ten Defensive Player of the Year en route to a smattering of All-American honors. A fourth-round pick of the Steelers, Foote's NFL career has been long and productive; he gets a small dollop of bonus points for being one of the current NFL crew frequently seen hanging out with Barwis.
The final member of the first team had to beat out stiff competition but Victor Hobson gets the nod because he was by far the best player on his front seven (Rumishek, Bowman, Lazarus, Stevens, Orr, Diggs, and Zach Kaufman(!) were the other major conributors) in 2002 and racked up the best all-around numbers of any linebacker under consideration: 99 tackles, 13 for loss, 5.5 sacks, and two interceptions. One of those was the Outback-sealing reverse pass interception. Hobson was deservedly All Big Ten on a team that finished 9th in the final rankings and 31st in rushing defense despite having zero future NFL players other than Hobson and an injury-stricken Orr.
Second Team: Pierre Woods(2003), Shawn Crable(2007), Lawrence Reid(2004)
Pierre Woods did something almost but not quite bad enough to get booted off the team after his breakout sophomore season (68 tackles, 14 TFL, 7 sacks) and spent the rest of his career playing sparingly—probably the only thing that has infuriated both Ted Ginn Sr and myself—until injury forced Michigan to deploy him extensively in the '05 Iowa game, whereupon he totally saved Michigan's bacon. Though he'd moved to defensive end by then, his bust-out year was at linebacker so here he goes.
Poor star-crossed Shawn Crable will go down in history as the best player to ever put on a winged helmet who Michigan fans have exclusively terrible memories of. In the span of three games at the end of the 2006 season and beginning of 2007, Crable delivered a helmet-to-helmet hit on a scrambling Troy Smith that turned a fourth-down punt into first down and eventually the winning points for OSU and failed to execute a simple blocking assignment on the field goal that could have turned The Horror into the worst win ever.
When he wasn't doing either of those things, though, he was a unique weapon. He is the current holder of Michigan's TFL record and spent his college days bouncing from linebacker to defensive end to crazy 6'6" chicken-legged defensive tackle in certain spread packages, finding ways into the backfield wherever he lined up. He also was the Ryan Mallett of defense as an underclassman, overran a bunch of plays even after he got his head on straight, and appears twice on the upcoming Worst Moments Of The Decade list. That disqualifies him from the first team, but not the second.
Finally, Lawrence Reid saw his career end prematurely as his back went out; late in the 2004 season it was clear he was laboring. Despite that he finished with 70 tackles, 12 for loss, 3 sacks, and an interception. Without the injury his senior season could have made it on to the first team… and seriously aided the 2005 team's efforts to not play the unready Shawn Crable.
CORNERBACK
Marlin Jackson(2002), Leon Hall(2006)
Leon Hall was sneaky great, one of the few players that the NFL ended up drafting well before I expected them to. Before Hall went halfway through the first round I'd pegged him as another LeSueur sort who'd go in the second and have a decent career; instead he's kind of ridiculously good. Hall leapt into the starting lineup midway through his freshman year an continued improving until he was a hidden beast on the '06 team. Hall's tackles declined from 61 to 45 as teams targeted neophyte Morgan Trent and whichever slot receiver Chris Graham had no hope of covering. At the same time his PBUs leapt from 5 to 15(!). That's impressive. Hall was a deserved Thorpe finalist.
Jackson, meanwhile, has the rare privilege of being the only sophomore to feature in the All-Decade first team. His opening-day matchup against Reggie Williams, Washington's star receiver and a player who had seriously considered Michigan before choosing to stay home, was electric. Jackson got in Williams's grill all day and the Huskies would not back off; by the third quarter he'd set an all-time Michigan record for pass breakups.
By the end of the year he was a second-team All-American to the AP, third team to Sporting News, and (whoopee!) first team to College Football News. He would spent his junior year at safety, battling injury, and though a return to corner as a senior found him on All-America teams again, Jackson never quite recaptured that sophomore magic.
Second team: Jeremy LeSueur (2003), Donovan Warren (2009)
LeSueur was a true rarity on the Michigan roster: a kid who managed to escape the state of Mississippi's immense gravitational pull. He started off slightly wonky—it was his face-mask penalty on Charles Rogers that extended Michigan State's final drive in 2001, setting up both the Spartan Bob play and Lloyd Carr's public dressing-down of Drew Sharp—but finally developed into the guy I thought Leon Hall was: an All-Big Ten type of player destined for a solid NFL career. That wasn't quite the case—LeSueur is currently playing for Bon Jovi, but no one else from the decade comes close.
The final spot is a tossup between Morgan Trent in the one year he wasn't clueless or unmotivated (2007), Donovan Warren this year, Grant Mason's year that exemplifies totally average play, and the nine starts James Whitley made in 2000 before succumbing to his personal demons. The vote here is for Warren, who I actually thought was good, over Trent, who I thought was okay trending towards good.
SAFETY… SORT OF
Jamar Adams (2007), Julius Curry (2000)
Michigan fans will be unsurprised to find a wasteland here after nine defensive positions occupied by world-wrecking All-Americans who have embarked on long NFL careers—everyone on the first team to this point is still in the NFL and almost all will start this year. Safety? Well, Cato June is still kicking around as a linebacker, but at Michigan he was a wreck thanks to an ACL tear that took years for him to fully recover from. And that's almost it.
The almost: Jamar Adams, bless his heart, was the closest thing to a star safety Michigan had in the aughts. He was actually good. Not good enough to get on the All Big Ten first team or get drafted, but good enough to be on the second team two years running and stick with the Seahawks long enough to actually get on the field in six games last year. This makes him a slam-dunk lock as the best safety in the last ten years of Michigan football.
And now: guh. After Adams it's a choice between the most massively overrated Michigan player of the decade—Ernest Shazor—or the guys towards the beginning of the aughts that no one remembers being specifically terrible. You can feel free to disagree but there is no way I'm putting Shazor here. While he did decapitate Dorien Bryant in that one Purdue game, his Michigan career ceased there unbeknownst to the coaches and most of the fans. He was about 80% of the reason Braylon Edwards had to hulk up and smash Michigan State in the Braylonfest game and when he entered the NFL draft he went from a projected second-round pick to totally undrafted, but not before various organizations made him a first-team All American. I will exercise my Minute Observer of Michigan Football privileges and say this: ha, ha, ha.
The problem then is that as I went through the names that vaguely occupied the safety spots for Michigan over the last decade I thought to myself "I should probably write down Willis Barringer and Brandent Englemon." Sadly, I cannot vouch for two guys who couldn't stay healthy or maintain their starting jobs, nor can I seriously support anyone I've seen take the field in the UFR era. So let's reach back into the long, long ago when memories are fuzzy and haul out easily the most unlikely member of the All Aughts: Julius Curry.
I can't tell you that I have detailed knowledge of Curry's play anymore, but I do remember liking the guy a lot and being seriously disappointed when his junior and senior years were wrecked by injury. As a sophomore in 2000, he put up an impressive collection of statistics: 59 tackles, 5 TFLs, 5 PBUs, and 3 forced fumbles, plus two interceptions, one of which he returned for a touchdown against Ohio State in a 38-26 win. Michigan managed to scrape out the 49th-best pass efficiency defense despite deploying Todd Howard and a very confused James Whitley—this was the heart of the "suspects" era—thanks to Curry's unregarded efforts. Maybe he never decapitated anyone, but by God he definitely would have tackled DeAndra Cobb by the second time.
Second Team: DeWayne Patmon(2000), Ernest Shazor(2004)
Patmon was the second member of the safety unit I remember not being specifically terrified about; Shazor was discussed above. He does deserve to be here because even if he gave up a ton of big plays he made more big plays in Michigan's favor than the other safeties kicking around this decade, and those guys gave up about as many plays.
Kicker
Garrett Rivas (2006)
Rivas never had a huge leg but he was good out to 47-48 yards and stands as the most accurate kicker of the decade, hitting 64 of 82 in his four years as Michigan's kicker. That's a 78% strike rate; in 2006 he checked in at 85%. He was reliable, and that's all you ask for in a college kicker.
Punter
Zoltan Mesko (2009)
Obviously. All hail Zoltan the Inconceivable.