Dear Diary Fought in the Big One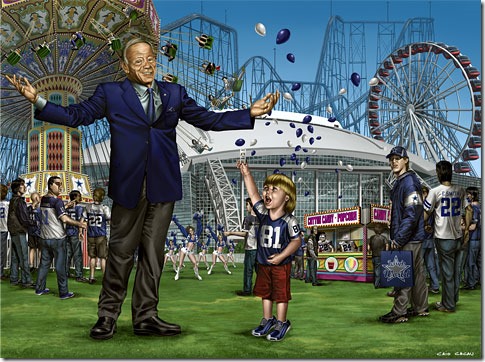 (pic via Dawg Day Afternoon; need help finding the artist)
This week I saw a photo of Jerryworld with its floor removed in preparation for 2013 tourney games, and I was reminded of the horrific things that must be buried in that dirt: the blood from a terrible Indian battle, bits and pieces of Woodson's collarbone (Superbowl XLV) and Denard Robinson's shoulder dislodged by Dee Milliner, perhaps the remains of five hookers.
Among various banners this basketball team has been asked to carry, one is a flag of redemption for Michigan's other sports. Given the site and the stage, sure why not the Alabama game too? The last trip to the Dallas/Ft. Worth/Arlington parking lot from hell dismantled every shred of hope and excitement for the last year of Denard. Now another former Big Ten coach who moved South and built a pro factory of mauling blue chips could end our association with Burke. ClearEyesFullHart starts with Bill Self's Illinois teams to preview tonight's Sweet 16 matchup with Kansas.
If this trip doesn't work, there may be an opportunity in 2015.
Excelius in'dome'ine. Say hello to stopthewnba, who received a points advance so he could post another attempt to get all statistical about the "domes hurt shooting" meme. This is of course super-relevant to Michigan in Jerryworld tonight since we're very much the shootier squad. The data haven't gotten any larger, however there's knowledge gained:
In four of the past five seasons, among Sweet Sixteen teams, one of the top two teams that increase their scoring average in the tournament over their regular season average made the Final Four.  Similarly interesting is that in four of the past five seasons, one of the bottom two teams who score LESS in the tournament than their regular season average also made the Final Four:
I think I found the sampling bias in that: the further you go in the tournament the tougher defenses you will happen upon. The teams who score way above their normal rates those who "got hot" and they of course will go further, but good teams who are playing at the same level they did all year should see their scoring rate dip both due to the improved quality of defenses, and the fact that defenders are more rested thanks to all the advertising breaks. What sold this diary to me was the Excel sheet he attached, which gives me an opportunity to try out my new embedding plug-in:
That work? Sweet.
Pipkins Dominates the Michigan Drill. This was on the boards but it' the diary of the week, easy. Michael Scarn took the "Michigan Drill" I referenced last week and broke down how Ondre Pipkins did it right. The drill heavily favors the offense: a defender has to beat a blocker and contact the runner. A snippet:
As he makes contact with Bosch, Pipkins has already driven off his right foot as well, generating more power and force into Bosch.  His hands have shot inside very quickly and, as we'll see, will allow him to control Bosch.
When I watched this earlier I didn't want to over-emphasize because I thought Bosch probably true freshman'd something. He did, but Pipkins was able to use his technique mastery to take advantage of that. Read this if you want to know what Hoke is talking about when he gets defensive liney.
Goal by goal. Relive the wonderful Saturday and ultimately disheartening conclusion to hockey's last-ditch CCHA run via your last goal-by-goal analysis until probably sometime next year (hopefully MGoBlueline will start in November). Lost with the championship game was the glory of the semifinal against Miami (NTM), which itself can be a pleasant memory to keep from an otherwise unpleasant season.
You should hold a hat ceremony too! I gave The Michigan Men's Football Experience the recruiting profile treatment:
If you are participating I highly encourage you to take the opportunity to mock the recruiting system as well.
Etc. LSAClassof2000 calculated the chances of various matchups occurring in this tourney, and you can follow the charts as games get decided; Ohio State's victory last night raised the likelihood of Michigan facing them in a championship to…I can't tell but it's like 5% or something. Sweet 16 Wallpaper by jonvalk. Blockhams uses a semicolon incorrectly.
[The Best of the Board, after the jump]