Unverified Voracity Has No Cones
Cone deficiency. The news that Conelius Jones will not be with the program this fall is not exactly news today, but permit me a day to recover from my World Cup hangover. This is the reason:
According to Brown, Jones went through a rough stretch with personal issues over the winter. Although he graduated with the rest of his class and maintained a 2.5 grade-point average, the 6-foot-2, 190-pound Jones struggled with the SAT, which kept him from qualifying.
That must have been a rough stretch with grades almost at rock bottom, since Jones claimed he had a 3.7 GPA and offers from Wake Forest, Duke, and Stanford when he committed to Michigan. A decline that steep probably means the initial GPA report was a bit inflated.
Unlike Dorsey and his immediate enrollment at Louisville, Jones will head to Fork Union in an effort to get qualified, at which point he'd come in as a mid-year enrollee. This means he's honestly just a hair away from qualifying—the NCAA severely restricted how much grade magic prep schools could work a couple of years ago—and has a decent chance of getting in in January. Michigan has taken kids from prep schools, although not particularly successfully: Marques Slocum spent a semester at Milford and Arizona CB Quinton McCoy spent a prep year before ending up on campus. Neither lasted two years.
As far as the 2010 team goes, Jones's absence creates a distressing lack of Cone in the hairy depths of the quarterback depth chart, and that's about all.
I don't think Dorsey's situation is at all related to Jones and Kinard. Dorsey was qualified; the other two guys are headed to prep school. That doesn't have anything to do with hypothetical anti-Rodriguez forces executing their dastardly master plan. And even if the academic side of things is cracking down, they have a very good reason to do so: Michigan's latest transfer-saddled APR score is ugly, and Michigan is going to have to put up a major improvement lest they fall below the 925 line of doom.
Meanwhile, the other blame meme floating around is that Rodriguez is bringing in a lot more kids at academic risk. That may or may not be true but unless Jones's transcripts and offers were just totally fictional this doesn't seem like an example. It's one thing to take a guy who has a lot of work to do, and another to take a guy well above the minimums only to watch him collapse.
What happened with Cissoko? In other happy news about never-were kids, Boubacar Cissoko pled guilty to four separate counts of robbery and faces sentencing that won't be 45 years but hypothetically could. The News takes an in-depth look at what happened to a high school kid no one thought would have problems until he got out of this protected environment:
He was intentionally protected, growing up on Rosa Parks Boulevard in Detroit, a neighborhood that was rough-and-tough 40 years before Cissoko got there.

"He came from a sheltered background," Willis said. "By 10:30 he was in, home. He was driven to school, driven home. We are a close-knit family, we were tight on him."

Even the history of the riots which began along what was then known as 12th Street was kept from Cissoko, by the family.

"He's a good kid," Willis said. "When he left, he was praying five times a day."
Isn't there a show about Amish kids who head out into the world for a year or two and go totally nuts? In this case it seems that protecting Cissoko from negative influences left him unprepared to deal with them. He was unvaccinated. Bonus points to the News for deploying one of those beautifully dry newspaper sentences that radiate detached authority:
Less than worldly, he was suddenly thrust into a scene in Ann Arbor in which young adults believe they have achieved a level of sophistication that they may well never attain in life.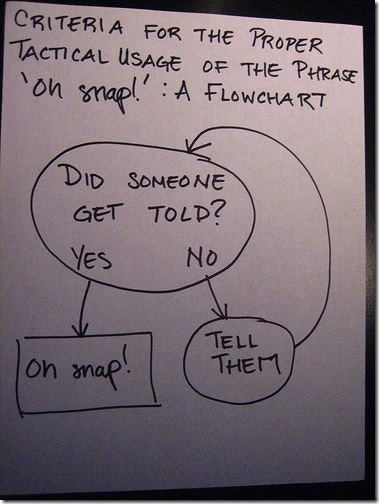 Oh, snap.
Another oddity: court documents show Cissoko's age is actually two years older than Michigan (and Cass Tech) listed him, which might explain why he didn't live up to the recruiting hype.
Burn the regionals down. It takes some doing to make me livid about something that won't happen until 2012 and involves a committee making a decision, but holy aarrgh I want to punch a wall:
First, the announcing of four more regionals means we won't be seeing the slightly less moronic proposed tournament format, which at least included one playoff round that made some sense.

The second problem is the hosts themselves.  The hosts will be Minnesota, Michigan Tech, Holy Cross, and Fairfield/Yale. If it feels like a repeat, it's because it pretty much is. The two eastern ones aren't that big of a deal. They're sure to be boring, empty arenas for critically important games, but there aren't really any better options. Plus, with now-defunct Fairfield helping host in Bridgeport, you get the joy of the 17 people in attendance saying, "What the hell is that deer doing in here?"
Tech is hosting in Green Bay, which is WCHA territory. This will be the fourth consecutive year that Minnesota hosts something. They were awarded regionals in 2009 and 2010, get the Frozen Four in 2011, and now have another regional in 2012. WCH points out that over that time span the entire CCHA gets to host three events.
It is ludicrous that the next two years will see zero regionals in CCHA territory. I hope the St. Louis regional is attended by five people. Are any CCHA teams even bidding for these things? Why hasn't Michigan put in a bid using the new rink in Toledo? I'm not sure where the breakdown is, but something's got to change.
Solar domination. The American Solar Challenge is Michigan's. If you don't think this is a big deal, look at the size of the trophy:
It's a big deal. From the looks of it, it's about three times as big a deal as the World Cup. This is Michigan's third straight national title. Seriously: Directors Cup this event, yo.
An actual loss on the tubes. EDSBS found 40 minutes of youtubery not posted by WolverineHistorian. It's the 1988 Michigan-Miami game that Michigan ended up losing 31-30. Though it is depressing, the pants are very tight and Al Trautwig's doing his very best Data impression:
Draft disappointment. We knew that Michigan's 2010 hockey class had collectively slipped in the eyes of NHL evaluators, but the extent to which they did still surprises:
Jon Merrill fell into the early second round, going #38 to New Jersey.
Alex Guptill went in the third round to Dallas.
Luke Moffatt and Lee Moffie were both seventh-rounders.
Clare, Fallon, and Deblois did not go.
That's disappointing from a talent standpoint. At least Merrill and Guptill went to generally patient, NCAA-friendly organizations. Michigan might get an extra year out of Merrill and stands a good chance of hanging on to Guptill.
Etc.: Nebraska fans are preparing for Big Ten hate. Michigan is not featured. Woo 8-16!