Wednesday Recruitin'
All updates can be found on the 2010 Michigan Recruiting Board and the 2011 Michigan Recruiting Board.
Welcome to the Fold, Carvin Johnson
Sure to be the subject of many "Calvin Johnson with a Korean accent" jokes over the next 4+ years, LA S Carvin Johnson became the 20th member of Michigan's 2010 recruiting class last night. The full googlestalk of the under-the-radar prospect can be seen in the Hello: Carvin Johnson post, but there's still a little more info out there to be had, namely an article from nola.com. Relevant bits quoted below:
Johnson said also spoke Tuesday night to both Wolverines running backs coach Fred Jackson, who had recruited him since Michigan extended its official offer during August two-a-day practices. Johnson said reached his decision in consultation with his mother Kim.
That's a slight inconsistency with other stories, which said he was offered in May. Continuing along:
"First of all," Roth said, "everybody who knows Carvin or who has been around him knows that he's as good of a person as he is a football player. That's a compliment to him and his momma. Football-wise, he's a ballhawk. He's always around the football making plays."
Johnson, 6-foot-1, 195 pounds, with 4.7 speed in the 40, projects as a safety at Michigan. He is fully qualified academically with both the necessary core curriculum grade-point-average and test score, Roth said.
So, not only a (hopefully) good football player, but also a good student. Welcome, Carvin, may you be the first of many DB commits in November.
[editor takeover]
BONUS: A Lousiana high school coach emailed MGoBlog to suggest that just because Johnson is virtually unknown to the recruiting sites doesn't mean that he's not a player:
With regards to your posts on Carvin Johnson, I can tell you that you are wrong on your assessment.

As a veteran Louisiana high school football coach at several highly successful programs, I have had players go on and play all over the country and on to the pros. I have also had kids play for RRod at Tulane, Clemson and WVU. RRod knows the type of football we play here in LA and picks and chooses which schools he recruits. … RRod knows this state and which schools produce college-ready players.

Carvin Johnson is not even one of my players – but I have played against his Rummel team and know Jay Roth and his program well. Carvin Johnson can play. Here in LA, we do not send kids to camps to get hyped up. We know our kids can play. If a LA kid is going to combines, it is very much more than likely due to (a) his high school coach trying to get exposure for himself or (b) because his program isn't any good, but he plays well. Trust me, this is how it is.

You are getting a solid player – big, physical, coached up, football smart.

Just my nickel's worth of commentary because that kid can play. I saw him 1st hand from my own sideline earlier this season when his team eked out a victory against us. Carvin can play and Jay is a good coach.

Coach Ox
So there you go: evidence that Johnson is a sleeper in a good way.
[/editor takeover]
Reverse Manifest Destiny
Last week, mgoblog's own TomVH reported that CA S Tony Jefferson would visit MIchigan for the Purdue game. WTKA's Ira Weintraub e-mailed to let us know that the date has changed, and now Jefferson will be in town for the contest against the Buckeyes. Greg Biggins of ESPN confirms that he will now visit the weeekend of the 21st.
Also in town from the left coast will be CA WR Kenny Stills. He also says:
"I talk all the time with [CA RB] Brennan Clay, Tony Jefferson, [CA CB] Joshua Shaw, [CA DE] Ronald Powell, a few others," Stills said. "There's a good chance a lot of us could be at the same school next year and that would be great.

Stills, Shaw, and Jefferson, plz. I believe Josh Shaw will complete that trifecta by also visiting for the OSU game. He has said he wants to take a Michigan visit, and that would be the perfect time to get him on campus.
In which I emulate Sherlock Holmes to an unnecessary degree
Remember back when GA DT Michael Thornton said he might take an official visit to Michigan at some point? TomVH confirms, via Twitter, that this will indeed happen. Considering that he's the only Georgia DT that Michigan is still heavily recruiting, we can assume this Scout header is about him, no?:
Georgia LB to Visit Michigan

GBW's Eugene Hankerson talked to the player - who plans to visit with his DT-Teammate.
Using a little detective work, we discover that there are three prospects in the Rivals database who are linebackers from Stephenson High School: Jabari Johnson, Franchot West, and Tyrone Cornelius.
Johnson doesn't have a picture available on his Scout profile, so he's out (otherwise the header photo for the article would be his profile picture). That leaves West and Cornelius. Let us compare the photographic evidence: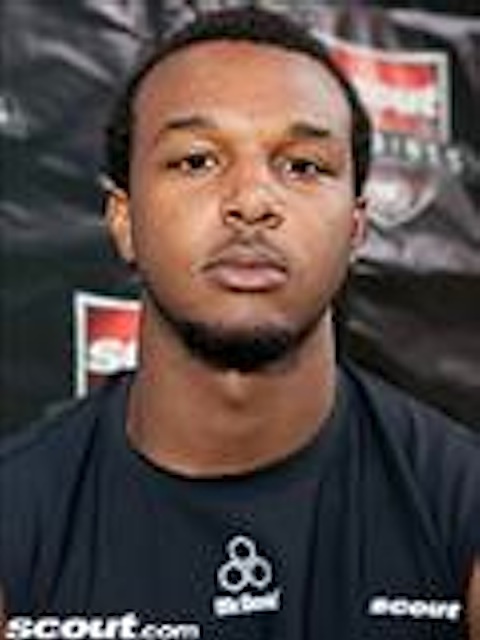 Cornelius, Mystery Man, and West
The mgo-photo analysis provides indisputable evidence: It's Mr. Cornelius, with the official visit, in the Big House.
I got way too much enjoyment out of this. Cornelius had been thinking about a Michigan visit for a while, FWIW.
Additional Linebackin'
FL LB Christian Jones is apparently still considering Michigan ($, info in header). I've re-added him to the board, since it seems like a lot of recruits are trying to stay as far as possible away from Florida State. Still, even getting him on campus would be a minor recruiting coup.
Part of the reason VA LB Aramide Olaniyan's is on the open market is that Duke was supposed to suck this year, and they did nothing to change those predictions in week one, falling at home to 1-AA Richmond. However, the Blue Devils have since rebounded, and now control their destiny in the ACC Coastal. Olaniyan is back to considering the Blue Devils, although Michigan still remains near the top of his list.
Happy Trails
It was apparent that he wasn't headed to Michigan for a while, but now we know where FL RB Eduardo Clements will play his college ball: Miami (YTM).
FL CB Ricardo Allen committed to Purdue.
2011 OH DE Steve Miller has committed to Ohio State, which is sad, but not unexpected. I at least thought he'd give Michigan an unofficial visit or two.
2011
Speaking of 2011, it's been a while since we've had an update on junior prospects. Athlete Vault has released an initial top 100 and relevant prospects at this time are:
#2 FL DT Timmy Jernigan (Michigan offer, but probably a Florida lock)

#3 AZ OT Christian Westerman (Michigan offer)
#10 GA TE Jay Rome (Michigan offer)
#12 MI LB Lawrence Thomas (Michigan offer, favors MSU)
#15 OH QB Braxton Miller (Michigan offer, favors OSU)
#27 FL S Hasean Clinton-Dix (Michigan interest, Dr. Phillips)
#35 FL WR/TE Kelvin Benjamin (Michigan interest)
#50 NC QB Christian LeMay (Michigan offer and camper, probably a lock to Florida)
#52 OH LB Trey DePriest (Michigan offer)
#54 DE Jalen Grimble (Michigan offer, added to the board)
#84 TX S Sheroid Evans (Stonum, Herron, Woolfolk HS)
#91 OH DE Chris Rock (Michigan interest)
#100 FL RB Demetrius Hart (Michigan lock)
Several other guys on the list will probably be of interest by the time 2011 recruiting truly ramps up.
For his part, Sheroid Evans would like to run track and major in engineering in college. Somebody get this kid on the phone with Troy Woolfolk and Patrick Omameh, stat.
Lawrence Thomas, on the other hand, is the subject of a ridiculously-misleading ESPN headline: "Mich. LB favors another Big Ten school" is a phrase which here means "Penn State is a school he is considering." The article itself even explicitly says he has no favorites.
Added OH TE Robert Mincey to the board, as he took a Michigan visit for the Penn State game ($, info in header). Same with PA OL Kevin Reihner.
SoFlaFootball also has its top 50 for 2011.
Etc.:
People close to MN OL Seantrel Henderson's recruitment are "beginning to think" he'll probably end up at Southern Cal. Uh, no, they've pretty much thought that all along. Notre Dame homers, on the other hand, think it's a 2-horse race between them and Ohio State. MI RB Jeremy Langford visited Michigan recently ($, info in header), I'd be surprised if an offer comes through. Michigan is pursuing post-grad VA DE David Mackall, currently a Maryland commit ($, info in header). I've added him to the board. SC CB John Fulton is selected to the Shrine Bowl. PA CB Cullen Christian no longer a lock? Say it ain't so! Is FL WR Kenny Shaw still interested in Michigan? A possible official visit would seem to imply so.