Preview 2016: Special Teams
Previously: Podcast 8.0. The Story. Quarterback. Running Back. Wide Receiver. Tight End And Friends. Offensive Line. Defensive End. Defensive Tackle. Linebacker. Cornerback. Safety.
[Eric Upchurch]
Depth Chart
| Kicker | Yr | Punter | Yr | Kickoffs | Yr | Punt return | Yr | Kick return | Yr |
| --- | --- | --- | --- | --- | --- | --- | --- | --- | --- |
| Kenny Allen | Sr* | Kenny Allen | Sr* | Kenny Allen | Sr* | Jabrill Peppers | So* | Chris Evans | Fr. |
| Quinn Nordin | Fr | Quinn Nordin | Fr | Quinn Nordin | Fr | Jourdan Lewis | Sr. | Jehu Chesson | Sr.* |
John Baxter fled back to California after one Michigan winter and will get what's coming to him in the next ice age. Baxter is a uniquely good special teams coach and there wasn't an obvious replacement available; also Rashan Gary existed. So Michigan promoted Chris Partridge to a full-fledged assistant spot and split special teams duties between him and Jay Harbaugh.
There's probably going to be a dropoff in effort applied. Last year Michigan took timeout in a squib situation so they could insert Dymonte Thomas; they lined him up at the spot a squib should go and lo, he returned it to midfield. If that creativity persists it's evidence Harbaugh is pushing every available angle. I don't expect it to. John Baxter appeared to be a rare commodity: a difference-making special teams coach.
Even so, this should be a strength.
KICKER
Rating: 4
[Bryan Fuller]
The dread was palpable last year when scholarship freshman Andrew David wasn't even in the conversation. A couple of walk-ons vied for the job and were by all accounts somewhere between vexing and terrible. So of course when KENNY ALLEN locked the spot down he hit 18/22, with one miss a bad snap and a second due in large part to a downright supernatural gust of wind that pushed a probable make wide. Allen was also 46/46 on PATs.
The catch, such as it is, is that Allen rarely attempted a field goal from outside 40 yards. Just six of his attempts were in the zone of mild difficulty; he went 3/6. He did hit a 47 yarder and he's a booming punter so the leg strength is likely there.
Even if Allen is unproven at longer distances, I will take a #collegekicker who is near-automatic from 40 and in every day of the week and twice on Saturday. Some additional range is the only improvement required.
If that range is not forthcoming, QUINN NORDIN [recruiting profile] also lurks. Harbaugh is uncomfortable with having Allen take every last kicking duty so it's possible Nordin gets some longer kicks. If Michigan does decide to spread the load out, kickoffs are a more likely deployment for Nordin.
PUNTER
Rating: 4.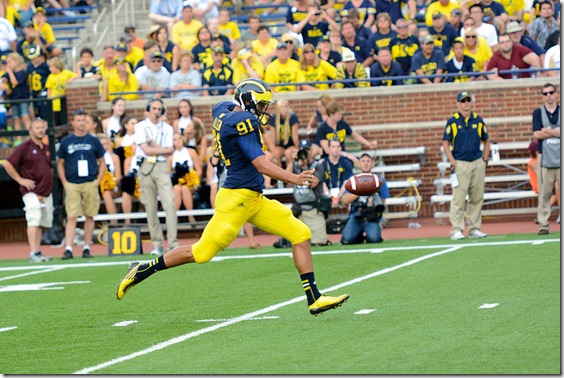 [Bryan Fuller]
KENNY ALLEN, yes that Kenny Allen, figures to win this job too. Allen in fact came to Michigan a punter, and a booming one at that. He's had two punts in games, both of which went 50+ yards, and since Brady Hoke's reaction to "you have to have an open practice" was to turn it into a special teams exhibition your author has seen Allen punt a ton. He's really good. He could challenge Will Hagerup and Monte Robbins for the all-time gross average, which currently sits at 45 yards even.
One department that figures to have a decline is pooch punting. Blake O'Neil's feathery touch on punts inside the ten was remarkable and unlikely to be repeated by any non-Aussie. When I caught Michgian's open practice at Ford Field, Andrew David was tasked with that nose-down pooch punting stuff that's all the rage. David's left the team since; that might signify Allen's not great at pinning the opposition deep.
QUINN NORDIN is also an option here.