This Week's Obsession: 2019 All-Big Ten
THE SPONSOR:
Nick Hopwood, our MGoFinancial Planner from Peak Wealth Management.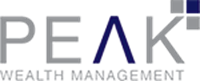 If you haven't started planning for retirement, uh, do your taxes, and then get on that.
Legal disclosure in wee itty bitty font: Calling Nick our official financial planner is not intended as financial advice; Nick is an advertiser who financially supports MGoBlog. MGoBlog is not responsible for any advice or other communication provided to an investor by any financial advisor, and makes no representations or warranties as to the suitability of any particular financial advisor and/or investment for a specific investor.
------------------------------------------
THE QUESTION:
IT IS TIME TO ALL BIG TEN VARIOUS THINGS
Seth: Are we making a lineup or just five guys and shoehorning them into positions? And does our lineup have to match what the guy's primary role is?
Brian: Lineups should be realistic but not dogmatic.
Seth: So Happ at point guard is...
Brian: Incorrect.
All right, basics first. All Big Ten. Let's just take it as read that everyone has Cassius Winston.
Seth: He's pretty good. It is infuriating that he's not on draft boards.
My pet stat this year is "%PAst" ie percent of a guy's points from the field that came off assists. It's a way to spot the Just a Shooters wracking up points off open looks someone else created for them. Here's a list of the top 15 Big Ten players this year with at least 100 FGAs by %PAst:
Every Michigan State starter except Winston made this list.
Alex: I really like this stat, Seth. Good idea. Who's at the bottom?
Seth: Geo Baker, Shot Taker.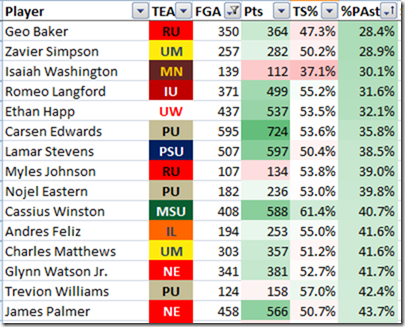 Seth: X is second to last. All hail Zareem Xabdul-Sabbar.
Brian: Of course Geo is last. The most interesting name on the get your own list is Andres Feliz.
Seth: That is deeply unfair to Isaiah Washington, founder and CEO of Assists & Bricks Dot Com, but I concede your point.
One of the quiet things about this Big Ten season that we haven't said out loud is that Michigan caught several teams at their worst versions of themselves. Not Michigan State--Langford was replaceable and the Ward injury merely prevented Izzo from playing the wrong center in his two biggest games. But we played After Copeland Nebraska, Early December Purdue, got Illinois when they were still playing Kipper Nichols and were just starting to discover Dosunmu, got IU twice during their midseason 1-12 swoon, and faced Brad Davison the game after his douchebaggery made national news. We even got Northwestern without Law, though we also got Northwestern on the road before the collapse.
Ace: I was gonna say Nojel Eastern, who maybe should look for it less.
Alex: Anyways, I feel like the Carsen Edwards discourse has moved too far in the "he's actually not that good" direction. To me, a guy who leads his team to a Big Ten title while leading the conference in scoring average by a comfortable margin is a no-brainer first-team selection. He takes bad shots and wastes possessions, and it can look pretty rough at times, but he's as much of a lock as Ethan Happ.
He's also slightly more efficient than Happ on slightly lower usage.
[After THE JUMP: An all-fives all-conference list?]