11/24/2014 – Michigan 70, Oregon 63 – 4-0
[Joseph Dressler]
Tight all the way. Announcers will proclaim basketball A Game Of Runs. This was a game of ambles, or strolls, or little rabbit hops. The entire game was played in a narrow window between tied and Michigan +8, causing maximum tension throughout. Michigan would push out to five or six or that lovely 8 that one time and then Oregon would hit a three or get a rebound putback and the tension would ratchet up again.
This was a nice reminder that it is possible to have feelings about sports.
I'm soaked in joy [Joseph Dressler]
Hello Ricky Doyle. The obvious story of the game: after a paltry two minutes against Detroit, Doyle came off the bench to register 24 of the game-winning variety.
His defense was worlds better than anyone else available at center. He was capable of hedging hard, Morgan-style, and recovering. He brought a shot-altering presence. There were a number of opportunities to compare him directly to Donnal as Oregon attempted to post both guys up as likely weaknesses. Doyle gave up a series of difficult attempts that ended in misses and took multiple charges; Donnal gave up buckets and gave fouls. There was a particularly revealing sequence midway through the second half when Michigan tried to steal a few minutes with Donnal and had to lift him after Oregon went right at him on back-to-back possessions.
Doyle also displayed a knack for finishing around the rim, going 4/5 on the night. He went up strong when provided the opportunity to, and as described in the game recap his savvy on the sealing putback was beyond his years. I was like KICK IT OUT, he was like KICK IT OUT, Oregon was like HE'S GOING TO KICK IT OUT WE HAVE TO STOP THIS, and Doyle was able to recognize a lack of options in that department and deliver a mansome finish against three guys.
And about two minutes into the game he was leaving a trail of sweat behind him, hair plastered to his head. That shot on the right makes him look like the world's largest Rascal. I can't find this to credit it but someone suggested we call him "Ice Bucket" because he perpetually looks like he just took the Ice Bucket Challenge. Big, big night.
Eclipse of the Beilein. I would be surprised to find another game in Beilein's tenure at Michigan—or anywhere—with as few three-point attempts as that one. Michigan launched just 13, hitting 5, compared to 33 two-point attempts. Oregon refused to sag and their zero-center lineup featuring a lot of quick guys provided few opportunities to get them out of alignment.
The cost for Oregon was allowing a ton of driving lanes. That is normally not a huge problem for a Michigan opponent, but LeVert was able to get to the basket and draw a whopping 13 FTAs; as a team Michigan had 29, with only a few due to late-game fouling.
The contrast in LeVert's game between long shots—3 of 13 on the night from the field—and drives was stark. LeVert had a number of Long Contested Isolation Jumpers that banged off the back rim and set up Oregon's transition game. The drives got Michigan vital points and set Oregon against a half-court defense. This was no doubt the message Beilein was sending with an unusually fiery rant during a late timeout.
YOUTH IS WASTED ON THE YOUNG [Bryan Fuller]
Chatman starts strong, then wobbles. We saw Kam Chatman's best burst of play as a Wolverine in the first few minutes of the game. He set up Mark Donnal for an easy dunk and had a sinuous finish of his own. Then things got rough, on both ends. Michigan eventually yanked him after some defensive breakdowns; before that he'd bricked another three and missed two of his four FTAs wildly.
There hasn't been much to indicate that anyone else is ready to take those minutes, so Michigan is going to have to keep rolling with him and hope he can be more like that guy early instead of that guy late.
Irvin: not just a shooter. Zak Irvin joined the parade of guys heading to the bucket, drawing a couple fouls and finishing some swooping drives smoothly. Early yet, but so far he seems to have a good feel for when he can attack closeouts and looks much more comfortable doing so than GRIII or THJ ever did. I've been wary about the idea Irvin is going to become a complete offensive player because of those two antecedents; so far, so good.
Beilein autobench ack. Walton was limited to six points in 24 minutes as the Beilein autobench saw him out for most of the first half and for five or so minutes in the second. I love John Beilein but… Walton averaged 2.5 fouls per 40 last year. Michigan voluntarily fouled him out of this game.
Silver lining is that he'll be relatively fresh for tonight's game. Michigan had its usual early-season-tourney spate of weird lineups in the first half, but with the game on the line and no bench players other than Doyle distinguishing themselves, Michigan had to go with a heavy, heavy dose of LeVert (39 minutes) and Irvin (38 minutes). Hell, Spike got 35 himself. If Michigan's going to win against 'Nova, Walton's going to have to have a huge game.
Rebounding issues. Oregon came in averaging big piles of OREBs, as you might expect from a team with a lot of bouncy 6'6" guys who crash the boards. You'd want Michigan to do better than they did, though. Oregon rebounded almost half their misses.
The fives were overwhelmed not by length but by numbers. Neither Donnal nor Doyle pulled in a DREB—Doyle did have three on the other end—but with 11 OREBs between the three main Duck forwards it's hard to put the blame on them exclusively.
One issue: another rough night for Chatman forced Michigan to use a Spike lineup featuring Irvin at the 4 for most of the second half.
The damage. Via hoop-math, 10 of the 18 Oregon OREBs were immediately put back up, with seven buckets resulting. That's the only reason this game was close. Can Michigan do anything about it is the question.
Physics is a dead end, Shon. How is the wreckage of the Indiana program going, Tom Crean?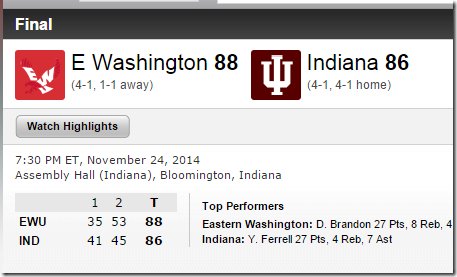 Oh.