Unverified Voracity: RIP, Jim Mandich
RIP Jim Mandich. Jim Mandich passed away last night. As with Vada Murray I don't have any of my own memories about Mandich, so I'll just offer condolences to all who do. MVictors republished a post containing a Sam and Ira interview of Mandich from a couple years ago.
An eagle-eyed poster on the board noted that TE Brandon Moore just tweeted he'll be switching from 88 to 89 this fall. While that's just because he's playing special teams with Roh, if they could get Mike Jones to switch away from 27 they might be able to do something with those jerseys this fall.
The resounding chorus. Everywhere you turn these days there's a guy flogging NBA draft analysis telling Darius Morris to GTFO of the draft. Mike Rothstein flags down anonymous scouts:
"If somebody is in good academic standing and still needs to improve his game, which I think he is in both of those categories, then it only makes sense to come out if you're going to be in the first round.

"And I don't think he would be."
So does Luke Winn:
"I can't see him getting picked in the first round," one scout said. "He has a good feel, especially in transition, but there are still some issues with shooting [25.0 percent on threes] and athleticism that leave a lot to be desired."
And Chad Ford($):
Morris is on the first-round bubble. Most scouts believe he should return to Michigan for at least one more year.
Despite that, the vibe out there is Morris will enter the draft anyway, thus thoroughly depressing everyone. Ford does say he's "very much on the fence," for what it's worth. The deadline to withdraw is May 8th.
The definition of gamut. Ohio State fans have spent the last few days reacting to the widespread reaction to the NCAA's Notice of Allegations. Responses include:
Meanwhile, an Eleven Warriors poll showed OSU fans split right down the middle: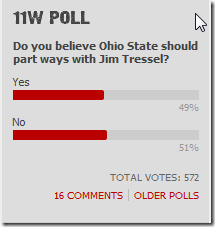 One of those ESPN polls that people drag out when Idaho stands alone shows only Ohio believes Tressel should be retained but it's close: 60-40 in favor. This is kind of like when Michigan fans were 33% fire RR, 33% keep RR, 33% don't know. It's not a fun spot. This is fine by me—OSU fans have had vastly more than their fair share of fun since Tressel showed up.
The comfy chair. MVictors has his season ticket renewals in hand and relates you can now rent your seat cushion if you are fed up with the onerous task of carrying it into the stadium:
Just 32 dollars. Greg frets about what this will do the aesthetics of the empty stadium. I'm not sure it's a big deal but it will be awkward if people in the seats painted yellow hit these up. Maybe they have an inverted version for those?
I won't be partaking because the last three OSU games have featured our section not just standing but standing on the benches for the first quarter or so. That may be comfy but it's probably not great to stand on.
Further adventures in eking out marginal revenue. The Big Ten is considering changing their game times to noon, 3:30, and 7. If those seem like the current game times, they are, but that's like this "central" time zone thing:
If you're one of those Big Ten football fans who despised the frequent 11 a.m. starting times for games, take heart. They might be a thing of the past.

Big Ten commissioner Jim Delany reportedly is lobbying hard in negotiations with the television networks to do away with them. If Delany has his way, all Big Ten games next season will start at either noon, 3:30 p.m. or 7 p.m.
Big Ten noon games are now mostly in the hands of the BTN but it's hard to imagine ABC/ESPN moving their traditional 3:30 afternoon game to 4:30 just because some Iowans want to get drunk. Also this only furthers the conspiracy against fans who would like to see something, anything other than their game before the night games start. Also also that makes 4:30/7 games freakin' cold.
If the BTN wants to show games in the central time zone at 1 the only thing stopping them is their contract with ESPN, so fine. These days the average number of CST Big Ten 11 AM starts that show up anywhere else seems very small. I'm not sure why they have to mess with everyone else's start times to do that.
Etc.: Herbstreit bombs OSU. Spielman is less mean but clearly thinks this is srs. Herbstreit has been excommunicated. DocSat assesses the potential damage. PSU fans wonder how OSU evaded a "lack of institutional control" charge when one of the examples is "The institution fails to make clear that any individual involved in its intercollegiate athletics program has a duty to report any perceived violations of NCAA rules and can do so without fear of reprisals of any kind." Sports By Brooks rounds up additional funny stuff.