Exit Brian Cole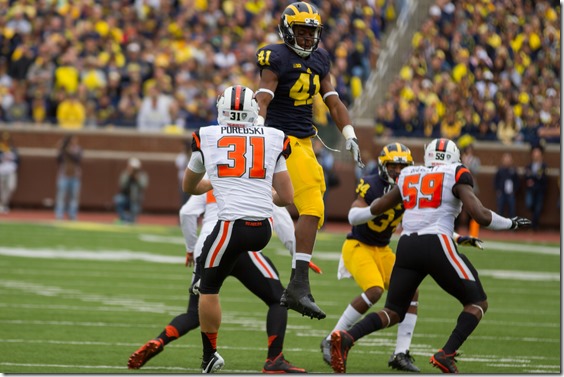 Floating away [photo: Eric Upchurch|MGoBlog]
Ungh.
FR ATH Brian Cole no longer w/the #Michigan program; #Kentucky, #Pitt possible destinations: https://t.co/ox1q7U6Eux pic.twitter.com/Hs0Sfsu0sU

— Steve Lorenz (@TremendousUM) January 28, 2016
We had heard persistent rumors all season that Cole was on thin ice after mounting violations of a thing that probably wouldn't have been a thing if it happened just once. Or twice. Insiders last summer thought he was already on the rails but around bowl practices it seemed he'd finally put that behind him. Apparently it happened again after/during the bowl trip, and Cole got the Kelly Baraka boot sometime before last week.
Cole saw a little bit of action early on as a special teamer, and some snaps at slot receiver after Grant Perry had a bad first outing. After that he was either injured (Scout, 247) or deep in the doghouse (Rivals) depending on what service you subscribed to. Then around bowl season it seemed he was in the clear and practicing at safety according to comments by Royce Jenkins-Stone. It seems Rivals (and maybe all of them) got this one right.
Damage: The move to safety made plenty of sense; his elite athleticism was badly needed given Michigan's depth chart after next year reads Tyree Kinnel and whatever they get out of this year's haul. Plan on seeing at least one and probably two of the freshmen on the field as everyone tries out for the post-Dymonte/Hill era. And unless some players emerge there I wouldn't be surprised if the coaches were shopping the grad transfer ranks once they've seen the position shake out next spring.
Scholarship update: Michigan now has 23 scholarships available. With three special teamers/former walk-ons they don't have to count until fall and seven in the 2016 class enrolled and back-dateable they're not going to have any trouble signing all the guys they want on Wednesday. Expected and the usual unexpected losses should make that a whopping 31(!) available spots for new guys before you have to worry if guys are going to be cut.
[UPDATE: Michigan has 24 spots right now with two to four fifth years who might go through spring trying to earn a spot. We expect 2-4 additional departures if Michigan does go to the 30 number that's been tossed around. -BC]