Radish Talk
10/28/2017 – Michigan 35, Rutgers 14 – 6-2, 3-2 Big Ten
LET RAIN MAN BALL [Marc-Gregor Campredon]
Arizona quarterback Khalil Tate is doing this:
Last 4 games:

Khalil Tate has 743 yards and is averaging 12.8 yards/play on pass plays and 840 yards and is 14.2 yards/play on run plays.

— Football Perspective (@fbgchase) October 30, 2017
Arizona is ranked for the first time in a minute after four straight Pac-12 wins. Tate watched Arizona's first four games from the sideline. Last year he completed 40% of his 45 passes and rushed for under 5 yards a carry.
A bit further north in that same conference, Stanford barely escaped an awful Oregon State team as QB Keller Chryst averaged 4.3 yards an attempt. Sophomore KJ Costello played the vast majority of previous high-scoring wins over UCLA and Arizona State. Twitter was rife with bitching about Chryst and stupefaction at what it would take for Costello to enter the game as the Cardinal labored towards a win over the 1-7 Beavers. You may remember that Michigan's first choice at QB two years ago was Costello; it was only after he committed to Stanford that Michigan started looking around.
A bit further south in that same conference, Sam Darnold watched USC start 1-2 under Max Browne last year before emerging as a 67%, 3000-yard, 31-9 TD-INT flamethrower and Rose Bowl winner.
A bit closer to home, Michigan State quarterback Brian Lewerke spent most of the 2016 season watching Tyler O'Connor bork it before getting a chance midway through the year. A few years back MSU also spent a brief, wonderful period as the worst offense on the planet under Andrew Maxwell before pulling the trigger on the Connor Cook era. Wisconsin left Alex Hornibrook, the conference's #2 QB by passer rating, on the bench early last year, and then benched him for their final two games.
Nobody knows! Even coaches. Coaches think things. They have the limited amount of data that practice provides, and then there is game data, and all of this information pales in comparison to a giant, looming Fear Of The Unknown. Some decisions make themselves; others have to wait until there's literally no way a second-year player is worse.
There is a moment when even if the backup sometimes seems like a semi-sentient radish in a human suit, he's the man, man. Welcome to that moment.
----------------------------------------
John O'Korn's struggles after Purdue sent the Michigan internet down a fairly appalling rabbit hole of speculation about Brandon Peters. "Promising young player stuck on bench for bad reasons" is such a trope that everyone knows the name of an otherwise obscure baseball player who Lou Gehrig replaced: Wally Pipp. The hundred-year persistence of this pattern was not good enough.
Nor were a plethora of recent examples at Michigan itself: Mike Hart behind David Underwood. Ben Gedeon behind Joe Bolden. Heck, even this very year Michigan went with Nolan Ulizio despite the fact Juwann Bushell-Beatty is older and apparently better. Sometimes the wrong guy is playing.
None of this mattered. O'Korn was bad so something had to be wrong with his backup.
So the last few weeks you couldn't throw a rock on a Michigan message board without hitting someone either implying or directly stating that Peters was a weird aspie with a fidget spinner and no future, Rain Man in a helmet. It's one thing when this comes from anonymous insider wannabes and entirely another when Rivals's Chris Balas calls a redshirt freshman a "big recruiting mistake" and says he "wouldn't be surprised" if Peters transferred.
Gasoline on the whisper fire, based on nothing. And this the second time Rivals has fueled baseless Peters transfer rumors that had to be debunked. The first time it was by Peters's father. This time Peters did it himself.
----------------------
easy [Campredon]
It turns out Brandon Peters is at least as plausible a second-year quarterback as anyone else suspected of being a sentient radish. Never in the history of Michigan Stadium has a soft toss in the flat or a fullback checkdown been met with more rapture, because everyone was worried that there was a good reason Peters was behind O'Korn, and that meant doom both now and later. Rutgers guys were annoyed at it, for some reason:
"It seemed like the crowd was kind of obnoxiously cheering," Rutgers redshirt senior Dorian Miller said with a smile. "(Peters) completed a 10-yard ball and the crowd belted out. Football is football, so I'm sure you could apply that to any team and the fans would respond like that. It's not a knock on them."
Just when folks who haven't seen Peters in action started wondering if this guy's arm strength was substandard, Peters stepped up in the pocket and ripped a laser at a receiver just in front of a safety. The ball got in a half second before the safety arrived, and the absurdity of the whisper campaign really settled in.
Brandon Peters is a quarterback in 2017, which means he was scouted to death in high school. And the thing that really leapt out to both Ace and I was that slow build to a ripping throw. Peters has the natural ability to vary his throws so they're catchable when they can be and darts when they have to be. That featured in his recruiting profile:
He varies trajectory and speed based on the situation. My favorite throws in the Brownsburg game above are two high-arc, low speed passes to his tight end that are the exact right throws in those situations. That's the definition of a "catchable ball."
Peters seemed like a savant, especially in the aftermath of Shane Morris's approach to the game. He had no QB guru, like most quarterbacks do these days. He ripped through high school football. This wasn't a guy completing half his passes who might be moldable into a guy down the road. Personality issues didn't prevent Peters from impressing the entire recruiting industry and flying up rankings after a senior year ending at the Army game.
So what are we doing when we search for some personality flaw when a second year player can't get into the game just yet? Why is a mountain of evidence from across college football not enough? And so what if the dude is more engineer than prom king?
Even if Brandon Peters isn't George Clooney—and I'm not saying he is or is not—has anyone actually seen Rain Man? Placed in his element, Rain Man is a baller.
HIGHLIGHTS
AWARDS
this guy's mustache got an HM [Barron]
Known Friends And Trusted Agents Of The Week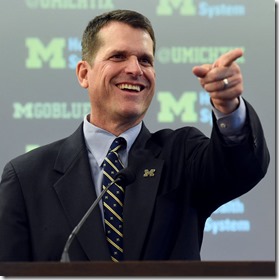 you're the man now, dog
#1 Rashan Gary. Gary was rampant, consistently blowing around the corner to sack and/or terrify the quarterback. The Rutgers LT gets some NFL hype; Gary, and Chase Winovich to a slightly less rampant extent, made that guy look like a walk-on.
#2(t) Mason Cole and Mike Onwenu. Cole and Onwenu tentatively seemed like Michigan's most mauling OL on a rewatch, but probably I could have given this to any member of the blocking crew and not been particularly off.
#3 Sean McKeon. McKeon was able to dig out a throw low and behind him to convert a third and long; he was the only guy to pull in multiple passes. He probably would have scored on that fourth down if Peters put it on him. In addition, McKeon's blocking was excellent for a second consecutive week.
Honorable mention: That guy's mustache. Poggi, Hill, Kugler, JBB, and Bredeson all chipped in on a dominating ground game. Isaac and Higdon made the most out of the blocking. Winovich, Hurst, and Bush were all their usual selves.
KFaTAotW Standings.
8: Devin Bush (#1 Florida, T2 Cincinnati, T2 Air Force, #1 Purdue)
5: Chase Winovich(#1 Air Force, #2a Purdue), Mo Hurst (#1 MSU, #2(T), Indiana), Karan Higdon (#1 Indiana, #2 PSU), Rashan Gary(T2 Indiana, #1 Rutgers), Mason Cole (#1 Cincinnati, T2 Rutgers).
4: David Long (T3 Indiana, #1 PSU)
3: Ty Isaac (#2, Florida, #3 Cincinnati), Lavert Hill(#2 MSU, T3 Indiana))
2: Quinn Nordin (#3 Florida, #3 Air Force), John O'Korn (#2 Purdue), Khaleke Hudson (T2 Cincinnati, #3 PSU), Sean McKeon(T3 Purdue, #3 Rutgers), Mike Onwenu(T2 Rutgers).
1: Tyree Kinnel (T2 Cincinnati), Mike McCray(T2 Air Force), Zach Gentry (T3 Purdue), Brad Robbins(#3 MSU), Brandon Watson (T3 Indiana).
Who's Got It Better Than Us Of The Week
Brandon Peters completes a short waggle pass to Ty Wheatley for a first down.
Honorable mention: Peters completes another soft toss to Poggi on his next opportunity. Higdon breaks free for a game-sealing long touchdown. Kareem Walker scores. Various annihilations of the Rutgers quarterback. Various annihilations of the Rutgers front seven.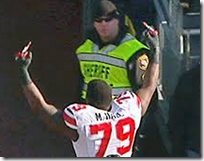 MARCUS HALL EPIC DOUBLE BIRD OF THE WEEK.
Michigan misses a run fit against a wildcat formation, ceding a long touchdown that tied the score at 7. At the time it felt like that was the start of a very long day indeed. Also long wildcat touchdowns remind me of the Penn State game.
Honorable mention: O'Korn throws a pick in the direction of Gentry when he's covered by a 5'9" guy; O'Korn fumbles the snap and Michigan eats a 14 yard loss; Rutgers uses the same damn screen play MSU scored on to get down to the two.
[After the JUMP: hamblasting the hamblasted]