Wednesday Presser 11-19-14: Brady Hoke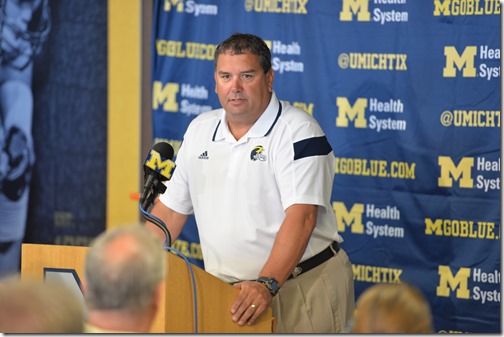 file
News bullets and other items:
Hoke has spoken with Frank Clark since Monday

The team practiced inside yesterday, except for the special teams unit; they wanted them working in the wind

Ty Isaac has dropped some weight and impressed in the intrasquad scrimmage last week

Hoke said the problems in the passing game seem to change from game to game

Hoke and his staff turned down Jake Ryan when they were at SDSU after watching his recruiting tape
Opening remarks:
"Thanks for coming. Yesterday we had a very productive practice as far as both execution and the intensity of it and the finish, and that's one of the things we talk about all the time but the consistency of the finish we want to do every play and I think we accomplished a lot of those things yesterday. We went inside. A little surprising to some of you. Mr. Glick might be upset if we didn't go inside but we did punt and snap and catch punts outside for about 12 to 15 minutes. We usually always go outside for that specialist [portion] and it just helps those guys fielding the punts in the wind yesterday. The other problem that you have, and it's not a problem, but your filmers, your student filmers being up in those towers [where] the wind gusts can get pretty good and we don't want to take any chances with that.
"As far as- you always track the weather and you want to try and be ahead of it. It does reflect sometimes on if you want to have two returners on a punt [or] if you want to have three returners on the punt back and because of the weather and what the wind can do to the football. Doesn't affect a lot in the passing game unless it's just unbelievably  from the side especially if you're doing a great job of spirals with the ball.
"The one thing we've talked about is there's 12 seniors that are going to play their last football game in Michigan Stadium, and I think that's important. You try and remind guys that they're going to be seniors soon, those young guys, and we talk about that constantly and I think some of them you've had an opportunity to talk to this week because we're trying to give the seniors time with you. It can be emotional for some of them and some guys will be emotional but it won't hit until after the game has been played."
/someone opens door, noise from a snowblower fills the room
"SO WE HOPE AND WE ENCOURAGE PEOPLE TO COME OUT AS WE HONOR THEM AND WE RECOGNIZE THEM AND WE'RE EXCITED ABOUT THAT."
/doors closes
"And we're blowing snow."
You don't face a lot of three man fronts. Appalachian State was one, but this one's a little bit different from Appalachian State because they're a lot more up front, a lot more aggressive. Does it present some different challenges than what you face in a normal week?
"Well, it does in some areas, and they'll kick it to be an under or an over front depending on where the tight end's lined up or what they feel is a receiver strength or just formational strength, but the present some thing because they've got really good quickness. [They] present some problems because of the quickness they have as a team, and I think they have pretty good team speed. They're not the biggest guys up front, but I think they do a nice job of what they're trying to get done when you look at gap integrity in the run game and then obviously we want to stay out of those third downs that can be a problem because whoever you play there's only so many things that you can do."
You talked about him a lot early on in terms of eligibility, but what have you seen from Ty Isaac on the practice field to make you feel that he is what you thought he was?
"Yeah, yeah. A couple things. Number one, I think Ty from a standpoint of where he is getting at now physically from when he got here- you know, he was in Chicago in the summer taking classes, doing those things so didn't have an opportunity really to work out with our guys at all in the summer so he did a nice job and he's continued to do that. His weight's down. When we had the scrimmage the other day he was one of the guys [I forgot]; I said there'd be guys I forgot to mention. He ran the ball pretty daggone well."
[After THE JUMP: Hoke talks about Hagerup's improvement after dropping an old-school technique. Yes, that happened. Yes, in the punting game. Why would you accuse me of making that up?]