Unverified Voracity Is Working Hard To Get Ready
Is anyone else paralyzingly bored with media output of late? I mean, I just read these articles in which the answers have become absolutely uniform…
"Right now, I'm just worried about this camp and Sept. 1 and Michigan football," [ANYONE IN THE HISTORY OF THE WORLD] said. "I never really felt like I took any steps backward or anything, I'm just going to continue to work hard like I've been doing."
…and I feel a need to link it while at the same time feeling like I am wasting your time by doing so. This is why I said Vincent Smith was a carrot. Because I am bored out of my mind with fall camp. Vincent Smith is not actually a carrot.
Don't even get me started on Countdown to Kickoff, where the most interesting thing is whether or not Doug Karsch's hair tuft will be there. It wasn't always like this:
SOMEONE GET AN UNUSUAL BICYCLE BEFORE I LOSE MY WILL TO LIVE
I think this deserves Henri, the otter of ennui.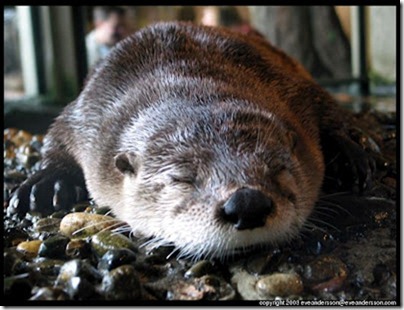 Strangely, I feel better. It could be worse: I could be a journalist trying to scrape something interesting out of this mess. Let's move on.
Ringer seems out. If you hit up Kaleb Ringer's twitter and scroll down a bit you'll get tweets from folk wishing him well on his recovery and Joe Bolden saying they can't wait for him to get back. (Also you'll get Ferris State's logo for some reason.) He mentioned something about going through a trial a few days ago, as well.
He's probably injured, is what I'm saying, and given the tenor of the tweets I'd guess it's something with a long-term recovery period. He already seemed likely to redshirt; now I'd say that probability is close to 100%. With Antonio Poole also out long-term, James Ross is going to see the field.
[UPDATE: Hoke just announced Ringer is out for the year. So is Chris Bryant.]
What I am saying. I may flesh this out into a bigger post later; for now, Her Loyal Sons put together a primer on Notre Dame's 3-4 defense. They have "cat" and "dog" linebackers that align strong and weak (or possibly to field or boundary—the post doesn't make it clear) and those guys are frequently deployed like so:
If this doesn't look familiar I have not been badgering you enough about how 1) moving to the 3-4 does nothing to help Michigan's DL issues and 2) that the 4-3 under is halfway between a traditional even 4-3 and the 3-4. Replace "CAT" with "WDE" and "DOG" with "SAM" and voila. ND will of course line up in a traditional 3-4 look and back that WDE-type-guy into coverage at times, but this assertion…
Unlike the 4-3, in which the defensive line almost exclusively rushes (save for some of the more exotic blitz packages), the setup of the 3-4 shines allows fourth rusher can really come from anywhere. While the Cat may be the pass rushing specialist, that doesn't mean he will always do so.
…does not jibe with my observations last year, when Mattison flung all manner of zone blitzes at the opponent. The fourth rusher was very frequently not the WDE.
Anyway: 4-3 under personnel crammed into a 3-4 does not use more linebackers and only exacerbates issues with having 280 pound SDE/3techs.
Outrage! Not really. Carr told John Wienke to go to Iowa:
"When Coach Carr retired, he was the one — I actually always liked Iowa — but he told me probably to go with Iowa," Wienke said. "That's probably the next-best thing that was going to be for me with my style of play."
Outrage level here is zero. Telling a recruit he probably doesn't fit is a lot different than allegedly telling the players already on campus they had a green light to transfer. Chances are Rodriguez would have phoned the kid up and said the same thing. I probably wouldn't have brought it up except for the fact that the kid is doing all that he can to honor Carr's guidance:
He's a punter now.
It's neutral you guys. The Alabama game is declared the "best of the Big Ten road schedule" by the Star Tribune [HT: Daily Gopher], which is one thing. Another is Countdown to Kickoff straying dangerously off-message at the 1:20 mark:
do not operate heavy machinery after watching countdown to kickoff
Michigan practiced at Ford Field to prepare for "all that road noise." It's a neutral site you guys. Neutral.
Yeah, let's do that. No, nevermind. Brandon said something to justify the Horror II that demonstrated his inability to grasp anything other than "attention = good." Hey, here's a bunch of CBS guys reminiscing about where they were when the Horror I happened. I bet you're going to go read that right now.
He said many other things as well, some of them appalling like moving the spring game to Ford Field. RABBLE RABBLE RABBLE. /is actually rabbling
Nonexistent CHL union still works. That's the argument from London, home of one of the more prominent OHL teams:
The CHL franchises operate as professional franchises. They are a business first and foremost. The scholarship program is great until you play professionally, then you lose it. That's not right.

They trade kids indiscriminately in an effort to make their business successful. They entice kids to come to their programs and when something doesn't work, they are tossed aside like a punctured jockstrap. Teams pay a player $50 a week and own him totally for four or five years.

That's the type of thing that needs to be addressed for the good of these players.

As for the assertion that the CHL is comprised of 60 teams that all operate as individual corporate entities, it sounds an awful lot like the structure of the NHL and last time anyone looked, the NHL had a players' association.
If they are individual entities, the colluding not to pay a class of employees is not kosher. If these guys ever get their act together they would probably get a heap of concessions without even trying.
Etc.: Oklahoma kid will fill one of your commercial breaks at Michigan Stadium this fall, is probably taller than Dennis Norfleet. I want to like this "open letter to Brady Hoke" from Grantland, but open letters are always painful. Hey, writer-guy: Brady Hoke is not reading your stuff. I am. Talk to me, not him. OSU FR Adolphus Washington is 50 pounds heavier than he was when he signed his LOI. That's probably not good from their perspective.