What Is: A Wham Block
I found this incredibly annoying this weekend:
Michigan has 8 1/2 in the box, and yet Iowa is able to get 8 yards on 1st down. Even more galling is they did it with a nifty trick that hadn't been seen much of in the Big Ten until Harbaugh brought it back last year. It's the wham. And it had no right to go this well.
Wham Defined
A wham is a first level block by the fullback or TE, freeing up an offensive lineman to release to the next level. It's a type of Trap, which is a when you leave an interior defensive lineman unblocked before hitting him from another angle. But when you think of a "trap" it's usually pulling an offensive lineman to blindside the DL you left unblocked to roar into the backfield.
A wham is less about catching the defense overreacting and more about winning a one-on-one matchup they didn't expect, in this case between a fullback or H-back and an interior DL. The block is a kick-down, and happens within a second of the snap. If executed, you've erased the defense's most important run defender with your fullback's block, and your center (who's often your best run blocker) gets a free release into the linebackers.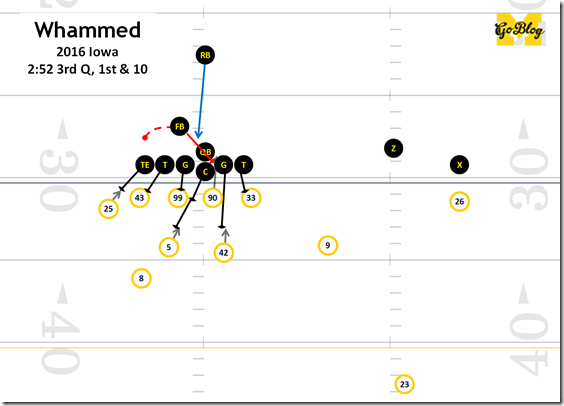 Wham block in red
Often a wham block starts with that fullback or tight end in motion. This keeps him out of view of the DT he'll end up blocking until it's almost too late, and can give him more of a head start, since the fullback is bound to be giving up some weight on the DT, and will have to make up for it with momentum.
BlueGraySky put together a great video compilation of Notre Dame's wham blocks from a decade ago:
If you're mad about watching Domers, know that Michigan's '06 defense appears twice and does a pretty good job against it.
[After the JUMP: What they win, what they risk, and how it goes]