This Week's Obsession: B1G X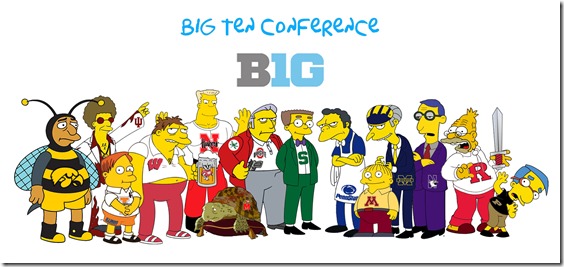 That episode where Mr. Burns had to go work for Smithers. I'm sure there is one. 
The Big Ten Championship Game and bowl selection gives us an opportunity to zoom out a little.
Who's on the up, how do next year's divisions stack up against each other for the short and long term, and what's the long term outlook for the Big Ten on a national scale (and do you care?)
Mathlete: With Michigan State's title and several preceding years of quality, they have moved into that 1B tier. Ohio State is the only team right now I would consider in the top tier. They have both the recruiting and the on field to be clearly at the top.
I wonder what Coach Dantonio thinks about "1B" status. He probably has a measured, mature response that acknowledges his schedule was kind of easy and his recruiting is lacking. [Fuller]
Joining the Spartans in 1B I would put Wisconsin. Behind them you have the good but definitely behind the top teams group. Unfortunately right now that includes Michigan along with Nebraska, Iowa. In the third group you have the chaos teams. Northwestern, Indiana, Minnesota (how did that happen), Penn State and probably Maryland are teams that had a pretty decent year last year despite another rash of injuries. That leaves Purdue, Illinois and Rutgers at the bottom tier.
So if you look at the divisions you have the East with 2 first tiers and 1 second tier team. The West would have 1 first tier and 2 second tier teams. The caveat is that the East's second tier team, Michigan, has been recruiting like a first tier and will finally have a large amount of acclaimed talent in the upper classes. If Michigan can move up to tier one, then the East is considerably more challenging.
On a national scale it's hard to see the Big Ten join the top as a group. The two paths up are recruiting and coaching and right now there is a pretty big gap between the Big Ten and the best in both. If Michigan can start playing like it's recruiting, and 1-2 teams of Michigan St/Wisconsin/Nebraska/Iowa can play at the top level each year, then that should help the profile of the conference. Three+ really good teams means you move out of ACC territory and get to where a conference champ would be in a position for 2 high quality wins. Ultimately, that's the blueprint for the Big Ten at the top as a conference, 3 high quality teams, 2 high quality wins. Without a foundational shift, the full depth isn't going to match up. But if the top 3 can, the conversation should die down.
[Just Jump.]