Shovel On A Little More Coal
9/7/2013 – Michigan 41, Notre Dame 30 – 2-0
Eric Upchurch
The media trend of the last ten years is a demonstration of the power of hope. There are now three national networks covering recruiting, plus ESPN, plus a cottage industry of who-dat bloggers who get picked up by these national networks far faster than actual journalism majors get picked up by, you know, newspapers. (Michigan has no journalism major, which explains why you can't throw a rock at a sports editor without causing him to hire a Daily grad.) This site alone saw two guys snapped up and almost hired a third who was snapped up just a bit later. Meanwhile, newspapers continue to give us Drew Sharp and wonder why they're withering on the vine.
Here's all you need to know about recruiting sites: they can charge for content on the internet. Hope, man. Hope.
Because the next guy is always going to be The Guy. The Guy will rescue us from the purgatory of not being Alabama and deliver us unto glory. He may be a defensive back, or a running back, or a quarterback, or a defensive lineman. He is going to be Woodson or Adrian Peterson or Andrew Luck or Jadeveon Clowney—except Clowney's defense just got torched for 41 points and lost.
Jadeveon Clowney! Indisputably The Guy, and somehow still not. If Jadeveon Clowney can't be the guy, well… there's always the recruiting sites. It's college football. The next arrival is always just around the corner.
------------------------------------------
Devin Gardner turned in what I can confidently state is the worst play in the history of organized football—I have watched all of it from Pop Warner on up—and was still awesome Saturday night. Awesome. I do not mean this in the Spots-gave-me-extra-wings way. I mean this in the light-from-the-sky, tremble-at-the-power, bow-down-lest-we-all-perish kind of way. If I could use the words "yea" and "lo" genuinely, I would deploy them now. The numbers are amazing. The numbers do not do it justice.
Here's the thing about Notre Dame's defense: it's going to be just fine. Gardner ate plenty of defensive lineman Saturday, usually after delivering a perfectly-placed dart. Notre Dame blitzed him almost two-thirds of the time and got the one huge mistake and nothing else. Notre Dame defensive backs were, with rare exceptions, in position to make a play on anything other than a perfectly-placed ball. They could not make plays without committing pass interference, called or not, because Devin Gardner was spitting hot death all night long.
If you happen to rewatch that game you'll see did-that-just-happen surgical strikes even more impressive the second time around.
On third and goal from the 14, Drew Dileo screwed up his route. He ran next to Gallon, bringing a third defender into the area. Gardner fired a ball in between all three guys that hit Gallon in the hands instead of the chest because KeiVarae Russell was riding him like a horse. Earlier in the drive he'd tossed up that back-shoulder throw that he might have been attempting against Central Michigan when he got hit, and Gallon plucked it out of the air. Russell was there. He just couldn't do anything about it.
By the fourth quarter, Gardner and Gallon had become so proficient at the back shoulder fade that Notre Dame was actually sitting on it, which I have never seen before. There were a lot of things last night that I haven't seen before in a winged helmet, that have traditionally been the province of passing specialists like Texas Tech. They tried to man up Crab, once, and Texas Tech beat the #1 team in the country without a running game or defense. Michigan has at least one of those.
In the aftermath, Michael Crabtree looked a lot like you did at some point last night: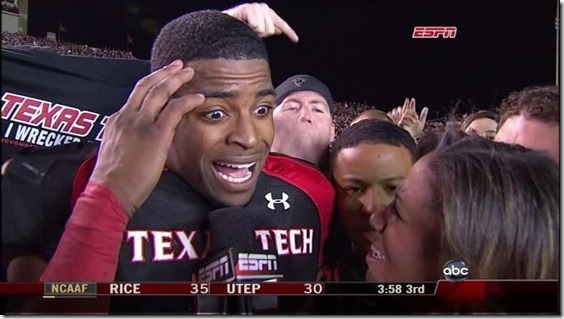 IS THIS REAL LIFE
Oh and Gardner led the team in rushing at 7.5 yards an attempt. He might be The Guy. Gardner hinted at this kind of thing over the last six games, and now he has delivered. You could feel it coming, maybe, but Michigan just graduated a guy who was The Guy, like Jadeveon Clowney is, and could not get over the hump, like Clowney. Even in the world where talent comes through it doesn't always end up steamrolling the opposition.
Devin Gardner just left Notre Dame a two-dimensional smudge in the rear view mirror, and now it's downhill for a while. Shovel on a little more coal, and let's watch old 98 roll.
Highlights
Parkinggod has the Michigan stuff:
And Notre Dame has some things that Notre Dame did right:
Pressers are available from Maize and Blue News.
Gardner thing from Gameday:
Also a lady got hit real hard.
Awards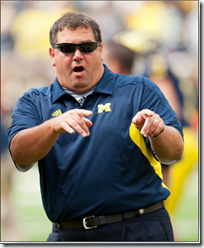 Brady Hoke Epic Double Point Of The Week. How does a guy who threw four touchdowns at nearly 10 YPA and ran for 90 additional yards split this award? Well, to get the award by himself he has to be a separate entity from guy who caught eight of his passes for 184 yards. This does not appear to be the case. DevinJeremy GardnerGallon, come on down.
Honorable Mention. Thomas Gordon and Jarrod Wilson (invisible all game in a good way), Drew Dileo (THROW IT TO DILEO), Brendan Gibbons (your record-holder for kicking consistency /2009 version of your head explodes), Blake Countess (drifted off his man for critical INT), Brian Kelly (thanks for not running the ball).
SPECIAL NEW RULE. Doubling points from this game because I can.
Epic Double Point Standings.
1.0: Devin Gardner (ND), Jeremy Gallon (ND)
0.5: Cam Gordon (CMU), Brennen Beyer (CMU)
Brady Hoke Epic Double Fist-Pump Of The Week. Since it featured Borges screwing with ND, an NFL dart from Gardner, a crazy spin move from Gallon, and Chesson The Destroyer reveling in the blood of the fallen, this is an easy pick:
Honorable mention: Countess's game-changing interception, Jeremy Jackson catching a long handoff for seven yards because ND is playing in the parking lot against Jeremy Jackson for some reason, Fitz Toussaint using a tackle attempt as an awesome juke to dart 20 yards when Michigan really needed something, either of Gardner's perfect back-shoulder throws to Gallon, Gardner nailing Gallon 40 yards downfield, and Gardner taking off on a zone read so open you'd think Stephen Threet was running it.
Epic Double Fist-Pumps Past.
8/31/2013: Dymonte Thomas introduces himself by blocking a punt.
9/7/2013: Jeremy Gallon spins through four Notre Dame defenders for a 61-yard touchdown.
[After THE JUMP: offense, defense, and everything in-between. Plus incredible chicken gif!]