I Have Already Forgotten This Game
11/11/2017 – Michigan 35, Maryland 10 – 8-2, 5-2 Big Ten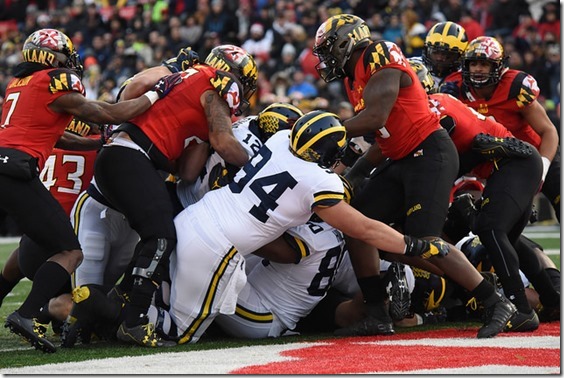 something happened somewhere [Paul Sherman]
Details from Michigan's most recent football game are impossible to remember. I have literally just rewatched the game and written much about the specifics of what occurred below, but if you asked me right now what happened in the 2017 Maryland game I would start with "uh..." and maybe get to "I think we blocked a punt" before screaming "oh god what is that?!" and running away. My memory of last year's game against Maryland is vague annoyance at tunnel screens; the year before that Ty Isaac fumbled a couple times and there was a cool screen to Jake Butt. All other knowledge requires a lookup.
So too this season, which has featured two very memorable losses and a gray sea of immediately forgotten three-score-plus wins over bad teams. Per this site's preferred fancystat, S&P+, Michigan's best win this year is over #38 Purdue*. Indiana is next at #62, and then it's a bunch of teams 80th or worse. Marquee Nonconference Opponent Florida entered the weekend 103rd. Next week they will play Florida State for the Spiritual Apple Cup.
Mentioning Indiana just reminded me that Michigan went to overtime with the Hoosiers, which I had forgotten.
---------------------------
There was a mild hue and cry when Michigan was left out of the first cofopoff rankings of the season, well behind any other two-loss major conference team. But it was mild, because one glance at the schedule is sufficient to confirm the suspicion that Michigan hasn't actually done anything this season.
It's not their fault that Florida was until recently led by a man who had to leave the room when that Left Shark thing was going on. It's not their fault that usually decent-to-good programs like Cincinnati and Air Force have cratered this season. It's not their fault that Jim Delany added Rutgers and Maryland to the Big Ten, or that Minnesota and Purdue are two of their three crossover games. But when your best scalp is "moderately feisty 4-6 team"... I mean, don't be surprised when you aren't invited to the college football prom.
Michigan now has an opportunity to change that, with two top-ten teams to close the regular season. Wisconsin is this year's ultimate Ain't Played Nobody Team; their top S&P+ opponent is... Florida Atlantic, which is admittedly higher than Purdue in those ranking at #24. Their second best win is a virtual tossup between enigmatic Iowa and... yep, Purdue. Ohio State looks invincible some of the time, and some of the time they lose to Iowa by 31.
So it's possible. Michigan is a deeply flawed team currently on their third quarterback and second right tackle. They can't pass protect. They can't make a field goal of late. They can run a bit, and can throttle most opposing offenses. They've had three straight games in which they run out to a big lead and nurse it home with stuff they've already put on film; by this point the tendency-breaking whizbang stuff must be piled box upon box in the fireworks warehouse.
This would be a good time to see what they look like against #15. They've got S&P+s #3 and #1 teams on the docket, and that looks like a tough road to take. Even if you're skeptical of the number people on the computers, Vegas didn't see this weekend's game much differently. They installed Wisconsin as more than a touchdown favorite.
But there's no other choice if Michigan wants this season to be something other than a gray expanse pockmarked with the occasional depressing defeat. Which is fine, to some extent, since virtually the whole team returns next year. The howling of the radio Petes will be annoyingly shrill, though.
*[Numbers don't yet take this weekend's games into account, but when they do the gist will be the same.]
AWARDS
one point for mutumbo finger wag [Sherman]
Known Friends And Trusted Agents Of The Week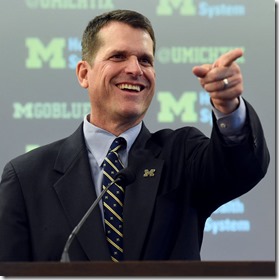 you're the man now, dog
#1 Josh Metellus. Metellus blocked a punt, had multiple instances of excellent coverage as yet another team tried to exploit Michigan safeties' man coverage, and regularly flashed into the screen to shut down outside runs for minimal gain. 
#2 Chris Evans. 109 yards on just 17 touches, and many of those required Evans to dodge a tackle before he could get going. Should have had a bit more but Peters didn't see him on a mesh route that he was wide open on. Find this man in space.
#3 David Long. An interception with an 80 yard return and, with Hill going out, the lion's share of the work as Michigan held DJ Moore well under season averages. Also had another nice PBU.
Honorable mention: Mo Hurst does Mo Hurst things; Devin Bush was the main guy on the failed fake punt and did work on the incessant screens; Tyree Kinnel was forced into a lot of tackles and didn't miss any; Karan Higdon broke a big play from nothing and was generally effective; Zach Gentry had his most productive day as a WR.
KFaTAotW Standings.
8: Devin Bush (#1 Florida, T2 Cincinnati, T2 Air Force, #1 Purdue)
7: Karan Higdon (#1 Indiana, #2 PSU, T2 Minnesota).
6: Mason Cole (#1 Cincinnati, T2 Rutgers, T3 Minnesota).
5: Chase Winovich(#1 Air Force, #2a Purdue), Mo Hurst (#1 MSU, #2(T), Indiana), Rashan Gary(T2 Indiana, #1 Rutgers), Khaleke Hudson (T2 Cincinnati, #3 PSU, #1 Minnesota), David Long (T3 Indiana, #1 PSU, #3 Maryland)    
4: Chris Evans(T2 Minnesota, #2 Maryland).   
3: Ty Isaac (#2, Florida, #3 Cincinnati), Lavert Hill(#2 MSU, T3 Indiana)), Josh Metellus (#1 Maryland).   
2: Quinn Nordin (#3 Florida, #3 Air Force), John O'Korn (#2 Purdue), Sean McKeon(T3 Purdue, #3 Rutgers), Mike Onwenu(T2 Rutgers),
1: Tyree Kinnel (T2 Cincinnati), Mike McCray(T2 Air Force), Zach Gentry (T3 Purdue), Brad Robbins(#3 MSU), Brandon Watson (T3 Indiana), Ben Bredeson(T3 Minnesota).
Who's Got It Better Than Us Of The Week
Michigan's motion discombobulates the Maryland defense so badly that Michigan gets an easy 30-yard pitch and catch TD that puts them up 21-0 and more or less ends the competitive section of the game.
Touchdown, Michigan!
Brandon Peters hits Zach Gentry for a 33-yard score with 11:21 left in the second quarter. Michigan leads Maryland, 21-0. pic.twitter.com/1aOJZDink3

— Evan Petzold (@EvanPetzold) November 11, 2017
Honorable mention: Metellus blocks a punt; Maryland tries a fake punt that goes Poorly; Higdon rips off a huge catch-and-run with a GET ORF ME stiffarm; Evans seals the game with a nifty inside zone run. Other things? I feel that other things did happen in this game.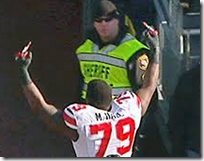 MARCUS HALL EPIC DOUBLE BIRD OF THE WEEK.
Quinn Nordin misses a field goal of less than 40 yards, which officially puts us on #collegekickers watch after it went so well early in the season.
Honorable mention: Maryland has a touchdown drive. Michigan's third quarter features a lot of three and outs and not many yards. Peters misses a very open DPJ for a touchdown.
[After THE JUMP: hero-type substances on the half-shell]