11/14/2015 – Michigan 48, Indiana 41 (2OT) – 8-2, 5-1 Big Ten
[Bryan Fuller]
Other things happened on Saturday.
Florida played South Carolina, for one. As of 11 AM on November 14th Florida is 8-1, already the SEC East champions, and a fringe playoff contender. South Carolina is 3-6 and has already seen Steve Spurrier bolt for the golf course midseason. An ESPN reporter catches up with first-year Florida head coach Jim McElwain for an interview. He asks McElwain if Florida plans on beating South Carolina's head in so that the playoff committee will like them more.
This is a dumb question for a lot of reasons. For one, if Florida wins out the only thing that will keep them out of the playoff is the apocalypse. For two, only one coach is going to respond "oh sure, definitely" when asked he is going to beat a noble opponent until they look like Jared Leto in Fight Club. Unfortunately Spurrier is that man, and he is now a pro-am golfer. For three, Florida just beat Vanderbilt 9-7.
Anyway McElwain gives this reporter an eyebrow cock and laughs out an answer. It's a good answer: "we're not at the point in this program where we can think like that."
Three hours later the Gamecocks fire in two quick touchdowns to pull within 17-14. Florida fends off further scoring from an Ichabod Crane program and rips off a big run while they're trying to kill the clock; 24-14 is the final but a bounce here or there and, well, you know.
----------------------------------------------
Michigan isn't at the point in their program where they can take much of anything for granted. This goes both ways. Suddenly the defense's fiery dominance is very much in question, but as compensation Jake Rudock is accounting for 500 yards of total offense. Jake Rudock is throwing the ball well downfield and it is going swimmingly. Jake Rudock is saying "eff it" and punting it up to Jehu Chesson to get Michigan down to the one. Jake Rudock has sweet nunchucks, and he is no longer hitting himself in the face with them.
Meanwhile, Michigan has finally run out of people to throw at opponents on the defensive line. Michigan has a very good starting 22 but the defense goes about 16 guys deep before a cliff. Michigan has three ILBs and then… uh. They have four CBs and then nah. They have eight… seven… six… five DL, and if there is ever a wrong time to be short-handed on the defensive line it is against high-tempo, crazy-ass Indiana when they have a healthy Jordan Howard.
pictured: anime Jordan Howard
So Kevin Wilson had a plan, or at least half of a plan. The plan: be on the field forever going fast and get Michigan tired out and then get guys who had never played before locked on the field. Sometimes the other half of the plan consisted of watching Michigan score quick touchdowns, but this quickly devolved into a replay of that one Denard-vs-Indiana game. You know, the one where Indiana went on Ishtar-length scoring drives. After those drives Michigan would get the ball back and Denard would immediately run 75 yards. Repeat until dizzy. Continue repeating until vomiting. Implement yet further repeating until unconscious.
Michigan did have a ten play touchdown drive at the beginning of the second quarter, but the rest of their drives before the one-minute drill lasted 4, 3, 2, and 3 plays. Two of those were touchdowns, so hooray for that, but as that was going on this is what Indiana was doing:
9 plays, 29 yards
11 plays, 53 yards
17(!) plays, 71 yards
8 plays, 41 yards
5 plays, 24 yards
7 plays, 61 yards
None of those drives took as long as the Michigan 10 plays drive; Indiana got that 17 play drive off in just 5:22 of clock time.
The pace and inability to get off the field murdered the beat-up Michigan defensive line. Wilson's decision to go for three separate fourth down attempts, two of which succeeded, contributed to the downward spiral of the Michigan defense and directly led to Michigan's punch-drunk second half. On the third, Wilson threw a screen on third and ten with every intention of going for it on the ensuing fourth and short.
Fire Kevin Wilson immediately, please.
-------------------------------------
Michigan came out the other end of that game, shook up but unscathed. Indiana does this to everyone. OSU was fortunate to not get hit with a pass interference penalty on a thirty-yard heave that would have tied that game. Indiana was driving for the lead halfway through the fourth quarter against MSU. Indiana lost to Rutgers.
Even if I don't think it's going to happen this time, I am now thoroughly used to the mid-game shift from "this is a football game against Indiana" to "this is a METH BENDER against THE CRAZED RACCOON MAFIA." By the end of the first quarter I was holding onto my butts. By the fourth quarter I had chewed a small hole in the earth's crust. Overtime was spent peeking through split fingers.
Michigan eventually held, though, demonstrating why it's better to have a struggling defense than a notional one. And here we are again: for Michigan, exhausted and victorious. For Indiana, heartbroken and half-blind.
Indiana should definitely never stop doing this, but they should stop doing this. Fire Kevin Wilson. Replace him with Gerry DiNardo. Have the same record but lose by 30 points every game. For your heart, Indiana, and mine.
HIGHLIGHTS
Michigan-centric from Parking God:
This one has some things Indiana did if you can stand the buttrock soundtrack:
AWARDS
hoofin' it [Fuller]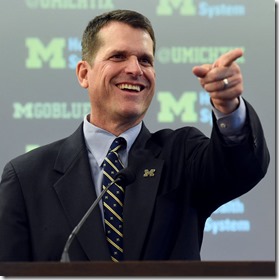 Known Friends And Trusted Agents Of The Week
you're the man now, dog
#1 Jake Rudock set an (overtime-aided) Michigan record for touchdown passes, and just about hit 10 YPA on a 46-attempt, 440 yard day, and added in 64 rushing yards for good measure. The interception was unfortunate but other than that he crushed it.
#2 Jehu Chesson was Rudock's favorite target, grabbing a deep in route on the fly and taking it to the house for a 64 yard touchdown. Rudock hit him twice on the touchdown drive that ended regulation, once on the kind of floated ball he's had trouble adjusting to so far in his career. No problems there and none on the subsequent fourth-and-five catch where two different guys blew him up.
#3 Delano Hill couldn't be held responsible for most of the bad things that happened to the defense because he wasn't out there for a lot of it, but after Dymonte Thomas was knocked out he entered to make 10 tackles, 8 of them solo. He made the plays that stopped Indiana in double over time, first blitzing to tackle Howard on second down, then tackling Sudfeld in space on third down, and finally winning man press coverage against a slot guy for the win.
Honorable mention: Amara Darboh and Jake Butt also racked up piles of yards on the receiving end of Rudock passes; Jourdan Lewis just about had two interceptions and was very difficult to beat as per usual; the offensive line couldn't get much push on the ground but they were great in pass protection.
KFaTAotW Standings.
9: Jourdan Lewis (#1 UNLV, #1 Northwestern, #1 MSU), Jabrill Peppers(#2 BYU, #2 Northwestern, #2 MSU, #1 Minnesota)
7: Jake Rudock (#3 Northwestern, #1 Rutgers, #1 Indiana)
6: Chris Wormley(#2 Utah, #1 Oregon State, #3 Rutgers)
5: Jake Butt(#1 Utah, #2 Rutgers)
4: Maurice Hurst (#2 Maryland, #2 Minnesota),
3: De'Veon Smith(#2 Oregon State, #3 BYU), Ryan Glasgow (#1 BYU), Desmond Morgan (#1 Maryland),
2: Ty Isaac(#2 UNLV), Willie Henry(#3 Utah, #3 MSU), Jehu Chesson(#2 Indiana)
1: AJ Williams (#3 Oregon State), Channing Stribling(#3 UNLV), Blake O'Neill(#3 Maryland), Drake Johnson(#3 Minnesota), Delano Hill(#3 Indiana).
Who's Got It Better Than Us Of The Week
This week's best thing ever.
Last play wins tend to have the last play feature in this section.
Honorable mention: Any number of Jake Rudock passing TDs—six to be specific. A looping pass to Butt gets Michigan into a manageable third down after second and twenty nine.
WGIBTUs Past.
Utah: Crazy #buttdown.
Oregon State: #tacopunts.
UNLV: Ty Isaac's 76 yard touchdown.
BYU: De'Veon Smith's illicit teleporter run.
Maryland: Jehu Chesson jet sweeps past you.
Northwestern: Chesson opening KO TD.
MSU: the bit where they won until they didn't.
Minnesota: form a f-ing wall.
Rutgers: Peppers as Denard.
Indiana: Delano Hill seals it with a PBU.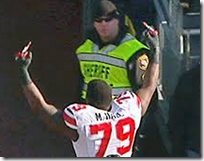 MARCUS HALL EPIC DOUBLE BIRD OF THE WEEK.
This week's worst thing ever.
Indiana has nineteen straight runs in the second half, reminding everyone of that RichRod game against Wisconsin, which is the last game I ever expected to be reminded of this week.
Honorable mention: Channing Stribling's very bad tackle attempt leads to a PR TD; Rudock throws an INT at an inopportune moment.
PREVIOUS EDBs
Utah: circle route pick six.
Oregon State: Rudock fumbles after blitz bust.
UNLV: Rudock matches 2014 INT total in game 3.
BYU: BYU manages to get to triple digit yards in the last minutes of the game.
Maryland: Slog extended by deflected interception at Houma.
Northwestern: KLINSMANN OUT
MSU: Obvious.
Minnesota: The bit where the lost it until they didn't.
Rutgers: KO return given up.
Indiana: run run run run run run run run run run run run.
[After THE JUMP: if bad Rudock is Ruddock how do you subtract more Ds from his name than one]