Game Over, Insert Freshman To Continue
10/14/2017 – Michigan 27, Indiana 20 (OT) – 5-1, 2-1 Big Ten
[Bryan Fuller]
I am at stage five. I have passed through denial, anger, bargaining, and depression. And here we are: acceptance. Michigan is not very good this year. I accept that they are rebuilding.
Well... wait. Let me rephrase that. 60% of Michigan is righteous. 20% is questionable but encouraging. 20% is a deep, black pit of infinite depth that you fall through for hours at a time. The walls murmur foul, unspeakable red-zone stats. You yell "I DON'T BELIEVE RED ZONE OFFENSE IS MEANINGFULLY DIFFERENT FROM OVERALL OFFENSE"; the walls ignore you. Occasionally a gust of wind buffets you from below, braking your descent. It doesn't really matter, though. Terminal velocity or soon-to-reach terminal velocity are functionally identical when you are dropping forever in an inky expanse of nothing, waiting for the sickening crunch that will never come except when it does about every 365 days.
Woe! Woe! Fire and flame, death and brimstone! Woe. Dolorous woe.
...is what you might have said like 15 years ago when this stuff still had the capacity to hurt you. Now? Nah. Some Indiana fan sent me a picture of scoreboard from The Horror on Saturday and I just snorted. This is no longer a fanbase that considers 7-5 the "Year of Infinite Pain," as this site did way back in the ancient past. Michigan's going to lose some more games this year and end up in Florida on New Year's Day.
That's more or less fine. They return something like 21 starters next year, give or take QB. This depends on whether or not Brandon Peters can humorously conk John O'Korn in the head and sneakily don his jersey at some point in the next few weeks.
-------------------------------
You've probably figured it out already but the righteous bits are the run defense,  the pass defense, and special teams. The questionable-but-encouraging bit is a ground game that appears to be waking up and putting things together. And the black, infinite, inky pit is the passing offense.
O'Korn's 10-for-20, 58 yard performance was actually worse than last year's Indiana game, when he managed 59 yards on 16 throws. Michigan completed three passes for four yards in the second half—two of them screens—and did not even think about involving O'Korn in their attempts to put away the game. It got so bad that on one of Michigan's few downfield attempts of the fourth quarter that Official Journalists were barely concealing their bewilderment:
Zach Gentry was open. O'Korn threw into double coverage. Gentry tossed his arms up in the air at the end of his route.

— Dan Murphy (@DanMurphyESPN) October 14, 2017
Very same, Zach Gentry. A quick glance at the photo that leads this column will confirm how very, very covered Kekoa Crawford was. And yet.
Meanwhile Harbaugh almost lost his mind on the sideline when Michigan pulled out a shovel pass they hadn't put on film, saw it break for a first down and more, and then had it called back because O'Korn didn't get the snap off in time. Harbaugh's clearly toning down his sideline behavior this year after the PF in Columbus and the supposed extra focus on coach behavior; that was a moment where he just about relapsed. But did not!
Also this:
So here we are. That's three of four O'Korn games with extended playing time where he's been horrible. I have no idea what happened against Purdue, but if you're asking me to project future performance it's more in line with the last two weeks than the outlier. Teams are now preparing for a guy who's only good when he breaks the pocket, and there goes the efficiency of that gambit.
It's bad, man. It's so bad that Michigan spent half of its dropbacks presenting O'Korn with just two guys—or even one—in a downfield pattern. The interception he threw at a dominated Eddie McDoom was third and seven; Michigan had outside receivers run fades. Nobody else was in a pattern. O'Korn somehow still threw the wrong fade, choosing the 5'11" guy being checked by Indiana's best cornerback. Michigan dumbed down their passing offense to an extraordinary extent in this game, and their quarterback still couldn't keep up.
Game over, man. Game over.
It turns out there is a difficulty level too hard on the Jim Harbaugh Quarterback Constructor video game, and it's "Houston transfer who lost his job as a sophomore." Noted, and forgiven. Michigan's desperate scramble for quarterbacks upon Harbaugh's arrival turned up a strike in Jake Rudock, and a... not strike in O'Korn.
Michigan still has their goals in front of them, and maybe O'Korn has another Purdue game in him somewhere. I doubt it, personally, but we'd all written off the Brown Jug in 2008 just in time for Nick Sheridan to put up 200 passing yards in a 29-6 win. You can just barely cobble together a justification for continuing with O'Korn for another week, because a road night game at Penn State is next and we don't want to send our baby lamb to slaughter.
But win or lose against PSU, it's hard to imagine Michigan not taking Brandon Peters out for a test drive against Rutgers. Because Michigan's future is extraordinarily bright if they can find a QB. Even if O'Korn turns it around he's not going to be part of that future. Meanwhile it's hard to imagine production worse than what they've currently got. Here is where people say "it can always be worse": I submit that it cannot. Two point nine yard an attempt and two shoulda-been interceptions, people.
Game over. Insert freshman to continue.
AWARDS
go go go go [Marc-Gregor Campredon]
Known Friends And Trusted Agents Of The Week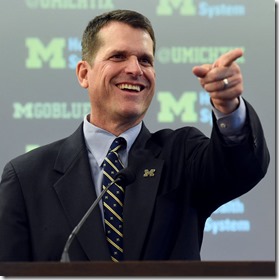 you're the man now, dog
#1 Karan Higdon. Yeah, maybe several defensive players had better individual games in chart-world. All of those guys reinforce each other, though. Higdon's efforts were emphatically not reinforced by Michigan's passing game and he still put up Michigan's first 200 yard RB game since Mike freakin' Hart. He earned all 25 of Michigan's overtime yards, showed legit deep speed on his long touchdown, and ground out countless YAC without much, if anything, in the way of a missed read.
#2(t) Rashan Gary and Mo Hurst. Gary's 2.5 TFLs coulda shoulda been 4.5; he was robbed of a couple more sack by bloody circumstance but for the first time felt like an omnipresent terror. Meanwhile Hurst continued being Hurst, repeatedly whipping guys and getting pressure directly up the middle. The downgrade when both gents were out on the first IU touchdown drive was obvious. Both guys get two points, because I want them to have these points.
#3 Lavert Hill, Brandon Watson, and David Long. Michgian's CB crew all but erased Simmie Cobbs, and Hill turned in a Jourdan Lewis-esque INT. Most completions were to guys they were not in coverage on. Also: I mean, 40 yards for Cobbs. Get it.
Honorable mention: Chase Winovich wasn't far off his DL mates. Devin Bush turned in another very good outing, albeit one without fireworks. Ty Isaac chipped in eight productive carries. The OL was excellent on the ground and gave up zero sacks... narrowly.
KFaTAotW Standings.
8: Devin Bush (#1 Florida, T2 Cincinnati, T2 Air Force, #1 Purdue)
5: Chase Winovich(#1 Air Force, #2a Purdue), Mo Hurst (#1 MSU, #2(T), Indiana) 
3: Mason Cole (#1, Cincinnati), Ty Isaac (#2, Florida, #3 Cincinnati), Lavert Hill(#2 MSU, T3 Indiana), Karan Higdon (#1 Indiana)
2: Quinn Nordin (#3 Florida, #3 Air Force), John O'Korn (#2 Purdue), Rashan Gary(T2 Indiana).   
1: Khaleke Hudson (T2 Cincinnati), Tyree Kinnel (T2 Cincinnati), Mike McCray(T2 Air Force), Sean McKeon(T3 Purdue), Zach Gentry (T3 Purdue), Brad Robbins(#3 MSU), Brandon Watson (T3 Indiana), David Long (T3 Indiana).
Who's Got It Better Than Us Of The Week
Michigan busts out a new counter look on a fourth-quarter drive, running it three times on a five-play drive that ended with a 59-yard Higdon touchdown. Don't stop:
Karan Higdon up the middle and ... Karan Higdon is gone. @UMichFootball makes it 20-10. pic.twitter.com/bx99KX2D3u

— Big Ten Network (@BigTenNetwork) October 14, 2017
Honorable mention: Michigan wins the game with a goal-line stand from the two. Higdon bounces outside for an OT touchdown. Higdon bounces outside for a first-half touchdown.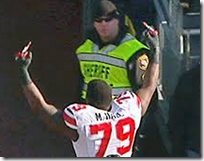 MARCUS HALL EPIC DOUBLE BIRD OF THE WEEK.
John O'Korn throws to a double-covered Kekoa Crawford instead of finding the other guy on a two man route. That guy, Zach Gentry, was open for a 40-yard catch and run touchdown. Also he was the only other guy in a route.
Honorable mention: Indiana breaks off a punt return that gets them to overtime; various absurd calls after the mean man yelled at the refs but especially the Cam Cheesman "hold" that was critical for IU's tying FG drive; Michigan picks up a bunch of legitimate penalties, including PFs against Kekoa Crawford and Josh Metellus (unless Drake Harris is on the punt return team).
[After THE JUMP: How can Peters be behind this guy?]