Hoops Preview 2018-19: Wings
Gone are Muhammad-Ali Abdur-Rahkman and Duncan Robinson. Enter Ignas Brazdeikis, Brandon Johns, and Adrien Nunez.
Despite losing two significant rotation members from last year's squad, the depth at wing should stabilize Michigan as the team looks to repeat last year's March run.
Charles Matthews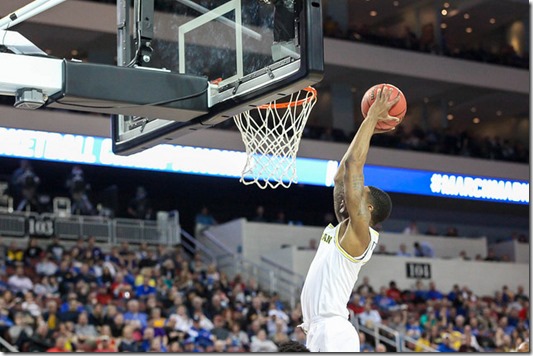 [Bryan Fuller]
Year: Senior
Measurables: 6'6'', 205
Base Stats: 30.1 MPG, 13.0 PPG, 58/32/56 2P/3P/FT%, 5.5 REB/G, 2.4 AST/G, 2.0 TO/G
Key Advanced Metrics: 25.1% usage, 105.7 ORating, 16.1 assist %, 14.7 turnover %, 17.0 total rebound %
Following a brief flirtation with the NBA Draft, Charles Matthews decided that his time in Ann Arbor was not complete.
Matthews' first season under John Beilein was a bit of a roller coaster, but it ended strong with great play in March. Transferring from Kentucky, Matthews was learning a completely new system and implementing novel concepts during game play didn't come without its struggles:
"I came into the season, we're going over plays and the freshmen were looking at me. And I was like y'all are going to have to look at somebody else. I don't know this stuff either." 
Now with a full season under his belt, Matthews will be expected to shoulder a heavier burden.
With the departure of MAAR, Matthews is the only proven playmaker Beilein has among wings. Although he sometimes over-dribbles, Matthews developed chemistry with Jon Teske in the pick and roll last season and he will continued to be called upon to summon it to create shots for both himself and others.
When he's off the ball, Matthews showed an ability to recognize and occupy open space via cuts leading to easy buckets.
Defensively, Matthews often took the task of defending the best opposing wing and did so admirably. His athleticism and strength provide real deterrents for bigger wings and help slow down offense that has given Michigan trouble for years.
If Michigan is going to have a deep run in March again, Charles Matthews will need to be a big part of it. With his physical abilities and developing skills and chemistry in Beilein's offense, it's entirely possible that he can play just that type of role.
Ignas Brazdeikis
[Marc-Gregor Campredon]
Year: Freshman
Measurables: 6'7'', 215
Recruiting Profile (Hello post): Four-star, #9 PF, #40 overall (247 Composite)
Arriving in Ann Arbor via Ontario, Ignas Brazdeikis earned the starting spot in Michigan's first exhibition game against Northwood.
Brazdeikis is a unique freshman in that he appears likely to play multiple positions for the Wolverines right out of the gate. Beilein makes a point of defining player's roles and that's especially true among his young players who have a lot to learn in his new, complex system.
But Brazdeikis isn't your typical freshman.
At 6'7, he possesses the size to play power forward but the skill and athleticism to move up as high as the shooting guard position. He moves fluidly on the court and can attack mismatches, both big and small, that will remind many Michigan fans of Moritz Wagner.
Of course, that's not to say that Brazdeikis will produce at the level of Wagner as a freshman, but his versatility in all lineups will help fill a void left by Wagner's departure.
As with all freshmen, there will be ups and downs with Brazdeikis' first season in Ann Arbor. But his intriguing skill set makes it likely that the ups will be far higher than with your typical first-year player.
[After THE JUMP: Livers, Nunez, Johns]