Five Questions And Five Answers: Defense 2015
Previously: Podcast 7.0. The Story. Quarterback. Running Back. Wide Receiver. Tight End And Friends. Offensive Line. Defensive Tackle. Defensive End. Linebacker. Cornerback. Safety. Special Teams. 5Q5A: Offense.
1. So what is this defense again?
Last year Michigan moved from the 4-3 under they deployed in Mattison's first three seasons in Ann Arbor to a 4-3 over. DJ Durkin seems set to return Michigan to a defense that's going to seem a lot like Mattison's earlier outfits. Whether you call this a 4-3 under or a 3-4 is mostly a semantic issue. However, it's one that's driving me nuts every time a writer for the Wolverine talks about Michigan's forthcoming 3-4 transition.
The disconnect here appears to be based on one spot, the "BUCK". Many, many teams have a fancy name for their weakside end. It often designates a guy who is a LB/DE hybrid:
"Watching film on Dante (Fowler) and experience this position has been a ton of fun," he said. " The BUCK is like the hybrid on the field. You're sometimes standing up and sometimes have your hand in the dirt. Wherever you're at at that position, you're expected to make plays. You gotta get to the quarterback as quickly as you can and make tackles."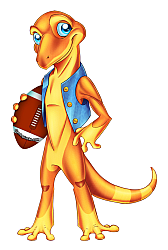 Durkin apparently calls his fancy spot the "buck linebacker." Therefore 3-4. Durkin's buck linebacker last year was 6'3", 260 pound Dante Fowler. Fowler almost always rushed the passer from a three-point stance. Sometimes he would drop into coverage or fold back into a run fit.
In this he is exactly—exactly—like what Michigan did with Frank Clark in the under. We even have a mascot for this, Slanty The Gecko. Slanty was inexplicably the first hit in Google Image Search for "line slant football" and has featured in multiple posts that describe Michigan's nominal weakside end going SYKE LINEBACKER MORPH and dropping back as the SAM plunges willy-nilly into the defensive line. Here is an example:
According to Mattison, Michigan did this on maybe 40% of its snaps from a 4-3 in his first year at Michigan. I'd say the BUCK concept is that only more so, but I don't think it can in fact be more so.
To me the real distinction between a 3-4 and a 4-3 is in your interior line. Are your guys planet-shaped gentlemen? Do you have Louis Nix? You're probably running a 3-4. Do you have Ryan Glasgow? You're probably running a 4-3. People will talk about multiple fronts, and Michigan will run multiple fronts. All of those will be efforts to confuse the offense as they inject their DTs into gaps and get penetration.
The upshot: this is not a big change, if it's even a change at all. It is a nomenclature tweak.
[After THE JUMP: additional strategically located Peppers talk.]