Neck Sharpies: Air Force's 50-Slant Defense
I thought Air Force had a very good defense. They weren't big or super fast, but they were smart and sound—if a defense as a whole could get a nickname I'd call them Ol' Eleven Kovacses.
Their gameplan was also brilliant. They knew Michigan wanted to run inside the tackles, get Speight some confidence, and get athletes out to the edge, so Air Force came in with a plan to jam up running lanes and make Michigan try to guess where the big hole would be. This is AF's look on Michigan's first running play: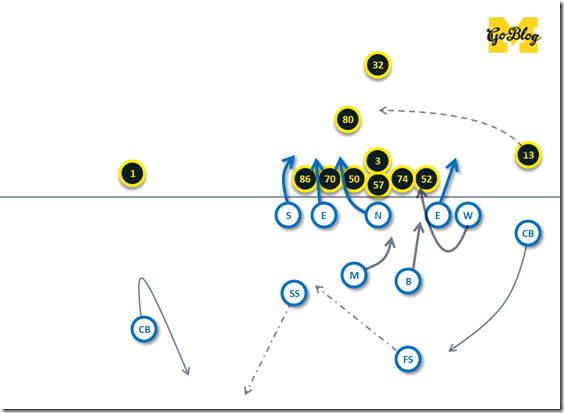 They're in base 3-4 personnel, with both ends lined up in 5-techniques (over the tackles' shoulders), both OLBs in 7-techniques (over the TE or hypothetical TE's shoulders) and one safety down at linebacker depth to react to Michigan putting a lineman (Ruiz) at tight end.
Now this is not Belicheck's mother's 3-4. That nose tackle was 5'11/260. He certainly wasn't going to be two-gapping. Rather out of this setup Air Force's plan was to have the nose attack almost like Brown's 3-3-5 linebackers, appearing in any A or B gap on any given play and making life hard on Michigan's inexperienced interior OL to figure out what to do with him.
If that all sounds familiar, it's because you're old, and it is:
That's right: that sonovabitch Calhoun walked into Michigan Stadium and tried to run Bo Schembechler's defense on us.
[After the JUMP: The 50 slant, and picking holes in it]