What Is: The 3-3-5 Defense
This series is a work-in-progress glossary of football concepts we tend to talk about in these pages. Previously:
Offensive concepts: RPOs, high-low, snag, covered/ineligible receivers, Duo, zone vs gap blocking, zone stretch, split zone, pin and pull, inverted veer, reach block, kickout block, wham block, Y banana play, TRAIN, the run & shoot
Defensive concepts: The 3-3-5, Contain & lane integrity, force player, hybrid space player, no YOU'RE a 3-4!, scrape exchange, Tampa 2, Saban-style pattern-matching, match quarters, Dantonio's quarters, Don Brown's 4-DL packages and 3-DL packages, Bear
Special Teams: Spread punt vs NFL-style
----------------------------------
We've been writing under the assumption that our readers were all around for the early Rich Rodriguez years, and bought the edition of HTTV where Chris Brown described how Rodriguez-era West Virginia DC Jeff Casteel's version of it worked. Now that it appears to be Michigan's base defense (at least versus spread and option teams), maybe it's time for a refresher.
----------------------------------
A PLAY:
Here's the most common offensive play in football, Inside Zone, getting straight-up murdered:
The idea here is there's always (mostly) a linebacker blitzing to be the 4th DL. Functionally McCray is a lineman, but if you're the offense you don't know that. Watch the right guard, #74, get totally discombobulated at this discovery.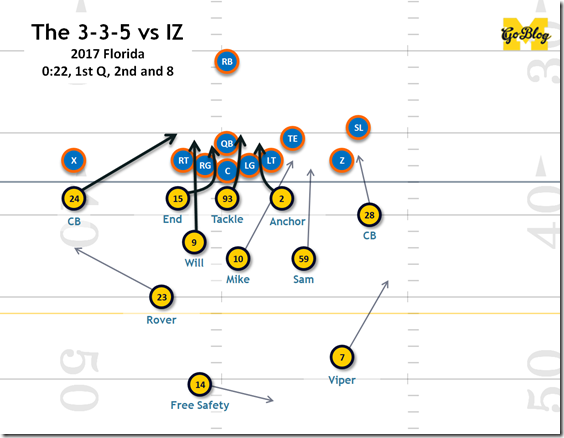 My drawing here shows the run fits and the Don Brown version of the terminology. This particular play had a few variants:
The two ends are a little offset and Winovich motions inside on the play: that's because those guys are both taking interior gaps.

The CB blitzed.
Only the first thing is interesting for understanding a 3-3-5. This defense, at its heart, is a one-gap, 4-2-5, except it trades the beef up front of a 4-man line for never knowing who's in what gap or even who's going to be the 4th lineman.
[Hit THE JUMP for a very short explanation of the jobs]