Oh God What If Boston College Follows You Around Like You Just Broke Up With It And It Wants To Be Friends
10/7/2017 – Michigan 10, Michigan State 14 – 4-1, 1-1 Big Ten
a metaphor for somethin' [Bryan Fuller]
Don Brown is in one of those Progressive commercials where everything gradually turns white, except in his case everything is gradually turning back into Boston College. Someone walks by with a bunch of hockey sticks. Bill Simmons is on the television again. He swears he overhears a conversation about pahking the cah. Maroon filters into his peripheral vision.
On Wednesday at three fifteen PM there is going to be a knock on the door. Steve Addazio is going to walk in and sit down. Brown will summon all his willpower not to jam the nearest pen through his own eyesocket, to claw the power of sight from his face and evaporate from the world of men.
Jay Harbaugh, seated, will wonder if the slight twitch under Brown's eye means anything or if it's just something that happens to men of a certain age. He will not say something about "guys being dudes," and will never know how close he—how close all of us—came to Total Mustache Annihilation. He will tell Brown about Terrace House, a Japanese version of the Real World where everyone is very nice and considerate of each other's feelings.
Thus disabused of the Addazio specter, Brown will resume destroying all that opposes him until the inevitable knife in the back. He tries not to think of Sisyphus, and fails.
----------------------------------------------------
Michigan's main problem on offense is that they are bad at it. This is not a good problem. "Our right tackle sucks" is something you might be able to address. "Almost everyone is not good at football right now" leads to situations like Saturday. I brought up the Law Of Large Percentages Multiplied A Lot, which is something I just made up right now, in a brief twitter conversation with a reporter who wanted people to know one weird thing about Oklahoma football:
This is the 7th straight season Oklahoma has lost a game in which it was a double-digit favorite. Seventh.

— Matt Fortuna (@Matt_Fortuna) October 7, 2017
That is a weird thing, but it's not as weird as it sounds. If OU was a 10 point favorite in eight games they'd get through unscathed just 12% of the time*. If they were a 14 point favorite they get up to 27%. You have to get up to 17.5—a 93.7% shot at victory!—before Hypothetical OU even hits 50%. The Law Of Large Percentages Multiplied A Lot is that even big ones fall off faster than you'd think.
Michigan's offense has 6-7-8 guys who have to execute on any particular play for it to be a success, and... let's just say many of them are not three-score favorites to do so on any particular play. They are an example of The Law Of Large Percentages And Some Quite Small Ones Multiplied A Lot. The results can be seen in the box score, or the haunted look on the face of a man who replaced ten starters and still has the #3 defense in the country.
And so today the Must brigade is out. "Must" is the worst word in sportswriting for a lot of reasons. Foremost among them is that whatever follows "must" is something so blindingly obvious Marcelo Balboa is probably talking about a replay of it as we speak. He must catch that ball. He must YES WE KNOW I HAVE EYES, AT LEAST FOR NOW, I'M CONSIDERING A CHANGE IN THAT DEPARTMENT, THANK YOU.
I spent most of the weekend trying and failing to get this column done because I couldn't wade into any commentary on the game that wasn't furious and over the top, and immediately made me want to go do something else. Weird shit happens in college football, especially when you're playing your backup QB, and there's a brief second-half monsoon, and on top of that you turn the ball over five times. Various dirt stupid people are now flogging a "Harbaugh is 1-4 versus rivals" thing as if that encapsulates the whole of his tenure, or even his career. Yeah, Michigan had the dumb thing happen on the punt and lost by a literal inch in Columbus last year. If you're ascribing that to something other than chance I cannot help you.
Whatever Harbaugh MUST do he's probably already doing. He has a track record, and he'll either follow that up with more of the same or not. We're oddly locked in: few coaches trying to establish themselves at a new school come with the pedigree that Harbaugh does, so he'll get a ton of time and a bunch of rope and we'll see where it goes. It'll probably go really well once they aren't carrying the baggage of someone else's screwups on top of their base rate.
But I mean, go ahead and yell about how unacceptable everything is, I guess. We are dying to hear about your feelings.
*[This is based on this site's conversion of point spreads to winners.]
blanket [Fuller]
Known Friends And Trusted Agents Of The Week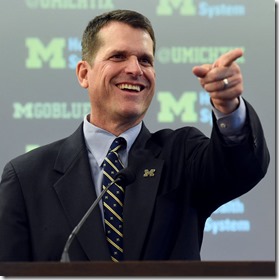 you're the man now, dog
#1 Mo Hurst. Hurst got to play a lot of three tech this week and went from making good plays that someone else scoops up the glory on to wrecking the interior of the opposition offense himself. The fourth down stop stands out, because Hurst may have induced the fumble from a nervous center; Hurst whooped him anyway and the play was doomed either way.
#2 Lavert Hill. Hill's three PBUs were all excellent plays, and he was in the hip pocket of whoever his assignment was for the duration. MSU had... one open receiver? Maybe two? Lewerke averaged 4.3 YPA. Hill played the largest part in that.
#3 Brad Robbins. Averaged 43 yards a punt in often-difficult conditions and mindblasted the MSU returner on the muff; gave up just ten total return yards on seven attempts.
Honorable mention: Most of the rest of the defense. And... Grant Perry, I guess?
KFaTAotW Standings.
8: Devin Bush (#1 Florida, T2 Cincinnati, T2 Air Force, #1 Purdue)
5: Chase Winovich(#1 Air Force, #2a Purdue) 
3: Mason Cole (#1, Cincinnati), Ty Isaac (#2, Florida, #3 Cincinnati), Mo Hurst (#1 MSU)   
2: Quinn Nordin (#3 Florida, #3 Air Force), John O'Korn (#2 Purdue), Lavert Hill (#2 MSU)
1: Khaleke Hudson (T2 Cincinnati), Tyree Kinnel (T2 Cincinnati), Mike McCray(T2 Air Force), Sean McKeon(T3 Purdue), Zach Gentry (T3 Purdue), Brad Robbins(#3 MSU).
Who's Got It Better Than Us Of The Week
MSU's punt returner dorfs on a bomb by Robbins, muffing it back to the two and setting up a short field that Michigan would use to get their touchdown.
Honorable mention: The first drive was pretty all right until the back-to-back fades.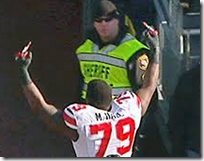 MARCUS HALL EPIC DOUBLE BIRD OF THE WEEK.
Eddie McDoom drops a pass that would have taken Michigan down to the 25 with 13 seconds left.
Honorable mention: Pick a turnover but especially the first two, as they were key in Michigan's deficit by the time the rain arrived. Lewerke scrapes out a late first down because he lands on Michigan players. Michigan gets a touchdown wiped off the board on a Higdon holding call. Most offensive plays.
[After THE JUMP: what would you say you do here]