Wednesday Recruitin' With Four to Go
Ondre Pipkins Goes Blue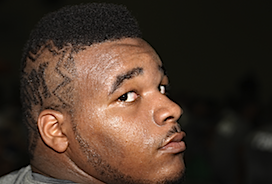 Michigan gained a big (literally and figuratively) commitment in MO DT Ondre Pipkins on Monday. The Wolverine Blog takes a look at Big Pee-Wee's game:
He needs to develop consistency in his technique, to the point where he maintains quality leverage and hand use after the initial contact... Should he get these little technical kinks sorted out, he looks very much like a future NFL prospect to me.
Go Blue Michigan Wolverine chimes in:
Combines outstanding size and power with surprising quickness. Ondre is super strong at the point of attack. He gets off the ball well and is almost impossible to single block. Unlike many big guys, he shows a good motor and overall athletic ability.
The first thing I see that I like about Pipkins is his stance. He puts a lot of weight on his front hand and sticks his butt slightly up in the air. With his weight distributed that way, he has no choice but to fire off low and fast. Beyond that first step, he continues to stay low, moves his feet well, and uses a variety of moves to rush the passer.
"When he wants to be Ondre has the potential to be a top 5 defensive tackle prospect in the 2012 class. Pipkins is very explosive, strong and has very quick feet for a kid that is 320ish pounds.
With three defensive line coaches on Michigan's staff, hopefully his technique can be coached up. For more on Pipkins, check out the Hello: Ondre Pipkins post.
The Number
Though Darryl Stonum is redshirting the 2011 season, I asked Brady Hoke if his presence will reduce the 2012 scholarships available from 26, and the coach said there is no change to the available number.
With 22 current commits and 26 spots in the class, that means there is room for four more commits. With 22 spots currently available, that means attrition of four more players going into next year will open up those spots. [Ed: With two or three redshirt juniors looking like marginal contributors at best, Michigan should easily make it without hijinks. They could get a 27th or 28th scholarship.]
QB
NJ QB/S Devin Fuller has a final 11 without Michigan in the mix. I imagine that ends the possibility of landing a signal-caller in the 2012 class, especially with such a small number of available scholarships.
RBs
Ohio State soft commit Bri'Onte Dunn seems to be the main option at this position (unless the staff thinks they can try to get in with another super like NC RB Keith Marshall). As the situation unfolds, we'll see if Dunn is a realistic possibility, and if the coaches focus on other runners if he's off the table.
WR
Does Darryl Stonum's return change WR recruiting plans? As mentioned above, it probably takes the two-wideout minimum to a two-wideout preference (though Michael Spath of The Wolverine seems to disagree ($, info in header)), as Darryl will be around for one more season in 2012.
CA WR Jordan Payton has Michigan and Cal as his top two (audio), with the Wolverines alone at the top ($, info in header). He says he's "going through the process," but don't be surprised to see a visit early in the fall. Payton's junior highlight reel:
IA WR Amara Darboh is setting up an official visit to Michigan ($, info in header). [Ed: The new scuttlebutt is that Michigan leads and that official may end his recruitment.]
I mentioned last week that MD WR Stefon Diggs is back on the table, including Michigan in his top 15.
OH WR Dwayne Stanford is high on LSU ($, info in header). His relationship with Michigan has been hot-and-cold.
Happy Trails, NJ WR Leontae Caroo, who chose Rutgers. This is probably more notable for its effect on his teammate, NJ CB Yuri Wright, who is back in play for Michigan (more on that in a moment).
OL
CA OL Commit Erik Magnuson received a USC offer last week, but maintains a solid commitment to the Wolverines ($, info in header).
IL OL Jordan Diamond stopped by Michigan as his team toured Eastern Michigan, visiting former teammate Chris Bryant.
WA OL Joshua Garnett will visit Michigan for the Notre Dame game. Garnett's friend Zach Banner is one of the few other realistic prospects for Michigan remaining on the board, as well.
Sounds like CA OL Kyle Murphy is no longer considering Michigan, focusing on West Coast schools along with Notre Dame, Oklahoma, and Florida.
DTs
Michigan's off-again, off-again recruitment of IL DT Tommy Schutt took a bizarre turn last week when he was spurned by Notre Dame, and immediately tried to schedule a visit to Michigan - and was denied. Brian already covered the approximate timeline, and the way it shook out sure makes a whole lot more sense with Ondre Pipkins' commitment.
What Big Pee-Wee's commitment might draw into question is the Wolverines' recruitment of MI DT Danny O'Brien (right). Conventional wisdom has held that the coaches are taking only one DT, so does that mean O'Brien is off the board, or that the staff will make an exception for him?
DE
Elsewhere on the defensive line, there may be a spot available for an elite prospect, particularly one who, for example, is teammates with an elite wideout.
Other options are falling off the board, be it UT DE Troy Hinds who committed to BYU, or PA DE Noah Spence whose final seven does not include the Wolverines.
DBs?
With MI CB Commit Terry Richardson going back-and-forth on taking visits, Michigan's sudden re-focus on defensive backs could be a search for replacements (should he decide to go elsewhere) or simply more players along the back line. So who are some of those players?
Michigan is back in play for NJ CB Yuri Wright. The consensus four-star tells Tom that the Wolverines are right near the top for him:
I would say Michigan is in my top two, I've always liked Michigan. I haven't really cut my list down yet, but they're in the top somewhere. Just the tradition that's at Michigan, the winningest program, the coaches, and the whole experience of going to school there. Coach Mallory has been telling me it's just about getting a chance to come to Michigan and getting better when I get there, and hopefully make it to the league.
Wright grew up wanting to go to Michigan, so a good visit could start winding down the recruiting process.
MA CB Armani Reeves is also back on the board, but he's announcing this Friday at 10AM, and as Brian says, with no in-person contact since he and Michigan have been back on each others' boards, it's unlikely he picks the Wolverines.
2013
With the 2012 class damn-near wrapped up, we're starting to get a slightly better idea of what the 2013 class will look like. Your departing seniors following the 2012 season:
Denard Robinson
Michael Cox
Vincent Smith
Darryl Stonum
Je'Ron Stokes
Roy Roundtree
Terrance Robinson
Brandon Moore
Patrick Omameh
Ricky Barnum
Elliott Mealer
Rocko Khoury
William Campbell
Craig Roh
Kenny Demens
JT Floyd
Brandin Hawthorne
Jordan Kovacs
That's 18 spots, but there's also a chance that some of those guys who have redshirted in the past might not get offered fifth years for the 2012 season, either on account of ineffectiveness or lingering injuries. Those slots would likely be filled in 2012 recruiting. With a couple possibilities for early entry and/or transfer, 18 is a good starting point, with a likelihood of swelling to about 20 spots. How might those spots be filled?:
QB: 1-2 (Shane Morris)
RB: 1-2 (Depends on filling 2012 class)
WR: 1-2 (Depends on filling 2012 class)
TE: 0-1
OT: 2
OG: 1
DT: 2
DE: 1
LB: 2
S: 2
CB: 1-2
Other: 1-2
With that brief primer out of the way, on to the information:
Michigan made a good first impression with IL RB Ty Isaac ($, info in header).
IL WR LaQuon Treadwell (teammate of 2012 CB Commit Anthony Standifer) tells Tom that Michigan is on top, but he's a long way off from a decision.
Tom has a video interview with AZ WR/TE Jake Roh, the younger brother of current Wolverine DE Craig. Jake says he hasn't heard much from Michigan yet.
IL OL Kyle Bosch visited Michigan over the weekend, and came away impressed:
We met with Coach Funk, talked to him for about half an hour. After that they took us around the campus, showed us the facilities, the locker room, and the stadium. I feel really good about Michigan, I really liked it. I didn't know much about them going into it, but I was really impressed.
He plans to narrow his list of schools after his junior season, so it sounds like he has a slightly accelerated decision timeframe.
OH S Dymonte Thomas will be one of Michigan's top targets in the 2013 crop, and the cousin of 2012 RB Bri'Onte Dunn enjoyed himself at the BBQ at the Big House, but will take his time:
I just want to wait for my colleges to offer and take some visits to all the schools though. I'll probably be up for the Notre Dame game and the Michigan-Ohio State game too. I really like Michigan, I think they're at the top. Michigan State isn't very far behind, I like their coaching staff too.
He's said in the past he plans to commit this February to whichever school Dunn signs with.