Opponent Recap: San Diego State
Let's talk about something else, yeah?
Previously: Western Michigan, Notre Dame, Eastern Michigan
San Diego State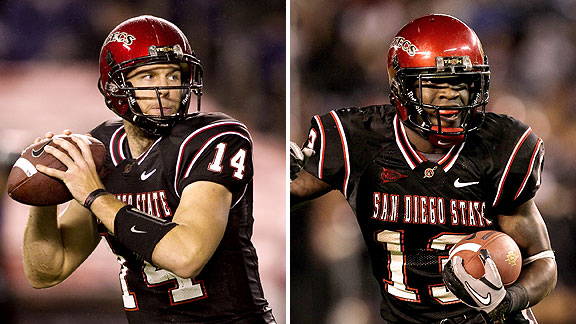 Getty Images
Schedule:
FCS Cal Poly, 49-21 (W)
@ Army, 23-20 (W)
Washington State, 42-24 (W)
@ No. 22 Michigan, 7-28 (L)
TCU, 14-27 (L)
@ Air Force, 41-27 (W)
Wyoming, 27-30 (L)
New Mexico, 35-7 (W)
@ Colorado State, 18-15 (W)
No. 10 Boise State, 35-52 (L)
@ UNLV, 31-14 (W)
Fresno State, 35-28 (W)
Louisiana-Lafayette, 30-32 (L) -- New Orleans Bowl
Record: 8-5 overall, 4-3 MWC, 4th in conference
Stats:
 
Offense:
Defense:
Rush:
184.5 ypg, 30th
169.5 ypg, 78th
Pass:
242.9 ypg, 49th
221.7 ypg, 56th
Total:
427.4, 27th
391.2, 68th
Scoring:
29.8, 46th
25.0, 57th
T/O Margin:
+12, 9th
Season recap: In 2011, San Diego State lost nine starters, their head coach Brady Hoke -- you may have heard of him -- and their bubble screen-hating offensive coordinator among others in their coaching staff.
Despite that, defensive coordinator Rocky Long, known as one of the key developers of the 3-3-5 defense, took over the program and led the team to eight regular season wins and a bowl game. While they didn't really beat anyone good, given the circumstances and school (San Diego State, fergodsakes), I'm going to go ahead call that a successful season. 
The Aztecs lost decisively to three teams: Michigan, TCU, and Boise State, but those three teams had a combined 34-5 record in 2011. Their other two losses were decided by their kicker missing a pair of field goals (39 and 27 yards) against Wyoming, and Louisiana-Lafayette's kicker making his -- a 50-yarder -- as timed expired in the New Orleans Bowl.
Kickers win championships.
Other items of note: RB Ronnie Hillman, who was last year's fourth most prolific rusher in the nation, edged out Virginia Tech's David Wilson by two yards to finish third with 1,711 yards, and that was despite Hillman missing most of the Boise State game due to injury.
QB Ryan Lindley had an okay season. He cut down significantly on his interceptions, throwing 23 TD with just 8 INTs compared with last year's 28 to 14, but his QB rating actually dropped from 149.4 to 125.7. I'm guessing that's what happens when you don't have WRs Vincent Brown and Demarco Sampson to throw to.
Best win: @ Air Force. They were the only team San Diego State beat with a winning record.
Worst loss: @ Michigan. All postgame reports indicate that they were so devastated by the loss to their former coach, they didn't even make it to the presser.
At the time, we thought they were frightening as: Some convoluted analogy about ex-fiancées, which put them at around a 4.
But now we know they are as frightening as: About the same -- still can't figure out how they feel about you -- but when you meet them you find out they're two inches shorter and 25 pounds lighter than you are. 3.5.
What the win meant for Michigan: First the bad. Denard's arm made us feel queasy again when he completed fewer than half of his passes (8 of 17) for the third game in a row, throwing for just 93 yards, zero touchdowns, and two picks. His QB rating of 69.5 that game was the lowest of his career as a starter.
But Borges ran him 21 times for 200 yards and busted out the speed option, which was kind of cool. Additionally Denard was in the middle of fighting a nasty staph infection, so extenuating circumstances and all that. Credit to Michigan's offensive line for bludgeoning through San Diego State's wispy defensive line -- even the tailbacks, who were just so-so at the time, combined for 100+ yards to give the Wolverines their second 300-yard rushing game of the season.
What made this game memorable was the defense finally returning from its two-year hiatus. Michigan played bend-but-don't-break to perfection; San Diego State racked up 376 total yards of offense and entered the Wolverines side of the field nine times ... only to come away with just seven points. The Aztecs' drive summary reads like this:
Fumble 
Fumble 
Turnover on downs 
Three and out
Punt
Fumble 
Three and out
Fumble 
Three and out
TOUCHDOWN
Punt
Turnover on downs
Fumble
Turnover on downs
It's a pretty sight when it happens to other people.
Hillman got his yards but fumbled away two possessions. Lindley was hurried all game and couldn't get in sync with his receivers, completing less than half of his passes.
Many of you will probably remember that many of Lindley's incompletions were due to the emergence of Blake Countess, who made his debut in place of a struggling/injured Troy Woolfolk.

PBU. And Jelly.
Finally, we also got our first real glimpse of Brady Hoke the aggressive, calculated risk-taker when he went for a fourth down that robbed the Aztecs of a possession at the end of the first half. This decision and subsequent decisions of a similar nature helped redefine MANBALL and appease Lloydball-Hating Bloggers at Cook family tailgates everywhere.
And it totally felt as awesome as: Making it through the non-conference schedule undefeated for the third year in a row.