Jimmystats: Starts by Class and Stars
Meta: Hokepoints is now alternating bi-weekly features. Jimmystats is the one where we play with Excel, H4 is the one where we play with Playmaker or get misty-eyed. Thank you readers who submitted name ideas.
Not all upperclassmen are good, but having upperclassmen is good. [Fuller]
I keep a few different databases on Michigan players for various uses, and Bosch's transfer initiated a two-day time sink into updating the big roster one. It now includes number of starts each guy since the 1993 class had in his career, along with the recruiting profile and career summary. Have at it, diarists:
Some stuff I generated with it:
The Holy Balls 2010 attrition chart: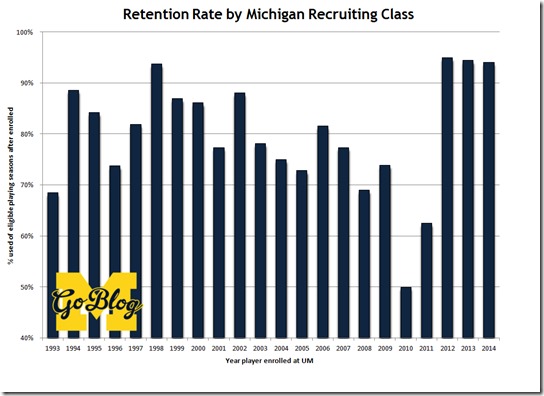 Bigging it makes it clicker.
The retention rate isn't the number of players who stuck, it's the number of total eligible seasons the class would have produced if every freshman played four (and every junior transfer played two, etc.). If somebody ever says there was nothing good about the Hoke era, point at the 2012-2014 classes. I do expect the transition costs and other levies of time will reduce those triple towers eventually, but that is a very good start, especially the 2012 group who came in after 11-2 and got not that since.
The flipside of course is that 2010 class, which spent exactly half of its eligibility not on Michigan's roster. And that was followed by the 2011 "process" class, which more on that in a minute. I also tracked the reasons for losses:
[Jump for that a bunch more charts and tables you can use to wow your friends, like the average number of starts for a 5-star recruit]