Dear Diary Runs on Denard Lumens
Can somebody with a uniqname go to the Music Library and get them a better soundtrack?
From time to time people from the less-heralded sports/activities at Michigan provide detailed diaries of their teams and their exploits. Sometimes they actually succeed in making us turn our heads and get into something other than the big five of hoops, hockey, football, football (teams we play), and football (Penn State).
This week we witnessed the Other Sports Diary to End All Other Sports Diaries by Bronco648, a running, day-by-day recap of their week-long race with a national title on the line, kicked off with a entire media guide that includes photos/profiles of each team member. Example:
Feight was raised by a family of wild Spartans then imprisoned by a mad skiing coach before discovering his mutant meteorological powers could help him escape to Ann Arbor.
It's like NASCAR except with clean energy and electrical engineering and a team meteorologist, so of course Michigan is awesome at it. The car's name is Quantum (who voted against Dilithium?) and it built a strong lead in the early going before the team got caught using Denard Robinson's smile to boost the radiant flux, a 90-minute penalty. To discover the ending, read the thing, or else find a freshman WLB or CRex family member to translate this for you:
2012 전국 챔피언을만 세!!!
Family members of CRex? Like another recent epic tale about a ring, the latest installment of CRex's great adventure begins with a flashback, where we discover how two Chinese gangsters and a deity named Guan Yu (go blue?) brought about the fall of the Sweatervest Lord. The action then shifts stateside, where Little Sister has gone from heartbreaking debutante to Warcraft addict to Marmot Rambo to Ricky Bobby in the span of two weeks. Q: How is it that vampires and obnoxious people from New Jersey have so many TV shows but this guy doesn't? A: Because CRex Family Hour's target audience would skip it anytime they can instead watch…
Footbawwwwwwww. Thank hart20 for diving into reams of stats to come back with data on how much production is returning from each of our opponents. Part the First puts all that data into tables that say things like 15 percent of MSU's receiving yards are returning, and 100% of Justin Siller isn't(!). Then the rubber hits the chart in Part II which you must read because we are going to quote from it all year. Sample? Sample.
II. Rushing Offense

The formula that I used to calculate the total returning percent for each team's rushing offense was to give a 33.3% weight to each of returning carries, returning rushing yards, and returning rushing TDs.
Hart20 is your Diarist of the Week, plus 200 "Hero" points (I just made those up).
Great Scott, our freshmen are heavy. Just in before press time, LSAClassof2000 has put the weights and heights of Big Ten players into a spreadsheet. Included is a comparison of our freshmen versus the conference's mean, where we find our WRs, TEs, DTs, DEs, and DBs are already larger than the average B1G (which averages presumably include walk-ons). MSU is the heaviest in our division by a large (ha!) margin; Nebraska is the shortest, though they rate highest in the conference in returning rushing punch, which was quite the punch.
Quite the punch? Then why do I remember it more like an 8-year-old girl? Well, sonny, you just sit down right there and let Uncle BlueSeoul tell you about the greatest all-around performance by Michigan since 1997 Penn State. It (the diary) got bumped, and not just because somebody whose name rhymes with "Eyeco" left a pic of Urban Meyer bicep flexing on top of the front page all weekend. Actually these always get bumped, but you may not remember that because BlueSeoul hadn't done a GW(WPs!) since the middle of last season. The most anticipated MGoArticle you'd completely given up on not named "Upon Further Review: Virginia Tech" is finally available. And yes, m'boy, a man DID once force a pitch from the back side.
Geography. After I had already put last week's DD to bed TSS posted his next Michigan-Alabama Roster analysis and this one is just so cool: a chart of distance from campus for players on M/Bama's rosters.
The difference really highlights the regional strength of the South. Whereas Michigan recruits a bunch of guys from really close by and then a bunch of guys from all over the Pisces-Cetus Supercluster Complex, Alabama's players are primarily regional. If the mass you see at about 230 miles from Tuscaloosa is Atlanta and Mobile, and the cluster 200 miles from Ann Arbor is W-Mich and the Ohioans, then the big difference between us and them is their Floridians (cluster around 600 mark) are closer to home than ours (1200 to 1300 cluster).
Football (Penn State). NCAA's nuclear bunker-buster fell upon Happy Beaver State College Valley Whatever this week. Fallout diaries include jmblue suggesting a realignment of Big~Ten divisions, a "don't you get it?" message to PSU fans that probably qualifies under the definition of rant, and oakapple describes the path that will lead the nittany lion-beavers back to five/six stars of program strength.
Travel guide for Dallas. Eat BBQ, skip everything else. Dallas sucks. And America hates all of your teams.
Etc. Michigan Stadium brought to you by McDonArby's Dunkin' Save Mart Lanes and Shredder. Brian is entranced by David Brandon playing golf. Blazefire puts the 2012 season and Jerry Sandusky to Hotel California, though not sure I liked the result. The Blockhams visit football's Valhalla. This is one of my favorites so far, though I waited in vain for Fielding Yost to tap Bo on the shoulder and (with Bob Ufer standing behind him), say "you still haven't thanked me for AC and Indiana!"
Best of the Board
A REENACTMENT OF THE BUMBLEBEE MURDERS OF 2011
This is a reenactment of WH responding to an Adidas promo video of (Devin Gardner?) jumping around in the latest Michigan uniform that isn't as good as the regular uniform:
Michigan was always up there with schools like USC and Penn State (though I hate mentioning anything PSU now) as being football uniforms you don't screw with.
I know this is a fad in college football that I'm just going to have to get used to. But I always liked the whole, "If it's not broke, don't fix it," thing.
Fonts are Akka, Flynn, SuperMario256, and Shrek; if you don't get some of these references that's because a future created only lasts as long as the marketing campaign for it. If that is Gardner (can anyone tell?) in the video, it's at least no more ridiculous than the show he put on in the last ones.
SHANE MORRIS PHOTOSHOPPING
By the time he steps on campus he'll have more content on here than any 4-year player on the roster. Still, photoshop thread is insta-linked:
PAT'S GONNA PUT YOU IN THE MOVIES
Pre-Gaming With guy is shooting at 1p.m. on Sunday on the Diag if you want to be in the "I Love You Denard" music video. I do not believe he is accepting lyric suggestions.
Your moment of zen: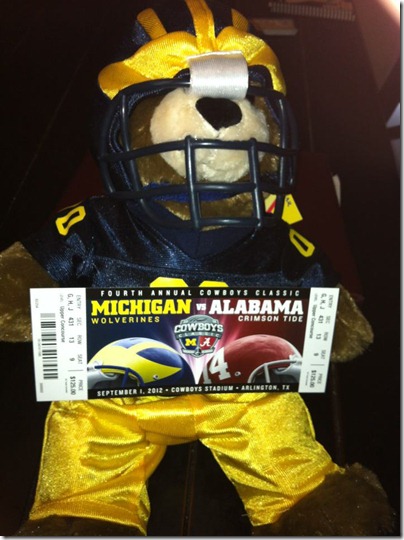 Yay ticket arrivals! If you're signed up to get the emails/texts/FB/twitter from MGoBlue, you can order individual tickets for AF/UMass/NW/Iowa ($75 each), plus the UMass family pack thing, starting about 8:30 this morning.