Opponent Recap: Illinois
Previously: Western Michigan, Notre Dame, Eastern Michigan, San Diego State, Minnesota, Northwestern, Michigan State, Purdue, Iowa
Illinois
Schedule:
Arkansas State, 33-15 (W)
South Dakota State, 56-3 (W)
No. 22 Arizona State, 17-14 (W)
Western Michigan, 23-20 (W)
Northwestern, 38-35 (W)
@ Indiana, 41-20 (W)
Ohio State, 7-17 (L)
@ Purdue, 14-21 (L)
@ No. 19 Penn State, 7-10 (L)
No. 24 Michigan, 14-31 (L)
No. 17 Wisconsin, 17-28 (L)
@ Minnesota, 7-27 (L)
UCLA, 20-14 (W), Emerald Bowl
Record: 7-6 overall, 2-6 B1G, 5th place Woody Division
Stats:
 
Offense
Defense
Rush:
171.7 ypg, 41st
123.8 ypg, 25th
Pass:
184.0 ypg, 91st
162.3 ypg, 3rd
Total:
355.7 ypg, 85th
286.2 ypg, 7th
Scoring:
22.6 ppg, 91st
19.6 ppg, 15th
T/O Margin:
 -6, 95th
Recap: Ron Zook's last season at Illinois was the mirror image of Rich Rod's last season at Michigan. Instead of a stellar offense trying to keep pace with a defense that kept giving up free touchdowns, it was a stellar defense trying to hold up long enough for the offense to maybe fall forward into field goal range.
The offense wasn't that horrible at the beginning of the season. At least, it wasn't supposed to be. The Illini returned QB Nathan Scheelhaase, who had a breakout freshman season of sorts in 2010. They lost RB Mikel Leshoure to the Lions, for whom he couldn't play because he tore his Achilles tendon (but hey, who's bitter about that), but they had seemingly quality options behind him in Jason Ford and Troy Pollard. At receiver they had a quality deep threat in A.J. Jenkins, who finished 6th in the Big Ten in yardage the previous season.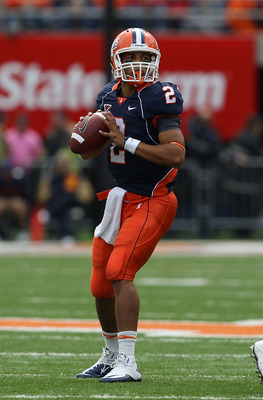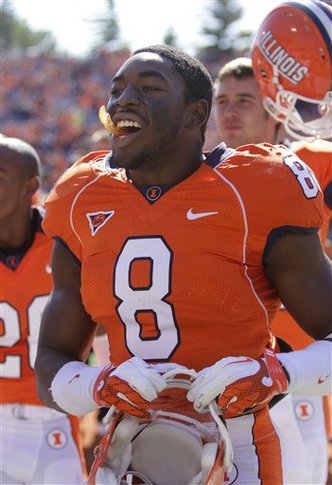 Scheelhaase, Ford, Jenkins
(more after the jump)