Dear Diary Predicts the Past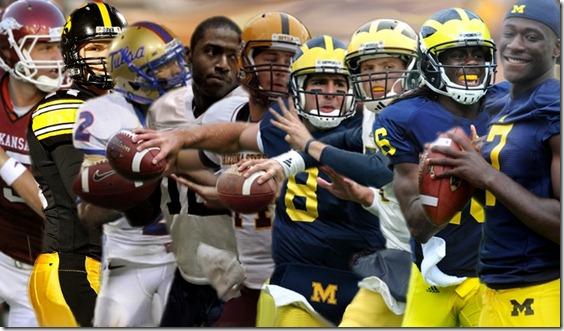 Mallett/Wienke/Beaver/Newsome/Threet/Sheridan/Forcier/Denard/Gardner. Not pictured justcuz: Notorious C.O.N.E., Feagin, Conelius, Bellomy, President Kennedy & various other walk-ons, and Nachoshorts, brother to Tacopants, who is 4 inches tall and made of puppy dreams and snowflakes and was the guy Moosman was always snapping to in 2009.
Dear Diary,
It's about expectations. Among the very few diaries this week was Gordon's highly debatable retcon of recent Michigan history if the sweatervest had remained folded in a Youngstown drawer. That's about what might have happened. My diary's about what we thought would happen.
You've probably done this same exercise a million times after commitments (and 16 times since March): look at the current depth chart for that guy's position, toss in the current commits, and predict a monster future for Michigan, or wonder how in the world we will find playing time for all of these guys. Well things don't always work out how you expect, in fact they never do.
Over the next few weeks I will attempt to review our past expectations for Michigan's position groups at this time in Year X. Hopefully the knife of attrition will be much more lenient in the coming years than it was over the last few. Maybe there's something to be learned here about adjusting expectations. Maybe this is just a colossal thought loop. Either way it's not about OSU's scandal, and will hopefully make for an entertaining walk down memory lane. If it sucks, feel free to eat me alive in the comments. I'm told I taste like chicken.
This week: 2007 Offense.
What was going on:
It was a lazy offseason in pre-Apocalyptic Ann Arbor. I mean really lazy: we had like 3-6 commits at this point (Cissoko, Wermers, Moore, Witherspoon and Mike Martin) but led with plenty more, and thought '08 recruiting was just dandy. Baseball made its run on the national stage (the peak was a 2-game sweep in the regionals over N
o. 1 Vandy) to get us all excited-like. Mostly we sat around watching Sam McGuffie YouTube highlights and hoping Comcast wouldn't kill our ability to watch Michigan play football. Will Campbell committed for 2009, and early speculation had Larry Capers coming eventually. Cobrani Mixon became our first Facebook transfer. Comcast and the Big Ten were having their great phallis-off. On a way smaller scale John Pollack and Jim Carty were having theirs with the university over plans to install (gasp) luxury boxes at Michigan Stadium. Brian got really excited over the possibility of games on Torrents (MGoVideo debuted June 18), and spent much of the summer trying to figure out why Jonas Gray (and to a lesser extent his teammate and "package deal" Kenny Demens) didn't have a Michigan offer. Autumn Thunder made epic comparisons of people to Lord of the Rings villains, with Jim Tressel cast as Saruman. Crystal ball? Try internet connection.
We were not Harbaugh fans.
Quarterbacks

Depth Chart: Chad Henne (Sr/Sr), Ryan Mallett (Fr/Fr), David Cone (So/Jr)
Incoming: Steven Threet (4-star, 2007 Transfer/Fr from Georgia Tech), John Wienke (3-star)
Expected: Going into what everyone knew was Lloyd's last year, Michigan was the NFL's quarterback factory, having produced an unbroken line of pro passers dating back to the stone age. That such a legacy would continue was a certainty with 4-year starter and robot Chad Henne mentoring 2007 uber-recruit Ryan Mallett (who survived transfer rumors to Arkansas in late April). In the event of near disaster, Navarre-like object Cone was on the roster. Homecoming transfer Threet and the statuesque southpaw Wienke – who received his camp offer a year ago today – would be on hand if (God forbid) anything happened to Mallett from 2008-'10, or else to mop up the blood from the star's latest aerial assaults.
How'd that turn out? Ha. Henne was iffy and frustrated in the HORROR then had his shoulder blown up in the Oregonian Disaster—the rest of his heroics would be gutting it out with that shoulder to Little Brother little brother, and the legendary dismantling of Florida in the Cap One Bowl. The bubble burst on this dream with the hiring of Spread 'n Shredder Rich Rodriguez. The writing was on the wall for a 3-star pocket passer, and Wienke wisely bolted (for Iowa). Mallett transferred to Arkansas and went on to a productive career with lots of character questions. Cone stuck around to give us a fantastic YouTube video and a few garbage time cheap thrills. Threet emerged from his transfer purgatory to find himself fighting a duck-tossing walk-on for the right to get beaten up in the worst Michigan offense in ever ever. He spent the season in and out of the lineup with assorted injuries, and later transferred to Arizona State so the Richrodigan freshmen could play.
5 Point Scale of Expectation vs. Outcome: Does this scale have a zero? Way Zero.
More after the jump.